Speedline/ Supercross team update
Supercross BMX Australia press release

NSW Titles
Kristina Hagberg has only been back on the bike a short time and she's sure put her pedal to the metal. In the 17-24 Women Kristina finished with a 3-2-3 in her qualifying heats, in the final she finished fourth. Kristina also raced in the Elite Women where she finished 3-4-3 in the heats and a respectable seventh in the final.
QLD Titles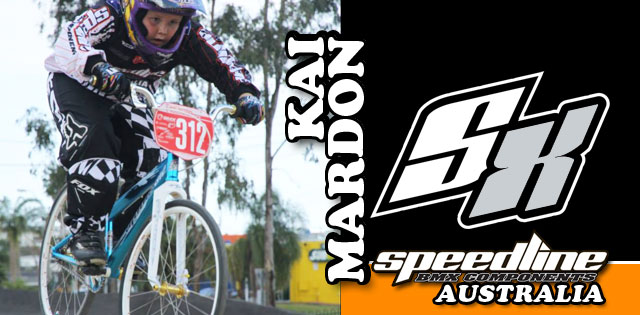 We'd like to welcome Kai Mardon to the team. Nine year old Kai is from Far North Queensland and completed in Speedline/Supercross team colours for the first time at the Queensland state championships at Nerang. Although Kai didn't take any titles at the event he rode every meter of every lap with a smile on his face. Kai encapsulates the true spirit of BMX and hangs out with Factory Supercross racer Peter Little, it's only a matter of time before some of his speed and skill starts to rub off on Kai.
David Elms started off his state titles campaign with a crash in practice that saw him in hospital being checked out for head injuries. But like all crazy BMXers he wouldn't let a little helmet destroying hit to the head spoil his weekend. David finished with 3-3-3-3 in his qualifying heats in the 45-49 Mens class and finished with a fifth place amongst some big hitters. He followed that up with the 45-49 cruiser where he went 4-3-2-5 in the heats and again finished fifth in the final.
Cash Dash
With no Vet Pro class at the Cash Dash Glenn Main decided it was about time to put his ENVY cruiser through it's paces in the 30-39 Mens cruiser class.  Glenn took 3-1-3 in his heats. He got off to a slow start in the final but managed to pull it all together for a fourth place.
South Australia state series – Mount Gambier
Madie Guyers competed at the South Australian state series round at Mount Gambier on the weekend. Madie strung together some great races and finished 3-3-3-3 and took the third place overall in the Pro Women's class.
Speedline Parts
Speedline Parts is a bicycle parts manufacture located in Southern California. We currently produce forks, cranksets, pedals, chains, headsets, brakes and seatpost clamps. All of our products are tested and used by team riders. Speedline Parts are distributed in Australia by Supercross BMX Australia.
Supercross BMX Australia
Supercross BMX is a leader in BMX by design, innovation and manufacturing. The Supercross ENVY is the lightest production frame, full stop! However there is much more to the brand than the ENVY frame. There is also the alloy BLUR and the cromo BOLT LT, both of which have the same race winning geometry as the ENVY. Supercross BMX currently produces some of the most respected cromo/heat treated handlebars and forks in the business as well as hubs, stems, seats, posts, tires, cranks and a while lot more.
Did you know that Supercross BMX Australia is the exclusive distributor for Supercross, Speedline and Anarchy products?
We only sell our products through reputable stores who can provide you with the service and expertise that will help you get the most out of your bike and your dollar.
If someone walks up to you and asks you if you are interested in buying any of these products ask them what store they are associated with, ask them what their post sales support is like, ask them if they offer a Supercross standard crash replacement warranty, ask them where the money goes. Most importantly ask a Supercross dealer for a quote before you make a big mistake and hand your hard earned cash over to the wrong person.
Supercross only offer warranty and support for the products purchased through our approved dealers.
We are proud to support local industry and local riders who also buy local.
Posted in: News