Answer/SSquared BSX2018 Wrap Up/Results
The Answer/SSquared BSX2018 was the thirteenth running of the multi faceted charity event. What seems like a backyard bash surprisingly takes months of preparation, planning and hard work by a small core group that mutates over time and grows as the event nears. The original idea for BSX was conceived back in 2005 to hold a one on one sprint trails race. Two separate tracks with two riders racing side by side with no contact. While the racing was going down there were raffles, auctions and other fund raising activities running all with the intention to raise money for the spinal ward in the Royal Children's Hospital in Melbourne.
In 2017 the event moved to a new venue just a few minutes drive from the original location but with a bigger, longer and faster track which meant the original concept could be changed up easily. The organisers ran with it, keeping the split track until half way down the second straight of the four straight track. Opening up the last two corners to "berm warfare". Although still an elimination event this made the style of racing and format a little more familiar.
All was set for a big day of fun in the sun on Monday 15th of January. But…Kinglake is perched 600m above sea level over looking Melbourne city and much of it's surrounds. It has it's own unique and strange weather patterns. While the weather was fine in Melbourne it was foggy and very damp in Kinglake which meant a delay to the start of the Answer/SSquared BSX.
It was when BSX track guy and core member of the BSX team for many years, Glenn Main, suited up and did a couple of test laps that the organisers decided to get riders on the track and get the event underway, about 2 or so hours over schedule.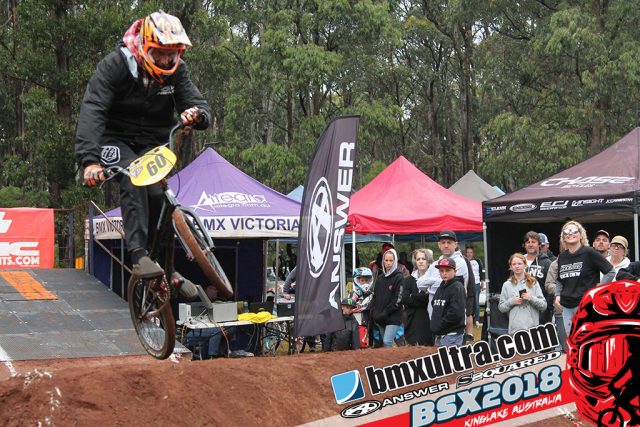 People were keen to ride but the track, being made of red clay was still very slippery the testing conditions made for great spectating with the second corner claiming many victims, and by that I mean covering the riders with a thick layer of red clay.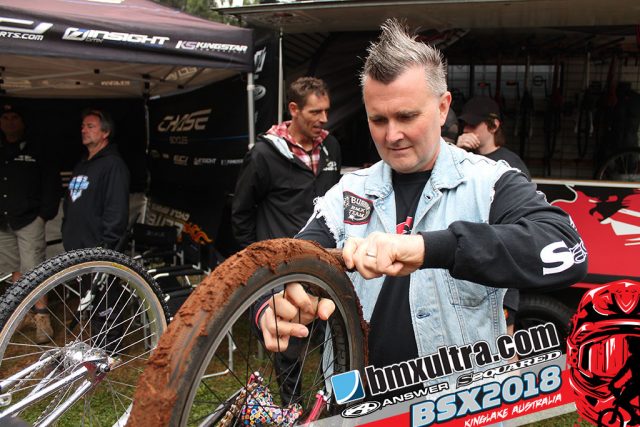 The day is split into 2 blocks with the fun classes in the morning and pro and 30 and over sheep stations in the afternoon.
Full results and times are over at http://www.ezeventing.com.au/live.php?key=1912
Winners of the morning were
8-10 Boys – Preston Murray
8-10 Girls – Sienna Richmond
11-13 Boys – Gian Renato
11-13 Girls – Emerald Blyth
45+ Open Wheel – Craig Walczuk
Open Retro – Joshua Soderman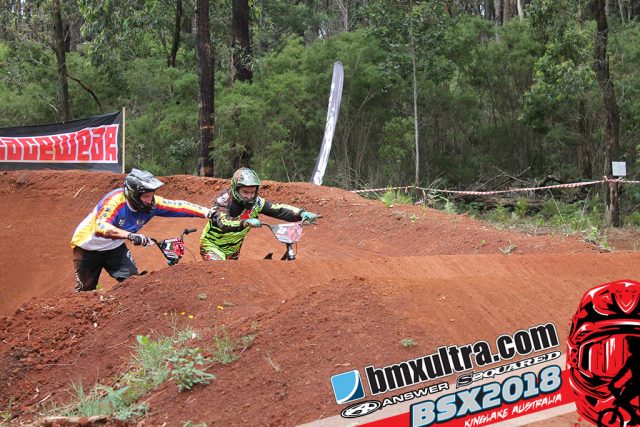 At some point during the first block someone got inventive and asked Shane Jenkins, event manager and BSX founder, if he'd shave off his shoulder length hair if they raised $500. Shane agreed and within an hour the money was raised. This is just one example of the generosity of the BSX crowd. After a heavy fall in his final Shane was sat down at the presentation area and ECI's Gary Brookes and Amie Main, the hairdresser to the stars, tag teamed their way through his flowing locks.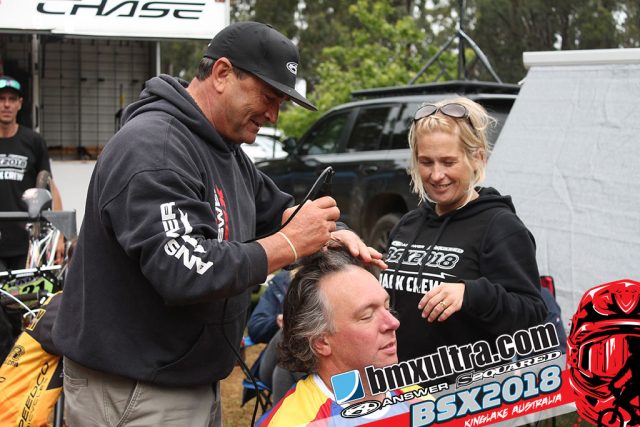 The track was drying and hardening during the afternoon practice session. It was towards the end of the session though there was another dump of rain that reset the slippery conditions. Oddly enough most of the riders embraced it. They lit up and were eager to get more laps in. Hayden Fletcher decided the track would be more fun without a chain and proved you could ride it chainless at a pretty hot pace, he convinced quite a few others to do the time trial (seeding round) chainless.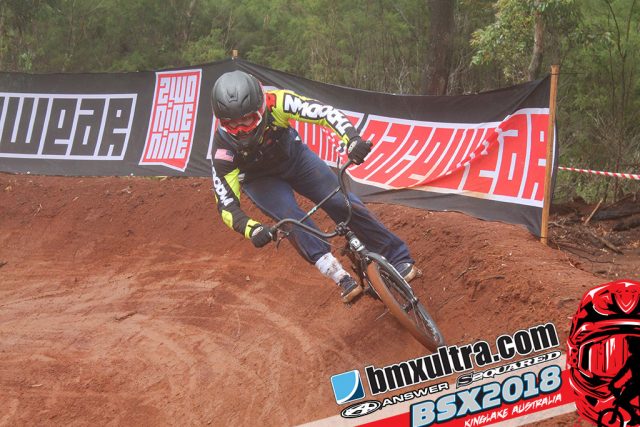 In the 30 and over men Simon Anderson took his 11th win from 12 tries, an outstanding effort from this legend of BSX. First Timer Nathan Couzin traveled from New South Wales just for the event and finished second. Andrew Jackson had won the time trial but over cooked it in the semi and had to settle with third overall with Adam Aherne in fourth.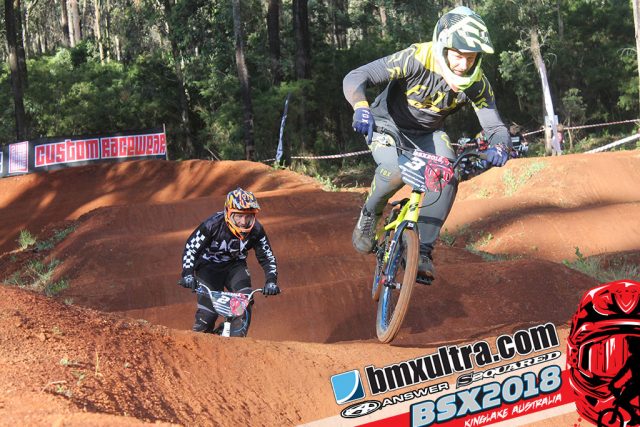 The 30 & Over women stepped up and filled the class this year for it's debut at BSX. Rebecca Smith from South Australia took the win over Tess Anderson (Wife of Simon). With Amie Main in third and Tara Dowdell in fourth.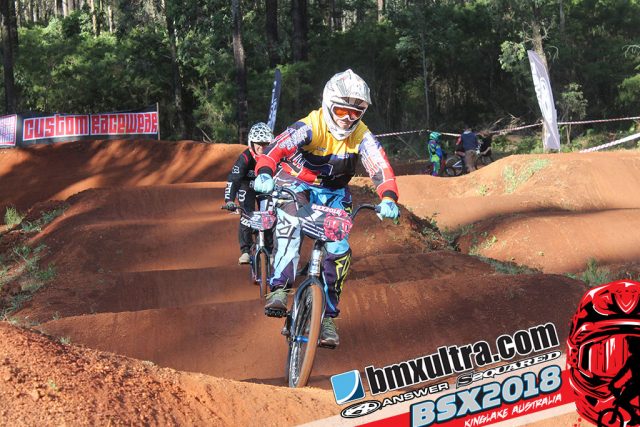 In the Open Women "The Queen of BSX" Iesha Anderson claimed another crown to add to her collection. Clare McNamara finished second, with Courtney Stevenson taking third and Hannah Moyle in fourth.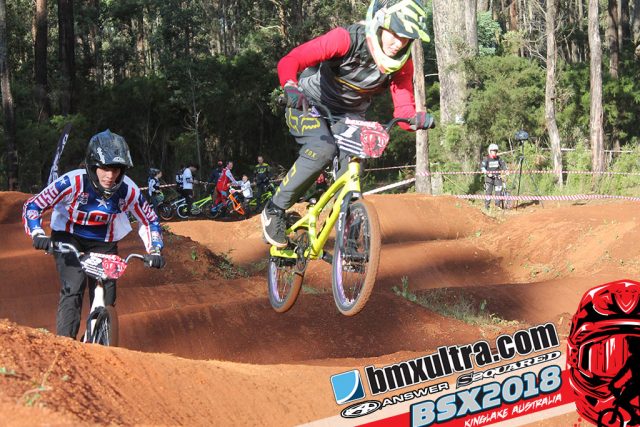 In the open men the time trial results were mixed with some choosing to go chainless. Youngster Cooper Bromley, who has a tradition for the past 4-5 years of sleeping at the track in a swag, took the fastest lap.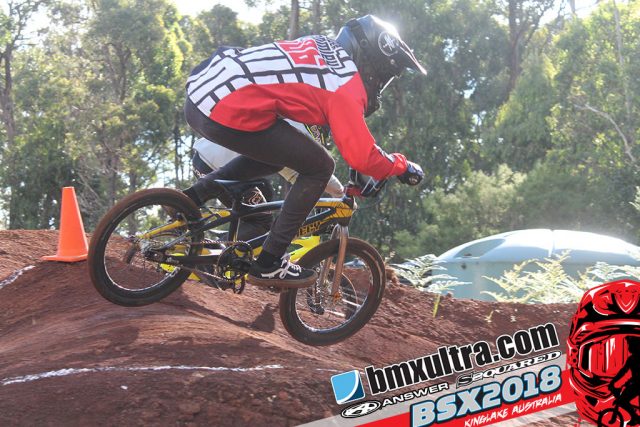 For the first time ever since the event started there weren't enough riders who completed the time trial to have a first round of 32 riders. So racing went straight into a round of 16. By this stage the track was starting to dry and we were getting to the business end of the day so the chains went back on.
Hayden Fletcher was knocked out of contention with a massive bump from Levi Collins in the second corner that pushed him over to the last straight ending his racing, but he was seen riding the track late into the day once racing was done.
The B final saw former winner Levi Collins take the win over Rory McNamara for the minors.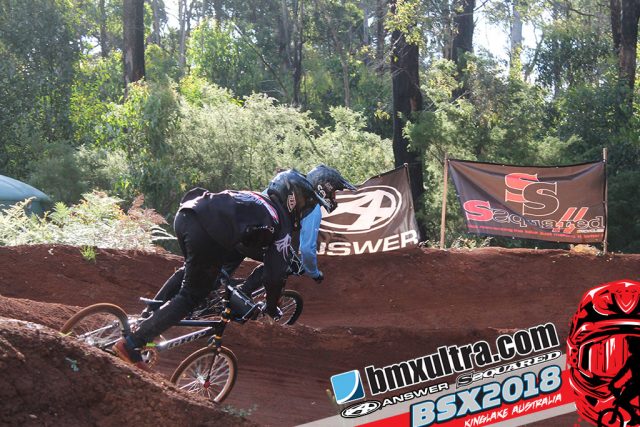 The A final was a much awaited match up. Josh Callan has won about 6 or so BSX events but that didn't look to intimidate Cooper Bromley. Josh got a faster first straight but Cooper was in striking distance all the way to the line waiting for an opportunity that didn't present itself.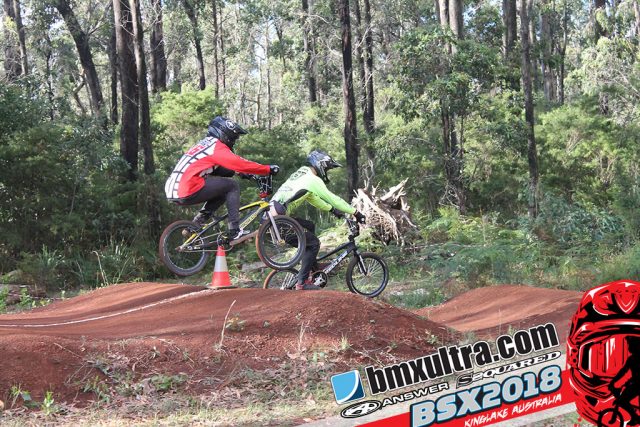 One of the hotly contested auction items was a signed Berm Academy banner, thanks to Jason Carnes, that was signed by BMX racing legends Alice Post, Sam Willoughby, Tory Nyhaug, Greg Romero and Jason Carnes. It sold for just over $450. There were a number of awesome raffle and auction prizes and all reports showed that people loved the event and it looks like it's on again for 2019.
At last count there is around $5000 raised through the event so far.
There are still a few auctions running on ebay right now that should go for about one more week https://www.ebay.com.au/usr/bsx-inc.
And there is still some merchandise available.
A massive thanks to all those who supported the event. Especially our naming rights partner Answer/SSquared and Gary Brookes from ECI.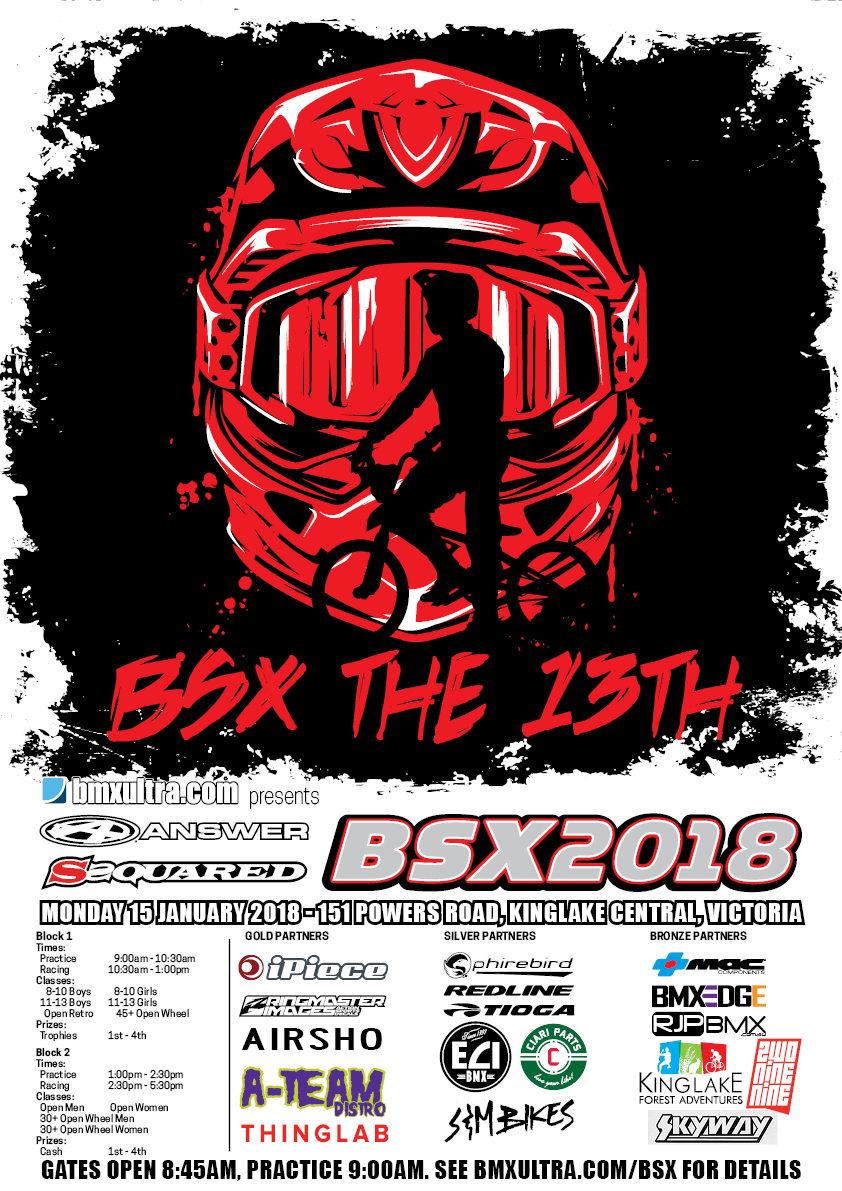 The Answer/SSquared BSX2018 is presented by BSX Inc./bmxultra.com & proudly supported by
Platinum Partner
Answer/Ssquared
Gold Partners
Airsho
iPiece Productions (www.ipiece.com.au)
Ringmaster Images
A-Team Distro
Thinglab
Silver Partners
Phirebird
Redline
Tioga
ECI Imports
Ciari
S&M Bikes
Bronze Partners
Mac Components
Kinglake Forest Adventures
BMXEDGE
Skyway
RJPBMX
2WONINENINE
ABOUT BSX
BSX (Bicycle Supercross) is one-on-one sprint trails style BMX racing on a backyard track built specifically to test a rider's skills. The short straights, lofty jumps and tight corners are intense under race conditions, offering a fun and entertaining event for competitors and spectators alike. The event provides a unique experience for the local Victorian riders, as well as the interstate and international visitors during an off day of the annual BMX Victoria Track Attack series.
The primary goal BSX is to raise money for the Royal Children's Hospital Foundation but there's so much more to the event. It creates an atmosphere that words just can't describe. Since the very first event in 2006, BSX has raised over $50,000 helping to providing the hospital with much-needed equipment.
ABOUT THE ROYAL CHILDREN'S HOSPITAL
The Royal Children's Hospital is the major specialist paediatric hospital in Victoria and provides a full range of clinical services and health promotion and prevention programs for infants through to adolescents. Each year the Royal Children's Hospital treats tens of thousands of children through our Emergency Department, inpatient admissions and outpatient visits. The Royal Children's Hospital Foundation plays a vital role in providing additional funding to support important research projects and purchase state of the art medical equipment to ensure that every child receives the very best treatment now and into the future.
Posted in: News