Answer/SSquared BSX2019: New Partners Radio & Tioga
The clock is ticking, we are just 47 days until The Answer/SSquared BSX2019, and it's shaping up to be the biggest yet with people already contacting us about accommodation in the area. If you are looking for accommodation, camping facilities please read details below. But first we have some exciting new partner announcements to share with you.
Make sure you are ready for the most fun you can have on two wheels. If you've ever thought of competing at BSX, the one of a kind one-on-one sprint trails/charity event, clear your calendar – Monday 14 January, Kinglake Victoria.
The newest partners to join the Answer/SSquared BSX2019 line up are Radio Bicycles and Tioga.
Gold Partner: Radio Bicycles
We'd like to welcome Radio Bicycles as our newest gold partner for BSX2019. Radio, distributed across Australia by BMX International, kicked off their line of race bikes early in 2018 and might be new to the race crowd but the Radio brand has been in BMX for quite some time.
In their own words here's how Radio described their launch into the race scene.
After over 3 years of extensive research and development, RADIO BIKES is beyond excited to bring you a new story in BMX Racing. RADIO RACELINE combines over 20 years of experience of creating BMX bikes together with input from some of the world's best racers and industry players to create a revolutionary and all-encompassing line up of bikes built to take you to the finish line – unlike anything else.
Tested on the track and designed in conjunction with a team with BMX race knowledge spanning 3 decades, RADIO RACELINE enters the market with an incredibly well thought out and powerful line of purebred race machines. You'll find no gimmicks on any of our bikes, no "goofy" tubing shapes or unnecessary features. Our bikes have been built from the ground up with race-proven geometry and technology combined with and clean, functional aesthetics designed to give you the best possible holeshot out of the gate. From our entry level bikes all the way through to our aftermarket frames, all RADIO products are designed to feel comfortable, stiff and fast, exactly how a race bike should.
With a full line of bikes in all sizes from MINI all the way to PRO XL, the range kicks off with the entry level COBALT line that packs an enormous amount of technology and features into what essentially will be a rider's first race bike. Even from day one, we believe in giving the rider a bike which will allow them every chance to rapidly climb the ranks and on to the podium. The series then progresses to the mid-level XENON line, where the bikes themselves have been created with incredibly stiff and responsive frames with specific incremental spec and geometry changes, giving all riders the "perfect" feel no matter their age, size or ability.
You can look forward to seeing our line our bikes expand and grow over the upcoming year, as well as a full line of aftermarket frames and components which will be ridden by some of the top riders in the world.
RADIO RACELINE may be a newcomer to the race scene but we balance that with a strong, indisputable history for producing fantastic feeling bikes and a vision for dominating the racetrack from now on and into the future.
With a team that includes the likes of multiple World Champion Tommy Tucker putting their trust in Radio on an international scaled you can be confident these bikes are bred to win.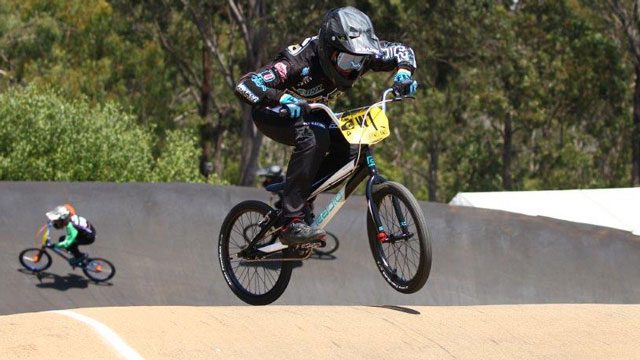 Check out radiobikes.com for more information.
Silver Partner: Tioga
Tioga Tires have been leading the tire market since the early days of BMX. The all time biggest selling tire for BMX would have to be the Comp 3, which is still being manufactured today. More recently the PowerBlock and PowerBand tires have been ruling the roost and can be seen on bikes for many of the fastest riders in the world.
Find out more at www.tiogausa.com/bmx_race
Both Redline and Tioga are distributed across Australia by BMX International (www.bmxinternational.com.au). We'd like to thank the crew at BMXI for all their support over the past few years.
BSX is only possible thanks to the amazing support of companies like BMX International, Radio Bicycles, Tioga and all of our other partners. Make sure you support those who support BMX. Buy Local. If you would like to score yourself some Radio, Tioga or goodies from our other partners make sure you get yourself to Kinglake on Monday 14 January 2019.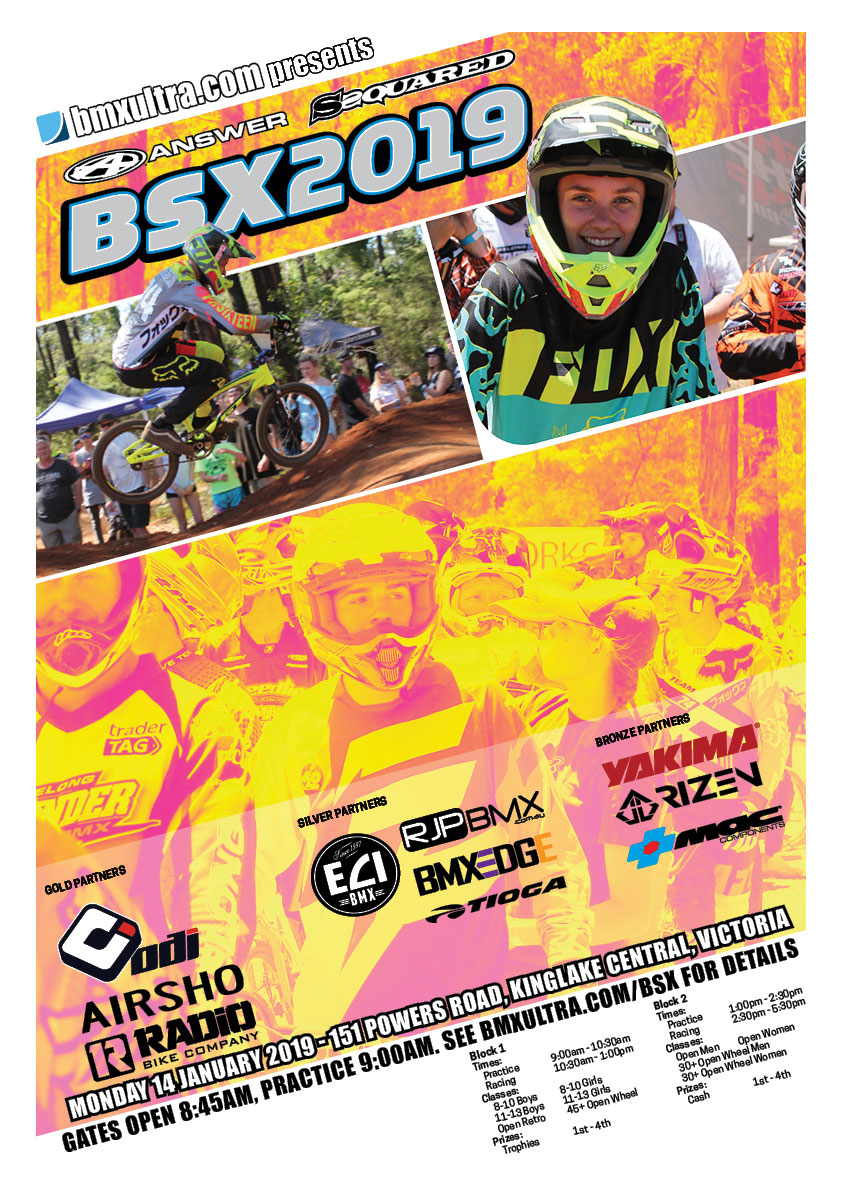 The Answer/Ssquared BSX2019 is presented by BSX Inc/bmxultra.com & proudly supported by
Platinum Partner
Answer/Ssquared
Gold Partners
ODI Grips
Airsho
Radio Bicycles
Silver Partners
ECI Imports
RJPBMX Store
BMXEDGE
Tioga
Bronze Partners
Yakima
Rizen
Mac Components
WHO CAN COMPETE AT BSX2019?
It's a common misconception that BSX is an invite only event. This is not the case, everyone is welcome to join in on the fun and festivities.
WANT TO BECOME A BSX2019 PARTNER?
Email webmaster@bmxultra.com today for details.
NEW FORMAT & NEW CLASSES
Block 1
Times:
Practice 9:00am – 10:30am
Racing 10:30am – 1:00pm
Classes:
8-10 Boys, 8-10 Girls
11-13 Boys, 11-13 Girls
Open Retro, 45+ Open Wheel
Prizes:
Trophies 1st – 4th
Block 2
Times:
Practice 1:00pm – 2:30pm
Racing 2:30pm – 5:30pm
Classes:
Open Men, Open Women
30+ Open Wheel Men
30+ Open Wheel Women
Prizes:
Cash 1st – 4th
Camping/Accommodation
Unfortunately this year we aren't able to offer camping at the venue as we have in the past. Here are some alternatives for those looking to camp or stay close to the track.
The Gums Camping Area (website)
Make sure you book ahead these camping grounds can be quite popular during the school holidays.
The Kinglake Pub (website)
For enquiries/bookings call (03) 5786 1230 Or email info@kinglakepub.com.au
ABOUT BSX
BSX (Bicycle Supercross) is one-on-one sprint trails style BMX racing on a backyard track built specifically to test a rider's skills. The short straights, lofty jumps and tight corners are intense under race conditions, offering a fun and entertaining event for competitors and spectators alike. The event provides a unique experience for the local Victorian riders, as well as the interstate and international visitors during an off day of the annual BMX Victoria Track Attack series.
The primary goal BSX is to raise money for the Royal Children's Hospital Foundation but there's so much more to the event. It creates an atmosphere that words just can't describe. Since the very first event in 2006 BSX has raised $55,712 helping to providing the hospital with much-needed equipment.
ABOUT THE ROYAL CHILDREN'S HOSPITAL
The Royal Children's Hospital is the major specialist paediatric hospital in Victoria and provides a full range of clinical services and health promotion and prevention programs for infants through to adolescents. Each year the Royal Children's Hospital treats tens of thousands of children through our Emergency Department, inpatient admissions and outpatient visits. The Royal Children's Hospital Foundation plays a vital role in providing additional funding to support important research projects and purchase state of the art medical equipment to ensure that every child receives the very best treatment now and into the future.
Posted in: News