BMX Platform Pedals for Dummies
With the deadline looming for UCI's pedal rule change it's as good a time as any for a platform pedal buyer's guide. We hope that everyone can get something out of it.
As of January 1 2019 the UCI have introduced the following rule for BMX racing "Interlocking pedal-cleat systems are allowed for all riders age 13 and older. For avoidance of doubt, riders aged 12 and under must use flat pedals with no interlocking pedal-cleat system." Many governing bodies have fallen into line with this change opening up a whole new world for some riders who may not have raced with platform pedals for many years.
Having raced for over three decades on platform pedals and always on the hunt for the perfect pedal I have learned a lot in my search. I've currently settled with the Pedaling Innovations Catalyst pedals, which aren't for everyone given their size. We will focus on what to look for in a pedal and look across the various options in a few different sizes.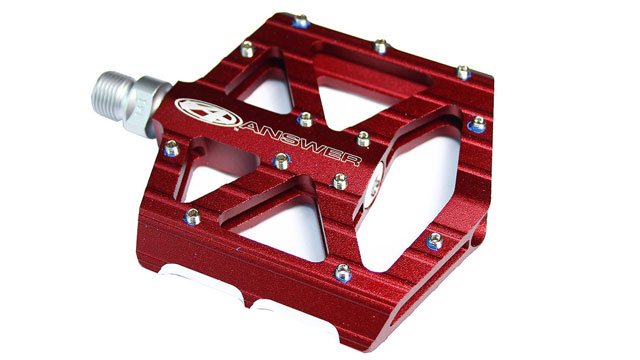 Common problems with platform pedals
Let's get started with the common problems with platform pedals.
There are two main issues riders face with platform pedals. There's the obvious slipping of the pedal, normally attributed to poor grip on the pedal and there's rolling the pedal which means the pedal literally rolls under foot. Pedal roll generally occurs on pedals with platforms that are too small (front to back). Buying a smaller pedal for weight benefit isn't the right mind set when considering platform pedals for racing.
Both issues could also be the result of poor foot position. The traditional theory for foot position over the pedal is that you want the ball of your foot to be over the pedal axle, but there is a new emerging theory that the best foot position is the arch of the foot over the pedal axle. I've tried both but with a big foot and long cranks I have found a mid foot position isn't possible without toe drag and I can't get enough drive using the ball of my foot, so I found a comfortable position that's half way between the two. Experiment a little with your foot position to find what works best for you.
Comfort
It's important to consider the size of the pedal body vs the size of the foot/shoe. While a smaller pedal will most likely be lighter, if it's too narrow it can cause discomfort from the (outside) end of the pedal putting pressure on the base of the foot. You should try to find a pedal that is as wide as the shoe if not slightly wider.
Pedal Stance
Some pedals have a narrow stance, like the Answer senior pedals for example, the gap between the crank arm and the pedal body is so small you can't use a normal crank tool on them. What this does is bring the foot, or more accurately the ankle, closer to the crank arm. While this wont be a problem for many people it can cause problems for some and is worth checking out when considering a new pedal.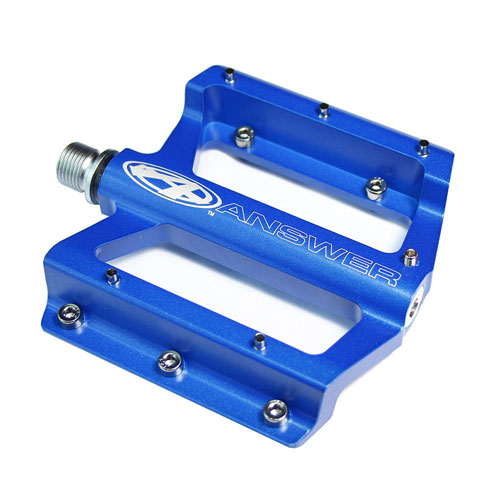 What to look for in a pedal
Sealed bearings
A general rule of thumb is sealed bearings are better quality, will last longer and require less maintenance. If you are looking for a pedal that will last don't waste your time and money on an open bearing pedal.
Axle colour
You may have noticed there are two main pedal axle colours. Black is an indicator that the pedals have loose bearings and silver usually means the bearings are sealed. There are some exceptions to the rule and there are some manufacturers who add colour to the axle.
Pins
You really want to find a pedal with replaceable pins to extend the life of the pedal. From time to time they might work loose and fall out. Now while most pedals say they have replaceable pedals, sometime the pins just aren't available, ask while you are buying the pedals rather than when it's too late.
Longer pins can provide more grip but the pins don't need to tear into the shoe for good grip, no point getting carried away with long pins, they would just cause more problems to the rider should an unfortunate pedal slip occur.
The number of pins can also cause confusion, you don't need more pins for more grip. The Answer MPH Senior pedals proved this to me. Providing the platform is a good size and the pins provide enough grip to prevent movement you don't need that locked in feel.
A Concave Platform
A concave platform is where the pedal body is lower over the axle than it is over the front and rear of the pedal. This will help smaller feet get better purchase and fell more supported on the pedal. With larger feet and larger pedals it's not as necessary to help with grip.
Three Main Pedal Categories
While there are many alternative materials used in pedals (like magnesium), and there are also caged pedals, these are the three main categories for platform pedals that we focus on.
Plastic Pedals
These are the injection molded nylon pedals that our freestyling brothers use. In general you will want to stay away from these for racing.
Cheap
Don't provide a lot of grip
Wear quickly. Especially the "pins"
May shatter on impact
Generally have loose bearings
There may be exceptions to the rule like the Speedline Parts Composite Compact Platform pedals, more about those later.
Cast Alloy Pedals
Cast alloy pedals are another cheap alternative platform pedals. A lot of new complete bikes sell with cast alloy pedals. They are easy on the pocket, but as the old adage goes "you get what you pay for".
Cheap
Don't provide a lot of grip, once worn
Wear quickly
Generally have loose bearings
CNCd Alloy Pedals
Most of the best pedals on the market fit in this category, like the Answer line of pedals or even the Pedalling Innovations Catalyst pedals.
More expensive
Replaceable pins
More durable
Sealed bearings
Generally serviceable
Will last a whole lot longer
Here's some of our favourites
So as you can see Pedals ain't Pedals.
There are a whole lot of options on the market screaming out for your hard earned money.
Do yourself a favour, do your homework, check what's available to you. Try before you can buy if you have the opportunity.
With the right technique and the right shoe & pedal combo you will find you have plenty of grip on your platform pedal and there will be nothing you can't do with them.
Posted in: News