Well BSX2015 is done and dusted but we still have a whole lot to share from the event, you've seen the results already, well here's how the finals went down in all four classes.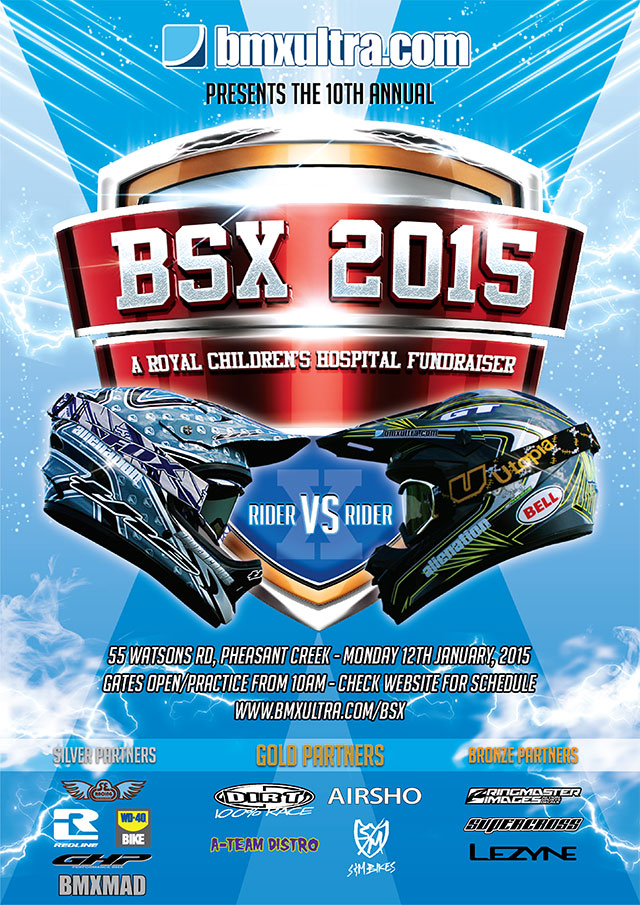 BSX2015 is presented by BSX Inc/bmxultra.com & proudly supported by
Gold Partners
Dirt Designs (www.bmxultra.com/dirt)
Airsho
A-Team Distro
S&M/ECI
Silver Partners
Redline Bicycles/BMX International
SE Bikes/Oceania Bicycles
GHP/PKR
BMXMAD
WD-40 Bike
Bronze Partners
Travis Pope
Ringmaster Images – Action Sports Decals
Supercross BMX
Simon Anderson/Monza Imports
Lezyne/Monza Imports

About BSX
BSX (Bicycle Supercross) is one-on-one sprint trails style BMX racing on a backyard track built specifically to test a rider's skills. The short straights, lofty jumps and tight corners are intense under race conditions, offering a fun and entertaining event for competitors and spectators alike. The event provides a unique experience for the local Victorian riders, as well as the interstate and international visitors during an off day of the annual BMX Victoria Track Attack series.
The primary goal BSX is to raise money for the Royal Children's Hospital Foundation but there's so much more to the event. It creates an atmosphere that words just can't describe. Since the very first event in 2006, BSX has raised over $36,000 helping to providing the hospital with much-needed equipment.
About the Royal Children's Hospital
The Royal Children's Hospital is the major specialist paediatric hospital in Victoria and provides a full range of clinical services and health promotion and prevention programs for infants through to adolescents. Each year the Royal Children's Hospital treats tens of thousands of children through our Emergency Department, inpatient admissions and outpatient visits. The Royal Children's Hospital Foundation plays a vital role in providing additional funding to support important research projects and purchase state of the art medical equipment to ensure that every child receives the very best treatment now and into the future.