BSX2015: The Report Part 2
(Continuing on from BSX2015: The Report Part 1)
For the first time in the ten years of the event we changed things up a little by adding the 12 & Under class to kick off racing. But first they'd have to go through their time trial. South Australian Joel Marsh laid down the fastest lap of the Groms to take the top seed into the elimination rounds. Victorians Flynn Cooper and Pat Bognar rounded out the top 3. That's not to say the class was about to be a three horse race. Of the 17 riders in the group there were a number of riders who would be capable of getting in the mix. Gian Renato and Jumpin Josh Jolly looked at home on the jumps as did Kinglake local Byron Blyth. Unfortunately for Nathan Eaton one rider was dropped from the time trial and it just wasn't his day.
| | | | |
| --- | --- | --- | --- |
| Top 16 | Top 8 | Semi | Final |
| 1. Joel Marsh | | | |
| | 1. Joel Marsh | | |
| 9. Josh Jolly | | | |
| | | 1. Joel Marsh | |
| 5. Oliver Willgoose | | | |
| | 5. Oliver Willgoose | | A- Final |
| 13. Harison Gay | | | 1. Joel Marsh |
| | | | Defeated |
| 3. Pat Bognar | | | 4. Morgan Seward |
| | 3. Pat Bognar | | |
| 11. Siobhan Lowther | | | |
| | | 3. Pat Bognar | |
| 7. Seth Haynes | | | |
| | 7. Seth Haynes | | B- Final |
| 15. Joel Eaton | | | 3. Pat Bognar |
| | | | Defeated |
| 2. Flynn Cooper | | | 2. Flynn Cooper |
| | 2. Flynn Cooper | | |
| 10. Kyal Waldron | | | |
| | | 2. Flynn Cooper | |
| 6. Gian Renato | | | |
| | 6. Gian Renato | | |
| 14. Kira Hill | | | |
| | | | |
| 4. Morgan Seward | | | |
| | 4. Morgan Seward | | |
| 12. Samuel Thorpe | | | |
| | | 4. Morgan Seward | |
| 8. Byron Blyth | | | |
| | 8. Byron Blyth | | |
| 16. Emerald Blyth | | | |
Racing was done for the 12 & Under class and when the dust settled it was Joel Marsh who emerged our first ever 12 & Under winner.
Next up in the program was the time trials for all of the other classes. All eyes were on the dynamic duo Simon and Iesha Anderson, the father and daughter who took the 30 & Over Open wheel and Open women's classes at BSX2014. Actually Simon was in the running for his nineth consecutive win, quite an astonishing record should he be able to pull it off. The Open men's class was star studded and there were favourites, but no one really stood out in the class as the man to beat, we'd all just have to sit back and watch it all unfold.
In the 30 & Over Open wheel time trials Glenn Main set a handy time early which had him sitting on the hot seat for some time, but it wasn't enough to hold off Simon Anderson who once again posted the fastest time, he was followed by Jade McPherson who finished second and Robert Slatter who finished in third. There was a whole lot of experience and talent in the class though, if past BSX events are anything to go by a good time in the time trial is far from a free pass to the finals. There were 16 in the field so all riders went through to eliminations.
In the Open Women Iesha Anderson set a blistering time, Jarrah Hecker posted the second fastest time with Ashleigh Gunn taking the three spot. With 11 women racing for 8 elimination spots racing was tough and to see the likes of Vanessa Gooden, Danika Cameron and Samantha Milloy eliminated in the time trial you could be sure that we were in  for a great day of racing.
The top three Open Men went like this Julien Lukie, then Josh Callan and Bodi Turner. Callan and Turner are both past winners of the event and know just how important it is to finish in the top spot, below them is a who's who of talented Aussie BMXers, but with 42 riders and only 32 spots to fill there were 10 riders packing up early, a tough day in the office for sure.
With the time trials over we had an impromptu whip competition, replacing the long standing high jump, it was a single run for each rider, and there were close to 30 riders getting in on the action. For many the pressure was a bit much, but while there were some awesome whips, it was the first rider up, Joey Graham who pulled the best whip for the day. With a fifth fastest time posted and the win in the whip competition there is no doubt that boy can ride a bike.
(to be continued)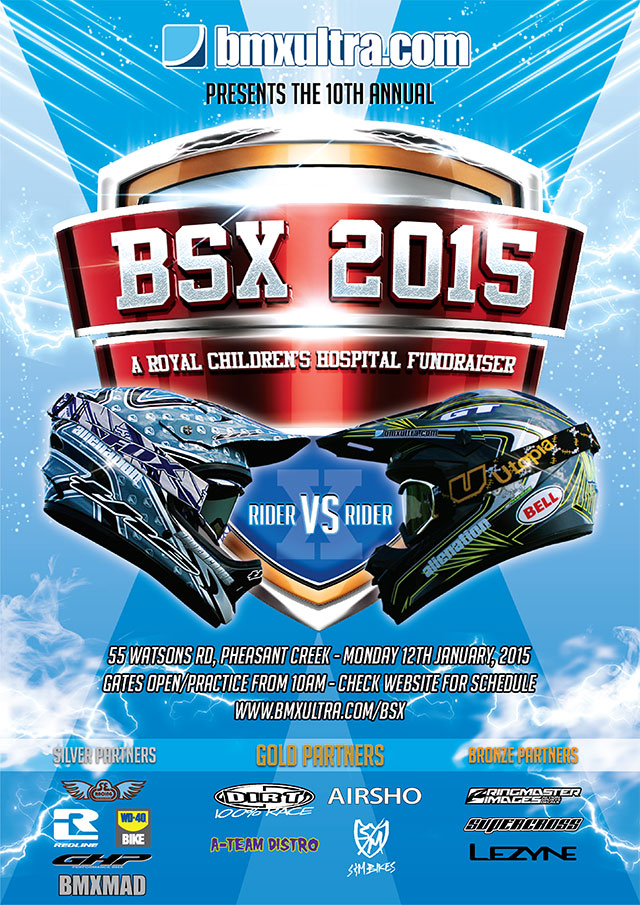 BSX2015 is presented by BSX Inc/bmxultra.com & proudly supported by
Gold Partners
Dirt Designs (www.bmxultra.com/dirt)
Airsho
A-Team Distro
S&M/ECI
Silver Partners
Redline Bicycles/BMX International
SE Bikes/Oceania Bicycles
GHP/PKR
BMXMAD
WD-40 Bike
Bronze Partners
Travis Pope
Ringmaster Images – Action Sports Decals
Supercross BMX
Simon Anderson/Monza Imports
Lezyne/Monza Imports

About BSX
BSX (Bicycle Supercross) is one-on-one sprint trails style BMX racing on a backyard track built specifically to test a rider's skills. The short straights, lofty jumps and tight corners are intense under race conditions, offering a fun and entertaining event for competitors and spectators alike. The event provides a unique experience for the local Victorian riders, as well as the interstate and international visitors during an off day of the annual BMX Victoria Track Attack series.
The primary goal BSX is to raise money for the Royal Children's Hospital Foundation but there's so much more to the event. It creates an atmosphere that words just can't describe. Since the very first event in 2006, BSX has raised over $36,000 helping to providing the hospital with much-needed equipment.
About the Royal Children's Hospital
The Royal Children's Hospital is the major specialist paediatric hospital in Victoria and provides a full range of clinical services and health promotion and prevention programs for infants through to adolescents. Each year the Royal Children's Hospital treats tens of thousands of children through our Emergency Department, inpatient admissions and outpatient visits. The Royal Children's Hospital Foundation plays a vital role in providing additional funding to support important research projects and purchase state of the art medical equipment to ensure that every child receives the very best treatment now and into the future.
Posted in: News