Product Spotlight: Subrosa Speedwolf Race Frame
While most of the BMX racing world go crazy for the latest and greatest frames using the latest in carbon and exotic alloys the guys over at Subrosa head back to their BMX racing roots and have developed a cromo race frame. I'm not sure what's going on in the world of freestyle for brands like Subrosa, Colony and Cult to have all come out with race frames recently but it can't be a bad thing. Can it?
The Subrosa Speedwolf has the classic look of a cromo frame with modern features to lighten and stiffen it. While the current breed of BMX racer may have forgotten all about cromo I find it refreshing that there are still companies around today that are willing to give it a new lease on life. Long live cromo.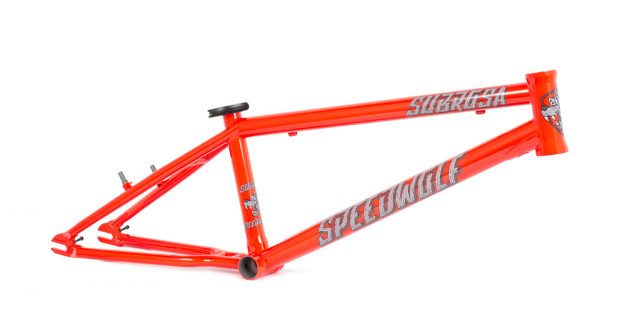 Manufacturer's Description
Subrosa is proud to introduce our 1st race frame, the Speedwolf. To create the stiffest chromoly frame on the market we developed proprietary shaped seat and down tubes that maximize the contact area and reduces flex. Other features include: 3-D CNC dropouts with integrated chain adjusters, included Q/R seat clamp and dual stiffeners behind the BB. Whether it's rippin gates, staying low and fast over a double, or pushing past the finish for the win, the Speedwolf's got ya covered!
Features
100% Air Craft Quality Chromoly
Hydro-formed oversize double butted down tube with gusset
Double butted top tube
Hydro-formed single butted seat tube
CNC integrated head tube
Dual Seat Stay Bridges
3D Dropouts with chain adjusters
Tapered and butted seat stays
Investment cast seat stay bridge
Double butted chain stays
CNC shaped Euro BB
Gallery
Specifications
Sizes: Pro Short (20.75"), Pro (21.0"), Pro XL (21.25"), Pro XXL (21.5")
Frame: 4130 chromoly, double butted top tube and down tube
Head tube: 74.5° / 115mm
Seat tube: 71° / 27.2" / 8" length
Chain stays: 14.25" – 15.25"
BB: 11.6" / euro
Dropouts: 3/8" with integrated tensioners
Weight: 4.2 lbs for 21"
Colour: Fury Red or Matt Black
For more information check out subrosabrand.com
Posted in: News