Radelaide 2015 BMX Show and Shine
The Radelaide 2015 BMX Show and Shine is coming up and these guys mean business. Not only is it a show and shine the Radelaide crew have set a target to raise $5,000 for the Cancer Council. To hit their target they have put together a BBQ and an awesome line up of prizes (old school, new school and collectables) for a massive raffle. It sounds like it's going to be a great day out. If you are anywhere near Port Wakefield on December 5 make sure you check it out. If you aren't, I'm sure there are plenty of ways to still get involved.
When: Saturday, December 5 at 10:00am
Where: Port Wakefield Hotel, 22 Burra Street, Port Wakefield, South Australia 5550
Radelaide 2015 BMX Show and Shine plans are well underway with a great group of supporters and sponsors.
A BIG day of fun and entertainment is being organised with all proceeds going to a very worth while cause (Cancer Council SA)
So please keep the 5th of December free for another great day/night at the Port Wakefield Hotel.
Join the Facebook event to stay updated: www.facebook.com/events/888505591229805/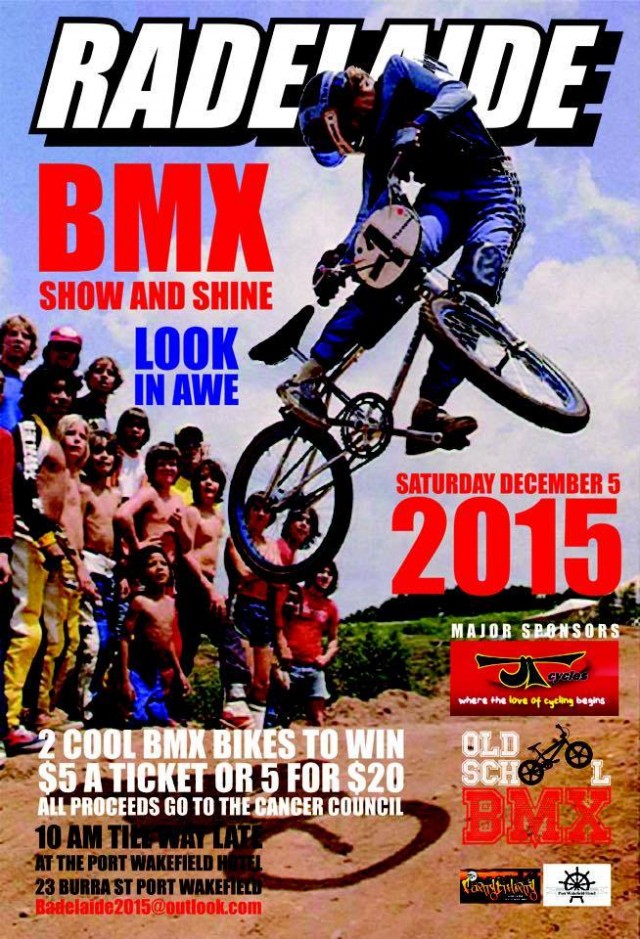 Radelaide 2015 Sponsors (In no particular order)

Port Wakefield Hotel http://www.portwakefieldhotel.com/
JT Cycles Elizabeth http://www.jtcycles.com.au/
Forty1thirty Old School BMX
Old School BMX Shop http://www.oldschoolbmx.com.au/
Fleurieu Fishing Charters http://www.gocharterfishing.com.au/
PK Racing / GHP Australia http://www.ghpbmxaus.net.au/
Missile Thread Company https://www.facebook.com/missilethreadcompany?fref=ts
Adelaide Powder Coaters (08) 8281 4924
Brian Kirkham https://www.facebook.com/briankirkham42?fref=ts
Troy Brosnan http://troybrosnan.com/
Shane Rosa https://www.facebook.com/ShaneRosaBMX
Coopers Brewery http://www.coopers.com.au/
Free Range Seafood http://www.freerangeseafood.com/
MV2 http://www.mv2.com.au/
Hick's Sign Co.
ULTRA WERKS USA https://www.facebook.com/ultrawerks
Dale Holmes Racing (Anthony Dean) http://daleholmesracing.com/website/
Posted in: News