The UCI's Pedal Rule Amendment – Blowing Up the Internet
Who would have thought that 20 years after the introduction of clip pedals to BMX racing the UCI would turn around and ban them for riders under 13 years old. An event that was bound to blow up the internet. The response has been quite heated, but why? BMX racing, like most other sports, is just another recreation, just something else people do for fun. Fun is the main reason I still do it after 35 years. I have chose to compete that whole time on flat pedals because I believe it's safer and will allow me to compete long after many of my friends have been forced to quit due to injuries.
The UCI have released new amendments to the rule book for BMX racing that will be implemented from 1 January 2019. Among the changes this pedal rule is set to be the most controversial rule change to ever come out of the UCI.
6.1.079

Crank arms may be of any length so long as they do not compromise the bicycle's
ground clearance.

The bottom bracket bearings must be adjusted so as to allow the cranks to spin
smoothly and without noticeable play.

Pedals must be securely attached to the crank arms. Toe clips and straps are not
permitted.

(N) Interlocking pedal-cleat systems are allowed for all riders age 13 and older. For
avoidance of doubt, riders aged 12 and under must use flat pedals with no
interlocking pedal-cleat system. With the exception of the UCI BMX World
Challenge, national federations or continental confederations may decide to set
limits on the use of such interlocking pedal-cleat systems for the challenge
categories 12 years old and younger in all events held within their territory. In case
the continental confederation sets such a limit, it shall apply in all member countries
of that continental confederation.

Multiple speed gear systems are permitted.
I can understand someone being upset with the change, especially at short notice, when people spend quite a bit of coin on cleated shoes and pedals. Cleats have been so heavily ingrained in BMX racing culture, over the two decades, it's rare to see someone racing with flat pedals beyond club events. One thing though, the rule is for everyone aged 12 and under, across the board, there is no one left at a disadvantage.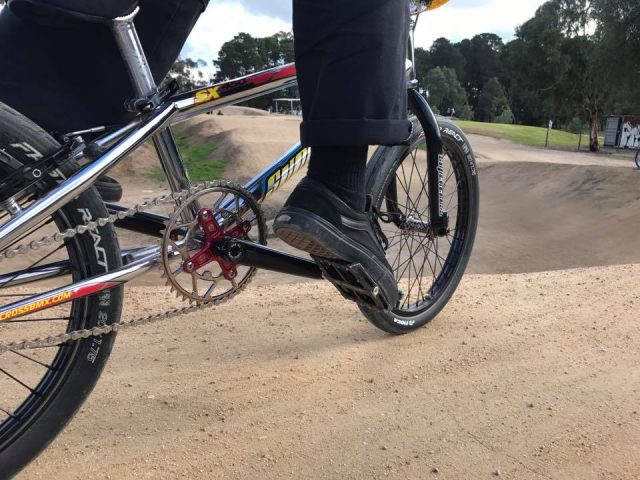 I've been involved in running a flat pedal only charity event called BSX. We chose to go for flat pedals to reduce risk of injury. While it adds a new element to the race it doesn't really change the results. Generally if someone is quick on clip pedals they will still be quick on flat pedals. I have noticed however that some people have chosen not to compete because they "can't ride without clips". A strange, but weirdly common excuse for some riders. I can only assume there will be a transition period for riders who fit this category and I'm sure they will learn to adapt.
BMX Australia released the following statement on their social media
A message on the new UCI ruling from Neil Cameron, BMXA Chairman.

BMXA Basic "Principles" of the 2019 Clip Pedal rule …

We determine the age of a rider by what birthday they have in a current year – not on how old they are at any particular point in time.
The Clip Ban is "Class Specific" – Classes 12 and under are not allowed to use clips – Classes 13 and over have the choice of what pedal type they use.
This is a blanket rule across all BMX "racing" in Australia (this includes all race events, club/region/state training activities, gate nights etc).
It does not matter if an event is "age on day" or "year of birth" – statement 2 above applies.

BMX Basic "Principles" of Riding Up

A challenge class rider (not mini wheeler or sprocket) can "ride up" – to the pinnacle class which currently stands at 17-24 years.
The extreme example of this is an 8-year-old class rider can enter the 17-24 class. On the other end a 50+ class rider can enter the 17-24 class.
Statement 2 above applies to the class they are in, so if an 8-year-old class rider enters the 13-year class they can ride on clips.
No rider is allowed to ride up in any of the following events: State Championship, Australian National Series, Australian Championship, Oceania Championships, World Championship.

Common sense on how this will work

All classes 12 and under – "Show us your feet" when you get to staging – you will not be allowed on the gate if you have clips on.
All classes 13 and over – "Go to the gate" – we do not inspect a rider's feet for clips etc.
Any rider who rides in any class 12 years and under who wears clips should/will be disqualified from the race meeting.

The final word …

No organisation (eg club, region, state) has the right to over-ride these guidelines or rules within the Australian rulebook.

I would ask all members to think carefully and be very polite when dealing with BMX Australia staff during the implementation of this rule change.

They are not responsible for these changes and I will have zero tolerance towards rude or aggressive behaviour towards the staff via any form of communication.

Regards,

Neil Cameron
BMX Australia Chairman
Ultimately it's a rule change that already looks like it's being adopted across the world, and people are accepting the change as can be seen by heavy promotion on the internet for platform pedals. Sure it's a change that could potentially cost people money, but it doesn't change BMX racing. You still line up against the same people on the same tracks only now we could potentially see increased safety for younger riders.
Safety is a key factor here and if it means we have more riders competing in the sport longer because of it, I'm all for it.
Posted in: News