Glenn Codega needs no introduction to our Australian readers. He's one of the top Australian Pro BMXers, a former World Champion, and heads up Phirebird Raceways. Some of the NBL riders might remember Glenn's come from behind win in the strong A Pro field at the 2006 NBL Grands. One of Glenn's sponsors are 2XU, and he convinced me to try out their compression pants. I mean me! How could they possibly do anything for me? Well, I did pay a bit of attention to the review Jamie Bullows did on the BSC compression pants and thought I have nothing to lose from trying them out, except maybe my dignity if anyone was to see me in them, but let's not go there.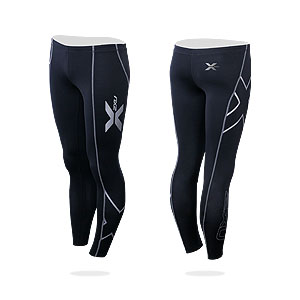 2XU pride themselves in their development in superior fabrics and design. The end result? In summary performance benefits like:
Reduced muscle vibration improving muscle endurance and speed
Enhanced stability and agility
Reduced soft tissue damage and faster recovery
Faster flushing of blood latates, reduced soreness and improved recovery and performance
Enhanced bloodflow for faster muscle warm-up and improved oxygen circulation.
Ok so that's the marketing hype, all I wanted to know is would they help.
The first time I had used them I had been riding around at a track for 2 hours, I had them with me but forgot to put them on. I was a little fatigued so headed home. Then I thought if they help with recovery and performance how about I slip them on at home and hit up the backyard track for a bit. Pretty much instantly my legs started to feel better and I fit another hour of riding in. Sure it wasn't the intensity of full on training, since it's more of a jumps track, but you need explosive power for about 2 pedals to get up to speed. Doing lap after lap certainly takes it out of you.
After an hour of riding it's not uncommon for my legs to be sweaty which worries me sometimes about kneeguards slipping. I noticed, at first – while the pants were dry, the kneeguards would slip a little, however when the moisture was absorbed in the pants there was less slip. There's two additional benefits right there. The sweat was being drawn away from my legs which meant for a cooler and more comfortable ride and there was less kneeguard slip. Not bad.
BMX is pretty stop start though, I also play inline hockey, again stop start but much greater intesity over a longer duration. I have played many games with the compression pants and my legs felt cooler through the game and better during and after the games. The pants have become part of my equipment now.
Personally I see them best for training and recovery for BMX, they are comfortable enough that you could wear them all day at a race meeting, and you will still get the performance benefits only I prefer race pants with kneeguards underneath and I wouldn't want either of them to slip in a race when it really matters.
Rating 18/20:
| | |
| --- | --- |
| Value for money: | 4/5 |
| Weight: | 5/5 |
| Functionality: | 4/5 |
| Looks/Finish: | 5/5 |
Comments:
$140 seems like the market rate, I would still consider them a little expensive, but there are some distinct benefits.
After initially squeezing into the tight fitting pants they are so comfortable you won't notice them on.
They certainly do help but I would like to see someone come up with some compression pants that would allow you to wear kneeguards and race pants over the top.
The 2XU pants have their own unique design, not too over stated.
For more information about 2XU products check out www.2xuqld.com.au or www.2xu.com
Reviewed by Shane Jenkins/bmxultra.com February 1 2008.
Posted in: Reviews · Training Systems