Here's a fresh idea from ABD, customisable grips. The Kochwuerste grip set from ABD comes as a single ply single grip, yes a single grip…Siamese twins style, they are joined at the ends with the flange on the outsides. This gives you the option to cut the grip to your preferred width. If you find common grips are just too narrow, then these grips might be just what you are looking for. While standard grip width is around 140 mm you can get up to 210 mm if you cut the Kochwuerste grip in the middle, which should be more than enough. But if it isn't you could go for two sets and give yourself twice the length again, ridiculous I know, but an option.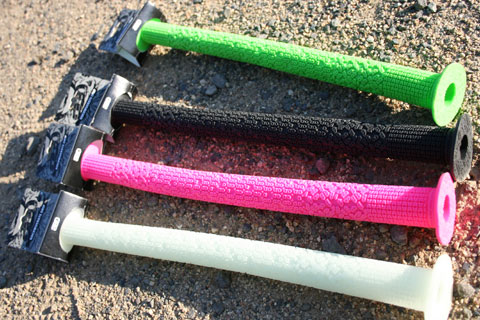 The Kochwuerste grips come in black, green, pink and glow in the dark. The glow in the dark is a nice idea, but they don't really glow for all that long and probably not at all once they are covered in dirt and grime, so not much point for a bike that's going to get a lot of riding. The bright lime green and fluro pink are quite vibrant colours and will probably be quite popular, but the black option is a safe choice for ABD.
If you are looking for a soft grip then these aren't for you. They aren't hard, but I wouldn't want to use them with bare hands, especially when they are brand new. The ABD lettering on the grip does provide a good non-slip grip however the compound could have been softer. There isn't a whole lot of rubber in these grips so they would suit a rider with a smaller hand.
One downfall with them is that they don't come with bar ends, so you will need to buy them separately. The grips are pretty cheap anyway, so it's not a big deal, and you probably either have some bar ends already, or with the money you save on these grips you wouldn't have to cough up too much extra cash to bling them out with some slick bar ends.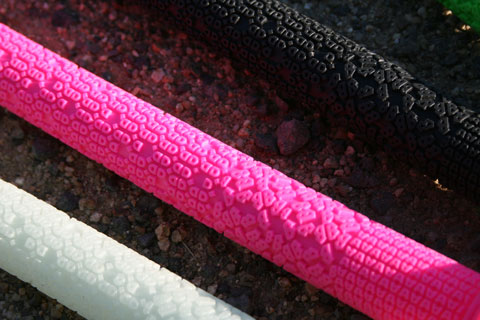 Rating 19/20:
| | |
| --- | --- |
| Value for money: | 5/5 |
| Weight: | 5/5 |
| Functionality: | 4/5 |
| Looks/Finish: | 5/5 |
Comments:
Like other ABD products we have checked out, these are a great price! Not only that but by buying ABD you would also be supporting an Australia/New Zealand based brand
There's not much rubber on these grips, so they are pretty light as far as grips go
They will do the job, but there's a fine line between just another pair of grips and a pair of comfortable grips, a softer compound would have made these grips perfect
The colours and styling are quite slick, impressive actually.
Reviewed by Shane Jenkins/bmxultra.com September 24, 2009
Posted in: Reviews