Supercross Envy XL cruiser frame
US BMX manufacturer, Supercross BMX, don't just make BMX race products; they make some of the lightest and strongest BMX race products available today using the latest in manufacturing techniques and technologies. Self confessed BMX nerd and owner of Supercross, Bill Ryan, never ceases to amaze me with the ever evolving Supercross product range which includes everything from chain tensioners to complete bikes. In the past I have reviewed frames, forks, saddles, handle bars, chain rings, hubs, tires and crank sets from Supercross and have found them to be some of the best products I have ever come across.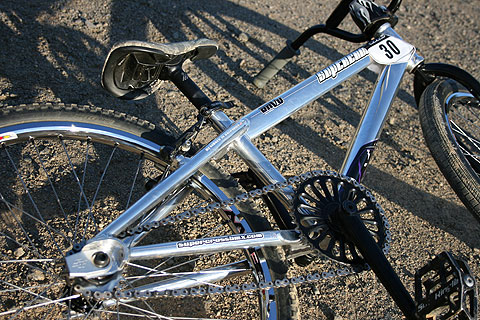 Supercross' latest offering is the alloy Envy frame, a hybrid of the G6E and S7 scandium frames. Using the light weight and specifically designed and shaped Eston hydro formed tubing with some additional modifications Supercross have been able to provide a frame of comparable strength and weight savings to the S7 without the additional cost of the scandium tubing which was putting the S7 beyond budget for many BMXers. Now more people can afford Supercross high end race frames.
So how light are they?
How does this sound: 2.75lbs for the Pro, 2.85lbs for the Pro XL and 2lbs 15 Ounces for the Pro XXL and Pro Cruiser in the anodized or polished.
Features:
Integrated Campy Style 45/45 Headtube
CNC Machined Euro BB shell
Backside CNC'd 3D Shaped Dropouts
Exclusive Custom Butted and Shaped Taperwall Down tube
Flipped Teardrop Taperwalll Top tube
Tapered Chain and Seat Stays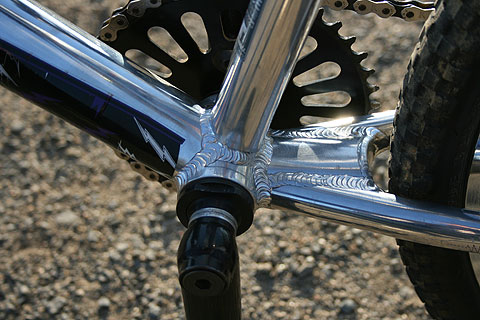 With those features the Envy isn't a cheap frame to get you started in BMX, or to ride the streets with, there are plenty of cheaper bikes out there that will do that. Like SX's own ICON series for example. The Envy is a full blown piece of race machinery with a nice price tag.
How does it feel to ride?
The first thing I noticed about the Envy frame was that the rear end was slightly longer than the G6E. I ran this by Bill and he said the feedback from riders was that the G6E was a little loopy so he added 8mm to make it more stable. The difference is very noticeable, manualing the Envy requires a little more work, a slight adjustment from riding the G6E. Another difference was the way it handled in the air. Maybe it was just me but it seems to jump better. I jumped better on my first outing on the Envy than I had in a long time. The change in the rear end also seemed to make a big difference out of the start gate and accelerating out of corners. You could put power down without fear of lifting the front end too high. It was also good to know that despite the added length in the rear the frame was still very stiff and flex free. After just 2 weeks of riding the Envy I felt so comfortable on it and so confident that I decided to race it at the World Championships in Adelaide and I ended up with a reasonable result.
As I have learned to expect from Supercross products they put just as much time and effort into looks and finish as they do functionality. The highly polished frame looked like it was chrome when it first arrived. But since it doesn't have a clear coat it's easy for it to lose it's shine. People that don't want to put in the work to keep the frame gleaming should look at the anodized or powder coated options.
Powder coat colors are Gloss Black, Pearl White, Racer Yellow, Limited Edition Neon Green, and Polish. They also offer 21 different anodized colors for a $US100 upcharge.
The Envy is available in 5 sizes; Pro, Pro XL, Pro XXL, 24″ Pro, 24″ Pro XL.
| Frame Size | Top tube length | Rear Chainstay | Bottom bracket height | Head tube angle |
| --- | --- | --- | --- | --- |
| Pro | 20.5″ | 15.00″ At Center | 11.65″ | 74.5º |
| Pro XL | 21.25″ | 15.25″ At Center | 11.65″ | 74.5º |
| Pro XXL | 21.75″ | 15.25″ At Center | 11.65″ | 74.5º |
| 24″ Pro | 21.5″ | 15.5″ At Center | 11.65″ | 73.5º |
| 24″ Pro XL | 22″ | 15.5″ At Center | 11.65″ | 73.5º |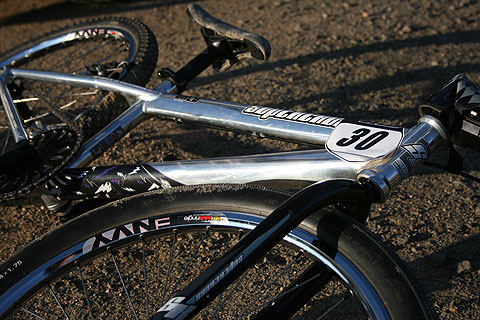 The only downfall that I found with the Envy was trying to put a 24×1.75 Tioga Powerblock tire on the back wheel. There is very little clearance in the rear for the slightly larger than normal sized tires. I've gone with the 24×1.75 Supercross Bluestreak tire for the time being and hear that Tioga are making a 24×1.6 to fix problems like this. This is more of a problem by Tioga's tire rather than Supercross' frame as other standard sized 24×1.75 tires fit just fine.
I highly recommend the Supercross Envy frame to anyone looking to buy a new race frame. Sure it's not for everyone, Supercross also have Cromo frames for the purists not interested in Alloy, and it might be a little too expensive for those who just race for fun, but if you are looking for a great frame that you can rely on this one should do the trick, and with the great finish and styling you can be sure it will turn heads.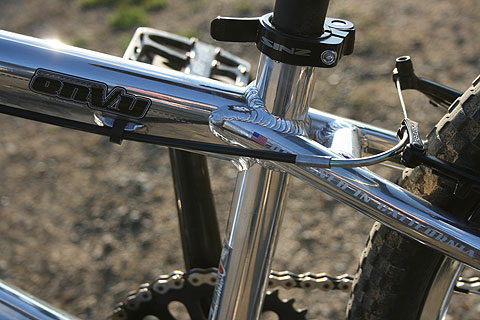 Rating 20/20:
| | |
| --- | --- |
| Value for money: | 5/5 |
| Weight: | 5/5 |
| Functionality: | 5/5 |
| Looks/Finish: | 5/5 |
Comments:
A high quality, high performance race machine built to last and at an affordable price. Now that's value for money
While other frame manufacturers go around bragging they have super light frames, it's Supercross who can say they have super light weight frames with an affordable price tag
A great strong and stiff frame that rides like a dream
Great workmanship, the welds and polish job on the frame were amazing, and you gotta love that sticker kit.
For more information about Supercross check out www.supercrossbmx.com.
Supercross is distributed in Australia by Supercross BMX Australia sxaustralia@supercrossbmx.com.
review by Shane Jenkins/4 Sept 2009