ABD (Avanti BMX Development) has been around for a number of years now, the brand can be seen at BMX races all over Australia, having sponsored major events like the South Australian State BMX Championships and our own BSX just this year alone. It doesn't stop there though, Sarah Walker has taken her ABD to world championship wins and a fourth place at the 2008 Olympics, Matt Willoughby took his to the podium in the elite men's class at the Australian National BMX Championships this year and former Junior Elite World Champion Michael Fenwick continues to tear up tracks around the country on his. After their short time in the market ABD is a race proven brand and born right here out of the Australia/New Zealand region. Their product range includes everything from grips right up to complete high end race bikes.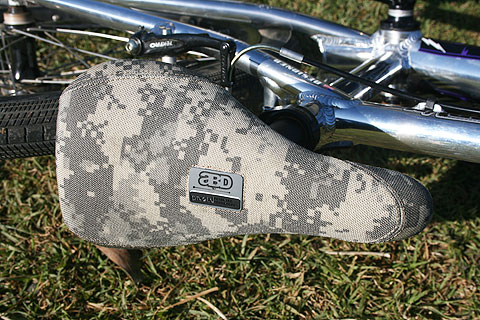 While looking to build up a light weight cruiser I thought it was time to take a look at the pivotal seat and post set up that have been around for a while, and ABD has them in a large range of patterns, colours and designs. So why pivotal? The idea of the pivotal seat and post set up (you can't run one without the other) is simply to reduce weight. Stemming from street/freestyle disciplines where it seems the riders have been leading manufacturers and the industry in general to shave weight where ever possible. The major difference is there are no rails on the seat, and there are no clunky seat clamps at the top of your post, instantly shaving weight. At the top of the seat is a rubber cover which hides an allen key bolt that just tightens down the seat into the top of the post.
While a pivotal seat does help with weight savings and does allow a wide range of angles you can have your seat on, the limitation is there is no way to move your seat forward or backwards like you can on the standard seats. It's a trade off and to many BMXers a worthy one. In reality it's not much different to clip shoes locking people into conforming to having their foot in the same position on the pedal as everyone else.
The ABD Pivotal was simple to install and I found it quite durable having already crash tested it a couple of times. One thing I probably find more important than other people might is the comfort of the seat. The ABD pivotal is shorter and wider than most seats that I have used, but the shape is quite comfortable for riders who spend a lot of time on their bike.
I've been pretty impressed with the products I have seen come out of ABD, the pivotal seat and post combo is the first of their product range that I have had a close look at. Based on the quality, weight, look and feel of the seat I can't wait to check out what else ABD have to offer.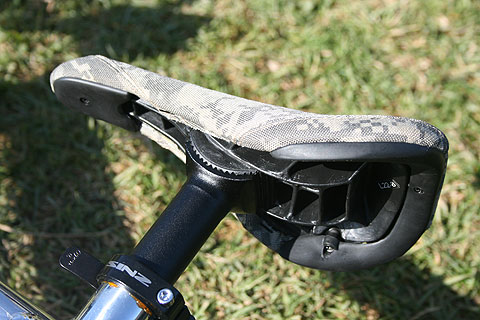 Seat colours:
White
brown
tartan
denim
camo
blade white
tan blocks
abd logo
gold
composite (black, white, transparent, brown)
Post sizes:
Alu 25.4 black, gold, blue, purple, red only 135mm length
27.2 300mm black
30.9 330mm black
31.6 330mm black
Rating 19/20:
| | |
| --- | --- |
| Value for money: | 5/5 |
| Weight: | 5/5 |
| Functionality: | 5/5 |
| Looks/Finish: | 4/5 |
Comments:
Not only is the ABD Pivotal set up a reasonable price but you would also be supporting an Australia/New Zealand based brand
There are lighter seat/post set ups, but for a comfortable padded pivotal set up this combo is light
When you buy pivotal you can expect limitation of movement, but it's not a bad trade off for the weight savings
The seat design and stitching look great from the top, it's when you look under the seat that it's a little bit of a let down, it's just a little rough under there, but who looks under your seat anyway?
Reviewed by Shane Jenkins/bmxultra.com July 14, 2009
Posted in: Reviews