There was once a time where Profile cranks were the only race cranks that the older and stronger BMXers would use, they had proven to be both strong and reliable, and were simply the best cranks for the job. Times have changed with the introduction of 2 piece cranks to the sport, racers still have profile cranks but there are also a number of alternatives. A number of riders have crossed over to the more expensive alloy cranks to either just keep up with the latest trends or to look for weight savings.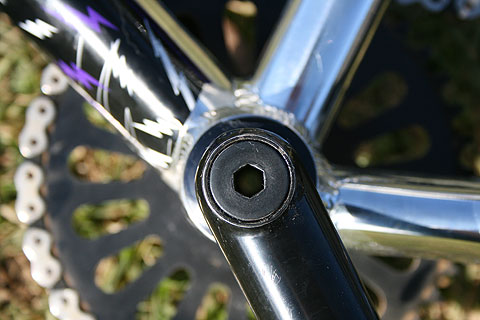 While other brands of cranks have a limited range of sizes, Profile not only offer a rare Lifetime Warranty on arms and spindles but their race cranks come in 145, 160, 165, 170, 175, 177, 180, 185, 190mm lengths. Making them the only option to many BMXers looking for a high quality crank.
Profile offer many options so you can customise your crank configuration according to your budget. They offer the basic cromo or ti bolt and spindle options.
The latest option released by Profile is the Gun Drilled Hollow spindle. It's Gun Drilled to maintain accuracy, while making a hollow axle Profile have adopted the same techniques that gun manufacturers us to produce accurate gun barrels, which means you have an accurate axle that spins perfectly.
There is a 28% weight savings on the old solid cromo axle, however the titanium spindle is still lighter again. The Ti spindle is about 33% more expensive than the GDH option.
Ti 5 5/8″ BB spindle = 5.7oz/164g
Gun Drilled Hollow CrMo 5 5/8″ BB spindle = 7.2oz/204g
Solid CrMo 5 5/8″ BB spindle = 10.2oz/288g
When riding with the hollow spindle there was no difference in feel, even under 110Kg of weight, jumping and doing sprints. I would put my complete confidence in the spindle to hold up to the regular abuse of BMX racing and training.
Profile Racing are so happy with the strength and durability of the GDH spindle it now is the standard axle to come out with their racing crank sets. It's also available as an upgrade kit which comes with hollow allen key bolts. I also found that you would need a new tool for installation since the internal thread size is a little larger than the solid cromo axles.
Rating 20/20:
| | |
| --- | --- |
| Value for money: | 5/5 |
| Weight: | 5/5 |
| Functionality: | 5/5 |
| Looks/Finish: | 5/5 |
Comments:
If you are after affordable weight savings this is an option for you
Sure the Ti spindle is lighter, but you wont get a better, more reliable cromo spindle with a lifetime warranty
You can expect the hollow axle to perform as well as any other option
As per all Profile products clean finish, and perfectly manufactured
Profile is distributed throughout Australia by Elite Cycle Imports (www.eciimports.com)
Reviewed by Shane Jenkins/bmxultra.com July 3, 2009