Alienation Ratchet BMX Grips
The Alienation Ratchet grips are a Godsend to those of us BMXers with big hands, or even to those who prefer a softer grip, or to ride without gloves. I know you can't race without gloves, but how many of you spend more time racing than riding? Well? I don't advocate riding without gloves, I have had too many crashes over the years to do that, but with the Alienation Ratchets, well they feel so soft and comfortable in the palm of your hand it's almost a shame not to.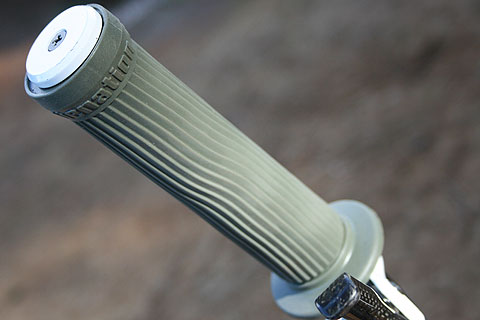 The single ply grip is the first directional BMX grip that I had noticed since the old school Oakley O-Wings, and they were only directional because of the wings that were on the end of the grip. (Don't judge, it was the 80's wings were cool then.) The name Ratchet refers to the finned pattern of the grip. There is no indicated direction that you should run the grip so it really just comes down to what you prefer. When I do gates I rotate my hands back towards me so I have the grips set up to make it easier to rotate them when I start, I'm sure there are a whole bunch of reasons why the other way would be useful.
The grips come with a pair of alloy powder coated bar ends which is a nice touch, although I don't know that white is an appropriate colour, since it doesn't take much to start scratching them up, especially if you just lay your bike down when you aren't using it.
I mentioned earlier that the Ratchets are great for riders with big hands, that's because they are 145mm long, which puts them much wider than most grips (especially lock on grips) and their diameter is much larger. I found them a whole lot more comfortable than any other single ply grip and most other grips for that matter.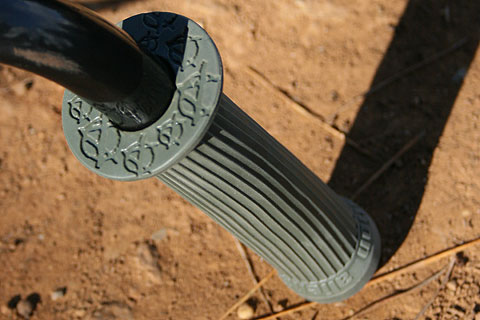 Although I haven't fallen on the grips yet to test out their durability I have done plenty of riding with them, with and without gloves, and they aren't showing any signs of wear.
Colours: Grey, Olive Green, Maroon, Pink, Purple, Swirled Play-Doh
Rating 20/20:
| | |
| --- | --- |
| Value for money: | 5/5 |
| Weight: | 5/5 |
| Functionality: | 5/5 |
| Looks/Finish: | 5/5 |
Comments:
Great value for money these grips are comfortable and built to last
The weight of these things is about as light as it gets with single ply grips
A great grip that's soft on your hands and durable, but sticks well to your bars
I like the plain look of the Ratchet grips, if you want to bling them up a bit there's always the other colours.
Alienation is distributed throughout Australia by Elite Cycle Imports (www.eciimports.com)
Reviewed by Shane Jenkins/bmxultra.com June 2, 2009