If you use a threaded hub, chances are it's an ACS Claw freewheel. When it comes to freewheels ACS have the market wrapped up, and that's been the case for many years now. There is no shame in owning a threaded hub in a time dominated by cassette hubs. In fact I have three bikes that have a threaded hub. I like them because they are more affordable, simple, and they are cheap and easy to maintain.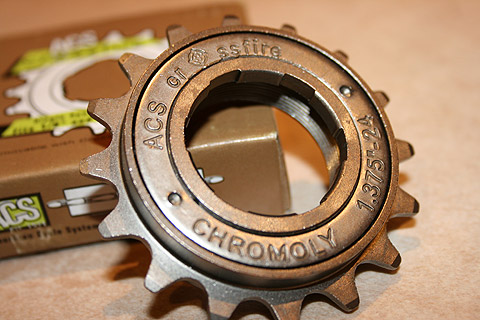 For those of you who use freewheels instead of cassette hubs ACS have something new for you. The ACS Crossfire.
ACS Crossfire features:
Cold forged, rather than hot forged cromo, CNC precision machined.
3 pawl engagement (compared to 2 pawl with CLAWS) for a stronger hold, with the same, quick engagement every 12 degrees.
Tighter tolerances giving less wobble and less "play".
New and unique removal notch pattern that is flush with the freewheel for better frame clearance.
New matte silver finish on the main components that is corrosion resistant and an eco-friendly process.
While the world is going crazy with engagement points, engaging every 12 degrees feels just fine on the bike. I don't know about you, but to me, 12 degrees isn't a lot and it's not anything I noticed while using the Crossfire. I found it just fine on the gate and accelerating after jumps and around corners.
Sure there are other alternatives to ACS freewheels, you could look at White Industries freewheels, they are serviceable and have more engagement points, but let's face it, the hefty price tag is hard to ignore. Just like with cassette hubs, who has the precision fingers, time, or even the patience, to strip them down and rebuild them on a regular basis? I'm happy to drop a freewheel in a tub of petrol for about 30 minutes, dry it off and then drown it in oil, wipe it off and put it back on the bike. When it stops running nicely throw it in the bin and break out a new one.
I really like that the Crossfire is as quiet as a mouse, sometimes noisy cassette hubs are just too much and you start looking for the mute button.
There is a new freewheel removing tool required for the Crossfire freewheel, but it's worth it for the extra frame clearance. There's no more having to space out the drop out from the freewheel with washers that used to make it nearly impossible to fit the back wheel with only two hands.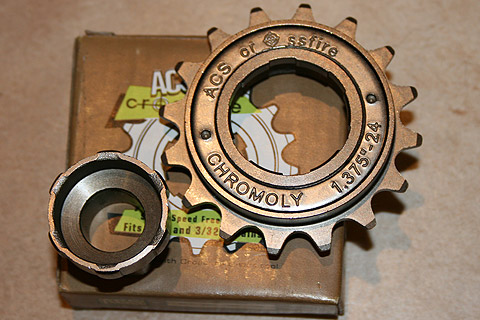 Crossfire freewheels will be offered in 3/32″ thickness only, and will be labeled as "fits 1/8″ and 3/32″ chains." The sizes range from 13 teeth all the way up to 22 teeth.
If you love to ride your bike and just want to keep it simple and affordable check out the ACS Crossfire.
Rating 20/20:
| | |
| --- | --- |
| Value for money: | 5/5 |
| Weight: | 5/5 |
| Functionality: | 5/5 |
| Looks/Finish: | 5/5 |
Comments:
ACS Crossfire is the perfect freewheel for the BMXer on a budget
As far as freewheels go you can't expect much lighter than the Crossfire
We found the ACS Crossfire to be reliable, smooth and was as good as any driver we seen on cassette hubs
ACS freewheels have always had a very raw finish, not quite to the standard of the old Shimano freewheels, but realistically you dont really see the freewheel anyway. We like that it's corrosion resistant and manufactured with an eco-friendly process.
ACS is Distributed in Australia by Elite Cycle Imports. For more information about ACS check out www.acsbmx.com
Reviewed by Shane Jenkins/bmxultra.com December 2, 2010
Posted in: Freewheels · Reviews