Alienation Prototype Thrust Hub
It's official… I'm an Alienation fanboy! I run as many of their products as I can (grips, seats, posts, rims, hubs, even tires), I check their Facebook page more often than I'd like to admit and I'm regularly checking their website and all the technical details for all the products. The obsession stemmed from simply running a set of hand grips for product review a few years ago. The more I see from them, the more I like.
There are so many "me too" companies out there, Alienation aren't one of them. Far from it. While everyone went into the instant engagement race Alienation came out with the Bullitt and Royal hubs that are more about reducing drag than trying to impress people with a big number. It's this thinking outside the square that makes Alienation so endearing.
After the success of the Bullitt and Royal hubs Alienation have continued to plough on with their hub development and they have been working on something new for the race scene.
The new Thrust hub can take a 15mm thru axle and has three times the engagement points of the Bullitt and Royal hubs.
When Alienation sent the hub through for a product review I had no idea what to expect, except that it had the 15mm thru axle that I was looking for. I'd been talking to Paul from Alienation's Australian distributor, Elite Cycle Imports, about what rims to run with the hub, and the Alienation Stay Strong Skylark/Runaway were a strong contender. I then went to ECI to pick them up, and I got talking to Gary about the ultimate wheel set up based around the hub, and before I knew it he'd paired the 15mm Thrust rear hub with a Profile Elite 20mm thru front hub and put Andy to work lacing them up. Not only do those guys know their products, they really know how to put them all together. They are the real deal and, thanks to ECI, this was going to be a mean wheel set that's for sure.
The Thrust hub features
Press-fit design
Angled Hi-Low flanges
6 pawls; 3 on & 3 off, 3 pawls engaged at all times, 4 degree engagement with minimal drag
4 larger h-grade sealed bearings
1 huge thrust bearing
Shimano style lock-ring
15mm thru axle, 15mm bolt-on & 3/8" bolt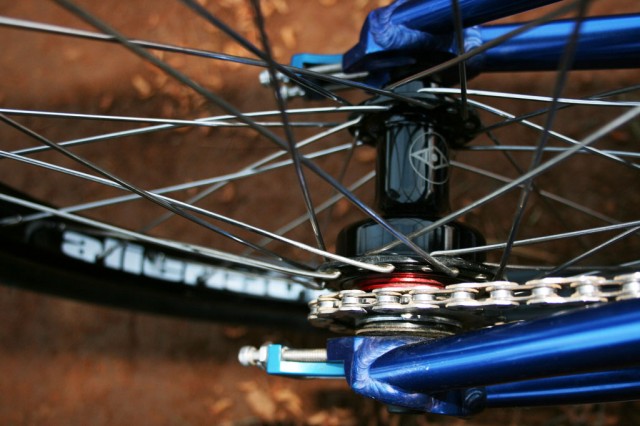 Why three axles?
We asked the question why three axles?
"One is a traditional 3/8" bolt. The other has a 15 mm bolt-on with a stud protruding out of the axle by 5 mm on each side and then there is a 15 mm thru axle concept. The actual thru axle we'd been running was for a Redline fit. I had them size it down to fit other frames which is much shorter."'
Now that should keep you covered no matter what your set up.
The one I used was the 15mm axle with the 10mm (or 3/8″) bolts to run on a Supercross ENVY V3. I was originally running the ENVY with a 10mm hub and the 15 – 10mm adapters that came with the frame. The odd thing about the 15mm axle that came with the Thrust hub was it had 10mm allen bolts with volcano washers, much like Profile's standard bolts, at each end. This meant I had to run 10mm chain tensioners, but when I did that the stance of a two bolt 10mm chain tensioner doesn't span the 15mm drop out slot. I realised that it's still an early prototype so hit up Alienation for a suggestion and was told that there is a true 15mm thru axle coming so the problem will be easily fixed with 15mm chain tensioners and the new axle.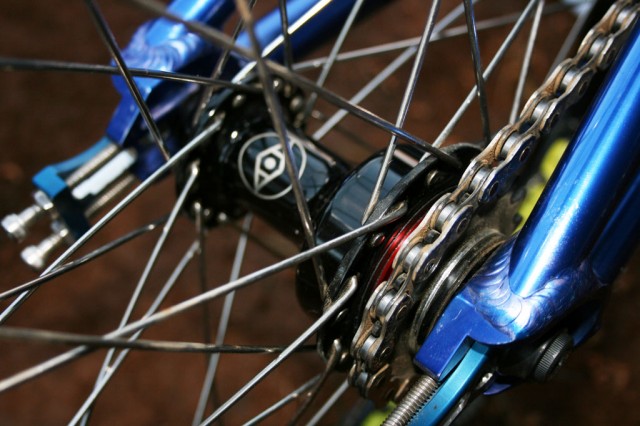 15 MM Thru Axles
15 mm thru axles were adopted by the mountain bike fraternity around 2009 firstly for downhill then cross country because it's stiffer and stronger. It was said to be the death of quick release. When you are running suspension I can see the need to stiffen things up. I wouldn't have thought there was the same issue with BMX bikes, because firstly BMX frames are rigid and secondly they are much smaller, so the tubing is generally shorter, which to me means there should be less flex anyway.
A few years down the line and 15mm drop outs are  emerging as a new standard for high end BMX race frames. Frames from Supercross, Anarchy, GT, Redline (USA), Yess (Canada), Avanti (New Zealand) and MeyBo (Netherlands) are available (or are about to be) with 15mm drop outs. And it's not just carbon frames either, they are mostly alloy and there's a cromo frame with 15mm dropouts on the way too.
When Redline announced the Project 79 carbon frame with a 15mm thru axle they claimed it made the carbon frame "20% stiffer than a standard 10mm axle". You can see the video here vimeo.com/37331587 Redline Engineer Kurt Hall says it 17 seconds in.  It's something that's stuck with me for some time, because really, how do you measure that?
Alienation's Bullitt and Royal hubs both have 17mm axles, shouldn't that make them stiffer than 15mm? I've never been able to fault the 17mm axle and I would have to be one of the biggest BMXers on the race track these days. But then again, the ENVY frame with the 15 MM axle felt super stiff too.
"Instant" Engagement
"Instant" engagement has been a real buzz word these past few years. While the True Precision Stealth and Chris King hubs are known for their instant engagement both are extremely expensive. Other hubs like the Profile Elite are popular but I hear their six pawl system causes additional drag so there is more wear and tear on the driver, pawls and springs to achieve near instant engagement.
My argument has always been that instant engagement isn't entirely necessary on today's tracks. You get locked and loaded on the gate, so you should be fully engaged, you might pedal hard down the first straight but most tracks today are built to flow with bigger jumps in the first straight or two and tight rhythm sections for the last half.
I've been happy with my Royal hubs, which are Shimano standard and engage every 12 degrees, it's pretty much the sort of engagement I have been used to for the past 30+ years of racing. But the pawls in the Royal hubs totally disengage from the drive to reduce the drag to nothing.
The Alienation Thrust hub engages every 4 degrees and it has 6 pawls like the Profile Elite hub, however the Thrust hub has only 3 pawls engage at any one time which means far less drag and wear and tear. This essentially means less maintenance and less on-going costs for the life of the hub. One thing I noticed what this is a quiet hub, it must make nearly half the noise of a Profile Elite hub. I was also happy the hub hasn't skipped a beat from the moment I started using it.
Here's Alienation's head designer's spin on how their system works. "The engagement system is unlike others. We use 45 points which is an odd number. Take 360 degrees & divide the 45 engagement points you have 8 degrees of engagement. Then divide by 2 you reach 4. There is always 3 waiting to engage. That is the uniqueness. Too there is minimal drag compared to other ratchet style hub systems."
I must admit I'm happy to have spent some time with an "instant" engagement hub, while I think it's great you don't have to rotate the crank as far to start engaging the hub. I have heard the argument from a AA Pro rider that instant engagement can be important when jumping through big technical pro sections, meaning that the rider can get back on the gas much quicker and not lose precious time and potential speed to get through the next big set of doubles. I have to say it's not a problem I'm often faced with, but I get the point.
What's this huge thrust bearing and what does it do?
The thrust bearing permits rotation between the hub shell & the cog carrier while supporting axial loads. It is a little heavier than some hubs because of the thrust bearing, but it's a trade off for maximum drive through the hub and milking as much power as possible.
So what does it weigh?
I'm told production weights will not change all that much from this prototype, I weighed it at 435 grams. With the 3/8″ bolt-on version it weighs 358 grams with a 16t cog; less bolts. It compares well to the Stealth S3 Pro hub that weighs in at 527 grams with 10mm bolt kit (15mm conversion kit will change the weight). I found the weight of the Stealth very interesting, because a complete set of Royal hubs weighs less, at only 510 grams… for the pair. Another popular hub alternative would be the Profile Elite rear hub that weighs in at 362 grams, however it's not a 15mm thru. It runs adapters for 15mm that are designed specifically for the wider drop outs of the Redline carbon frame, the adapter could be modified for other frames with 15 mm dropouts at varying thickness.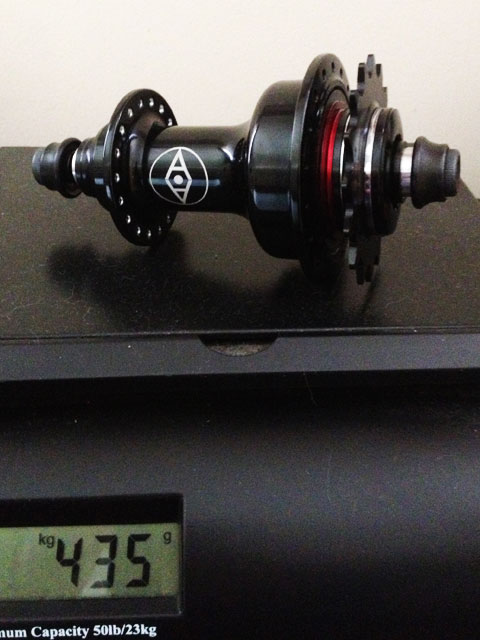 How does it feel?
I was told that the 15mm thru axle would be a noticeable difference on the ENVY frame, making it stiffer, and again it could be because I ran the Royal hub with a 17mm axle, but it didn't seem to feel any stiffer. What I did notice was the 15 – 10mm adapters I'd used had a little bit of movement, but that was eliminated with the 15mm set up.
While I don't think that the 15mm thru axle will eliminate the 10mm axle from the BMX race scene I do believe it's an important investment for frames with 15mm dropouts, even if for just the peace of mind to be able to eliminate another unnecessary part from the bike. As they say, a chain is only as strong as it's weakest link.
Gallery
In summary, if you have a frame with 15mm drop outs and are looking for a 15mm thru axle hub, the Thrust hub just might be the hub you are looking for, but then again if you have a frame with 10mm drop outs the Thrust hub could also be a good option. There aren't too many hubs that will allow you to just take your wheel off slide out the axle and replace it with another by just sliding the new axle in, without the need for special tools. It's a future proof hub that can fit just about any frame  easily.
The Alienation Thrust hub will be available around early to mid next year (Spring 2014 USA) and the front will be available to be purchased separately in 10mm only.
Rating 15/15
Since the Thrust hub is a prototype product and still in development, it's too early to determine a price so we have dropped the price from the rating system.
| | |
| --- | --- |
| Weight: | 5/5 |
| Functionality: | 5/5 |
| Looks/Finish: | 5/5 |
Comments
Although it's not the lightest hub available, the additional weight gained through the thrust bearing is out weighed by the benefits
A nice quiet hub that's built to last and is easily converted to fit just about anything just by simply changing the axle
The Thrust hub is shaped like a lot of other hubs but, like all Alienation products has a perfect finish, there's not a stone left unturned with the Thrust hub it is BMX perfection.
Alienation BMX products are distributed in Australia by Elite Cycle Imports (ECI) www.eciimports.com
Reviewed by Shane Jenkins/bmxultra.com September 11, 2013