Profile 22mm Column Cranks
Profile Racing have been involved in the BMX race scene since it's infancy. In 1979 when Profile produced their first three piece cromo tubular crank using a 48 spline spindle they had no idea that their crank would still be relevant more than 30 year later let alone become the benchmark to which all other BMX cranks are compared against. With deep roots in the sport and a name that screams quality, it's no wonder they are still the go to guys when it comes to producing quality hubs, cranks, stems and so much more.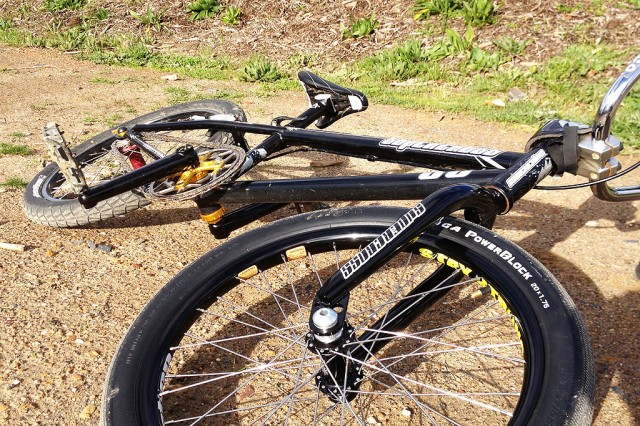 While Profile have owned the crank market in the race scene for many many years, 2-piece alloy crank arms and outboard bottom brackets have become very popular over the past few.
Profile took them on head to head when they released the race specific Profile Elite crank set late last year. It comes beautifully packaged with the arms, 22mm spindle, spline drive spider and outboard bottom bracket. Profile had completely re-engineered the spindle to do away with the need to take to the cranks with a hammer to remove the arms from the spindle by introducing an internal wedge bolt. It was the single largest change  from the original 1979 cranks.
While I liked the idea of the Elite cranks I didn't like the look of them initially, it was almost as if they tried to make them look chunky like the alloy alternatives, and I thought the new spindle looked a little more complicated than necessary. That said I would have upgraded to them for sure if they came in chrome and were made in my preferred length of 185mm, just out of curiosity if for nothing else, after all it's more about the performance benefits than the looks. And the more I looked at the Elite cranks the more they grew on me.
Now it could be that the Elite cranks opened my mind to change but when I first heard about the Profile Column cranks I got a little excited. The more information Profile revealed the more my interest grew. It was the 22mm six inch long spindle that made me realise the Column cranks could be set up for race using the hardware from Profile Elite cranks despite the fact they had been promoted as a "freestyle" crank.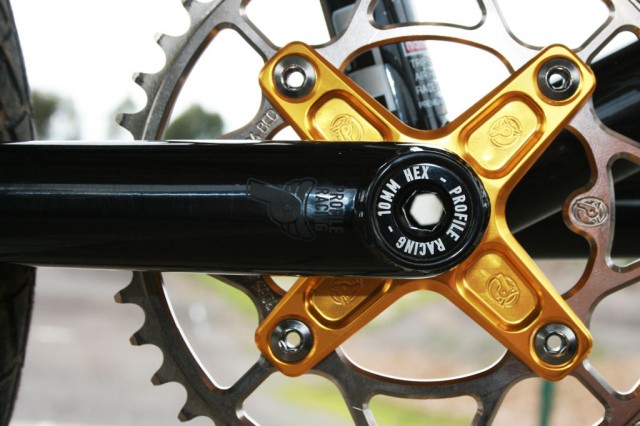 The Set Up
I was surprised to hear that despite their look the Column cranks are quite light weight, comparable to the Profile bossless race crank. The only issue is that the hardware for the Elite cranks hadn't been available for sale separately in the past, that was until recently. Theoretically the Elite hardware would be compatible with the Column cranks, it was just a matter of making sure. It was as simple as sliding on the bearings to the spindle then sliding on the spline drive spider. Once it all looked like it was going to work and everything was going to fit together it was a matter of time before I had them fitted to a test rig.
Fitting the cranks was simple, I already had the tool for the outboard bottom bracket. I just needed to get my hands on the 10mm allen key to do up the crank bolts and chase a round a bit looking for the double width chainring bolts to fit the Profile Elite sprocket to the spider, but that was quickly sorted out.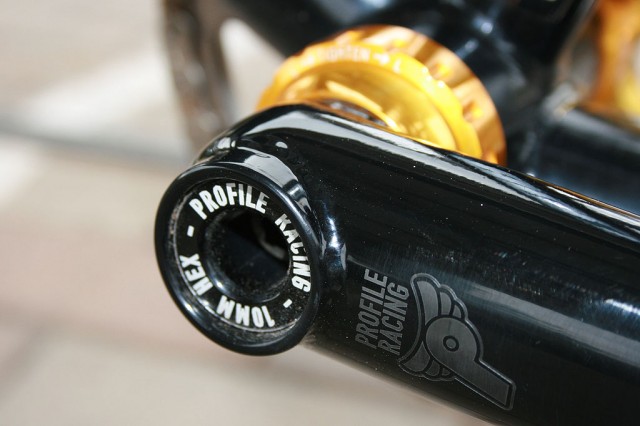 How They Look
The Column cranks are built to ride and are impressive just through their simplicity. The etched logos aren't new, we saw them on the Elite cranks but they look much better than the stamp on the 19mm Profile race cranks.
The Column cranks do resemble the old heavy duty SS cranks that Profile used to sell to the freestyle crowd in an age now long gone, an age where heavy was good and it's a real surprise that those guys managed to get their bikes off the ground.
With a wide range of colours available for both the 22mm outboard bottom bracket and the 22m spline drive spider you would be able to make these cranks look good no matter what your preferred colour scheme.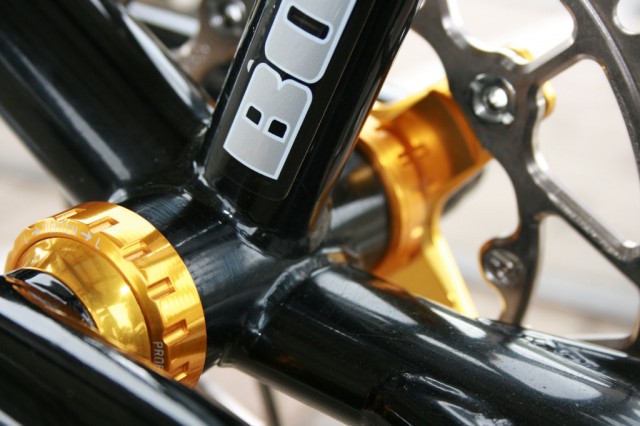 The Weight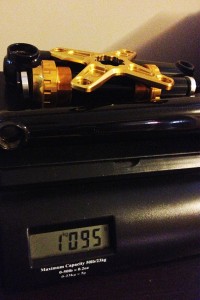 Surprisingly the Column cranks weight in at 1095 grams set up with the Elite bottom braket and spider, they  are a real contender in the weight race, they are actually 100 grams heavier than the 19mm no boss equivalent set up with a titanium spindle and marginally lighter than Profile Elite cranks which weigh 1114 grams.The alloy  Shimano DXR cranks weigh 969.6 grams.
The cromo 22mm GDH six inch wide spindle weighs in at 8 ounces/228 grams which compares to the cromo 19mm GDH six inch wide spindle that weighs 7.8 ounces/220 grams.
The bossless Column arms weigh 20.14 ounces/608 grams for the pair where a 19mm bossless  set weigh 19.9 ounces/565 grams.
How They Ride
As you would expect the Column cranks are stiff and strong. It took me a little while to get used to the 180mm length cranks after using 185mm for well over 20 years. After two weeks of riding with them they are still nice and tight and haven't caused any problems. I would have to be one of the biggest racers on a BMX bike at 116 kgs or 255 pounds, alloy cranks just don't cut it for me, all I can feel is flex, and that's the last thing I want to be concerned with when I line up on the gate, whether I'm racing for sheep stations or not.
Don't get me wrong I don't notice any flex in my 19mm Profile Race cranks either.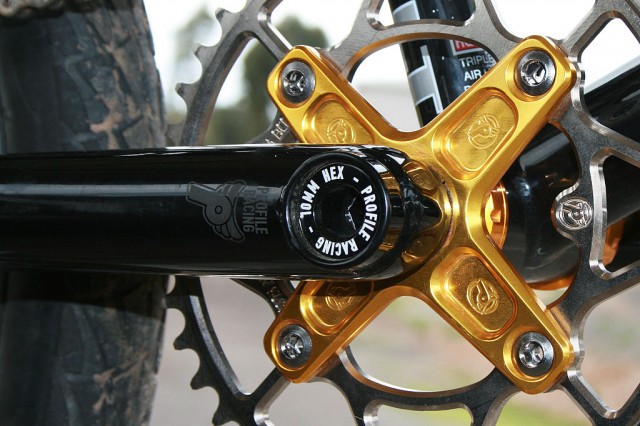 Product Details
Available in no boss only
Available in black only
Available in 160, 165, 170, 175 and 180mm options
Arm weight (for the set): 20.14 ounces/608 grams
22mm cromo GDH spindle with 10mm aluminum bolts: 8 ounces/228 grams
Lifetime Warranty to original purchaser.
Gallery
Rating 20/20
| | |
| --- | --- |
| Value for money: | 5/5 |
| Weight: | 5/5 |
| Functionality: | 5/5 |
| Looks/Finish: | 5/5 |
Comments:
Lifetime Warranty to original purchaser, you can't ask for better value for money than that! Except… they are only a few dollars more expensive than the 19mm Profile race cranks, and a whole lot cheaper than Profile Elite cranks or Shimano DXR cranks
For a strong cromo crankset these will keep weight weenies happy without giving away any strength
Profile, dependable, stiff, strong, they work and work perfectly!! It would just be nice to get the full range of sizes that the 19mm cranks come in (particularly 185mm)
The Profile Column cranks looked great to me from the first moment I laid eyes on them, you could say it was love at first sight. I thought I would be alone there but I was wrong, so wrong. Every track I took my bike to people noticed them right away and stopped me to check them out and ask about them.
Profile Racing products are distributed in Australia by Elite Cycle Imports (ECI) www.eciimports.com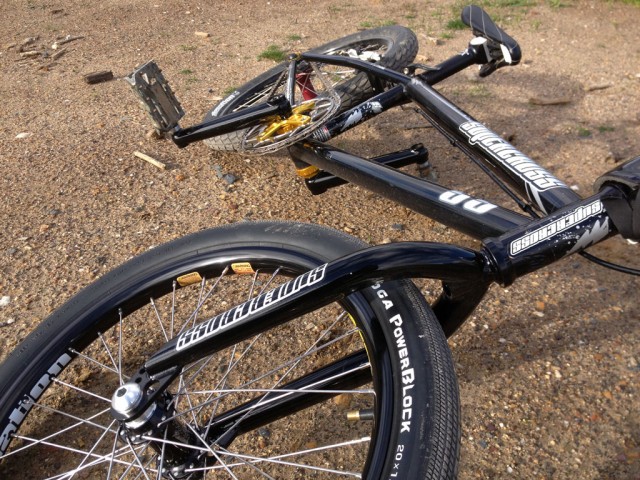 Reviewed by Shane Jenkins/bmxultra.com August 28, 2013