ACS Crossfire Pro Freewheel
When I started racing BMX in the early 80's freewheels and threaded hubs was the norm. Shimano and Suntour seemed to have the freewheel market wrapped up. It was a long reign for the freewheel. Around 20 years later the cassette hub started to dominate. It appeared as if freewheels were gone, like all the other dinosaurs of BMX, open face helmets, V-bars, and platform pedals. Cassette-mania even went so far that new complete bikes had to be sold with cassette hubs or people wouldn't give them a look in and it didn't even matter if it was a cheap cassette either, it just had to be a cassette.
There were a few people left that put their trust in the Freewheel, even modern day champions like Marc Willers uses freewheels exclusively and Sam Willoughby is also known to have used freewheels in recent times. Box Components are one of BMX racings newest manufacturers and they are making a 20mm threaded hub which flies the flag very high for the freewheel.
What is it about a freewheel and threaded hub set up that's so appealing?
Fewer bearings required in the hub, which means reduced drag/rolling resistance
Cheaper to keep a freewheel/threaded hub combo running
Less parts overall and less to go wrong
Simpler to maintain
Extended life span of the hub (or wheel set as a whole)
There have been some notoriously bad freewheels over the years. Dicta is a brand to avoid, but there have been some reliable freewheels too. Shimano is still available today, however supply is often limited, and I'm pretty sure you will be lucky to find anything other than a 16T. White Industries is a preferred option by many freewheel connoisseurs, it's a lot more expensive than most other freewheels, but it's also a high quality, serviceable product. And then there's ACS.
ACS replaced the Claw with the Crossfire a few years back and have been reaping the rewards of a cheaper, and more reliable freewheel. But when the BMX world started to move towards "instant engagement" cassettes ACS stepped it up with their ACS Crossfire Pro Freewheel.
It was about a year ago when I first saw a prototype of the Pro freewheel, and it would have been nice to spend some time using it then but it had to travel the country with a bunch of other products that ECI (distributors of ACS in Australia) were showing off.
"Our best freewheels for uncompromising performance. CNC wire pawls and steps for the ultimate precision. Each pawl engages 2 steps for maximum grip. 60 steps for engagement every 6 degrees. Nickel-plated sprocket ring." (From the ACSBMX.com website)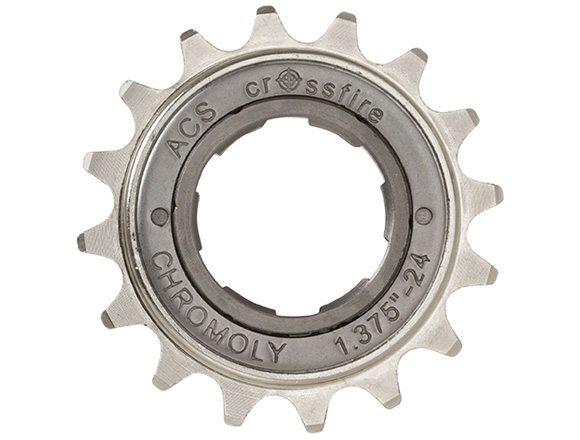 As far as the bearings go we were able to determine they are "weather-isolated bearings for long lasting performance" it also means low drag.

The ACS Crossfire Pro freewheel is manufactured from cold forged cromo and is CNC precision machined. It has twice as many engagement points than the standard ACS Crossfire Freewheel.
What I like about ACS is they have their own tool for the Crossfire freewheels, it's a whole lot easier to get stubborn freewheels off with than the older 4-pronged Shimano tool that both Shimano and White Industries use.
ACS Crossfire Pro
ACS Crossfire Standard
White Industries ENO
Shimano
Weights/Size
16T: 5.53oz/157g
17T: 5.7oz/161g
18T: 5.9oz/167g
13T: 4.4oz/124g
14T: 4.5oz/127g
15T: 4.6oz/131g
16T: 5.45oz/154g
17T: 6.35oz/182g
18T: 6.55oz/186g
16T: 5.7oz/162g
17T: 6.05oz/173g
18T: 6.4oz/183g
16T: 6oz/170.09g
Serviceable
No
No
Yes
No
Price ($AUD)
59
35
99
45
Tool
ACS Crossfire tool
ACS Crossfire tool
4-prong Shimano tool
4-prong Shimano tool
I put the 16T ACS Crossfire Pro freewheel on my Sun Ringle Superstock wheel set that I've had since 2000 and took off for a ride. The chain ran smoothly on the freewheel and the freewheel was almost silent, which I appreciate. Since I put little value on "Instant Engagement", the engagement wasn't something I trying to notice, but it did engage quicker than the Alienation Royal cassette hubs that I normally use. The freewheel did inject some new life into the old wheelset, that's for sure!
If you are looking for a good freewheel that is simple and will provide plenty of bang for buck you can't look past the ACS Crossfire Pro.
Rating 19.5/20:
| | |
| --- | --- |
| Value for money: | 4.5/5 |
| Weight: | 5/5 |
| Functionality: | 5/5 |
| Looks/Finish: | 5/5 |
Comments:
ACS Crossfire is a great option any freewheel fan, but it would be nice to see it a little cheaper. It's starting to get close enough to the price where you would consider a White Industries freewheel
As far as freewheels go the Crossfire is one of the lightest
I found the ACS Crossfire Pro reliable, smooth and quiet, no clunking and no sound of bees following close by
The nickel-plated sprocket ring is a nice finish that will prevent rust and keep your wheels looking good.
ACS is Distributed in Australia by Elite Cycle Imports. For more information about ACS check out www.acsbmx.com
Reviewed by Shane Jenkins/bmxultra.com July 17, 2013
Posted in: Freewheels · Reviews