Answer MPH Senior Flat Pedals
There's no doubt about it Answer have been cranking out some great new products lately. The latest that we've managed to get our filthy little hands on are the Answer MPH Senior Flat Pedals.
Anyone who has been a reader of bmxultra.com for a while now will know that I'm not a fan of clip pedals. It's a personal preference, my parents have learned to accept my lifestyle choice. I have never raced on them and have no intention to either. So this will explain my unhealthy obsession to discover the ultimate flat pedal.
When I heard the new Answer pedals were available, I saw the photos, but didn't really pay too much attention to detail until I saw them for the first time in the flesh. Once I opened the box I was left scratching my head wondering would six pins really provide enough grip? And the Answer MPH Senior Flat Platforms really break away from the traditional shaped platform that's been in the BMX scene for around 40 years as you will see from the photo below.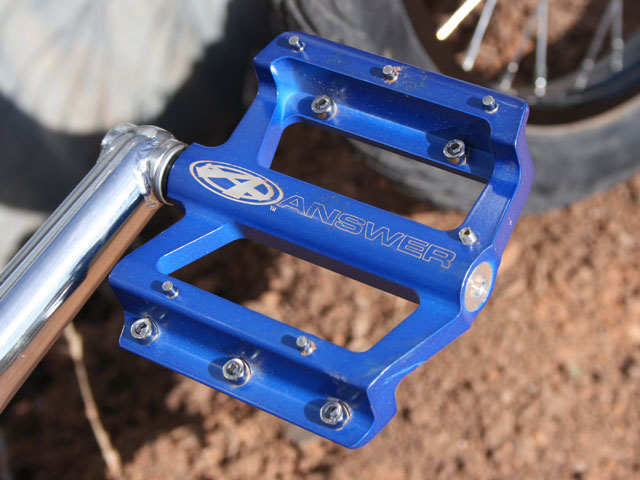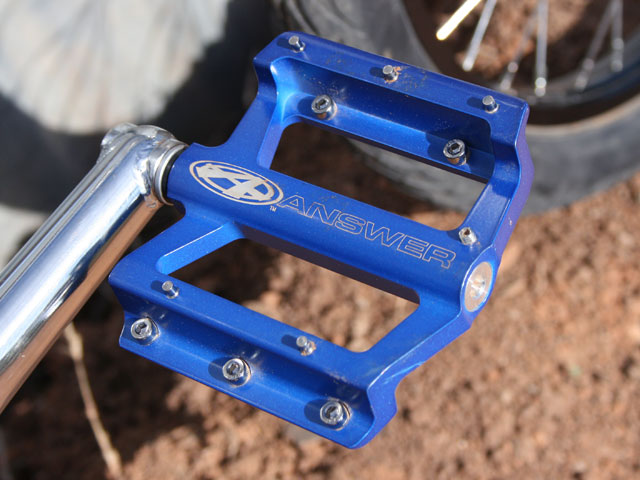 So here's Answer's marketing information about them:
The Answer MPH Senior Platform Pedal is optimized with six pins per side on a concave platform that grips the sole and can handle anything you throw at them, the MPH pedals are also fully rebuildable measuring 105x105x17 (W x L x H).
Extruded and CNC aluminum body
Full length Cromoly axle
LSL and Sealed cartridge bearings
Replaceable back door pins
Rebuildable
Weight: 388g (pair)
Most recently I've used Funn Soljam pedals which have a nice big surface area and 12 pins per side. The Soljams weigh in at 500g for the pair. I've also used the Speedline Platform pedals which again have a large surface area, with a lower profile platform and 10 pins per side. They weighed 494g for the pair.
Weighing in at just 388g, the Answer MPH pedals are over 20% lighter than my currently preferred pedals. They are also cheaper than most other high end pedals.
At first the pedals are a little different to put on the bike. For the first time ever I couldn't use a pedal spanner to fit the pedals, these are fitted with an allen key only. This is pretty exciting for me, because it means, when I travel, I don't need a 15mm spanner or a pedal spanner (first world problems). This also means the pedal body sits closer to the crank arms and the center of the bike.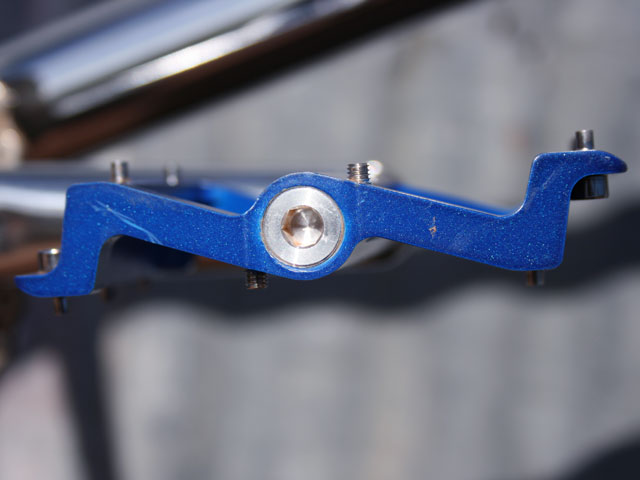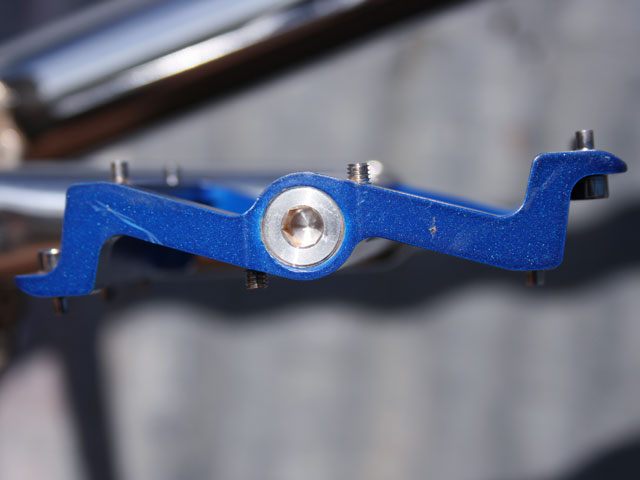 Initially the pedals felt very different under foot to what I have become accustomed to. Since the MPH isn't the traditional flat platform it felt like you had three bars across the sole of your shoe, but it was easy to get used to and after a few minutes felt natural.
Back to the big question about six pins providing enough grip. The short answer is absolutely yes!
The Funn pedals have extremely long pins that meant you would feel pressure in the bottom of your feet from where the pins would sit, even through a thick soled shoe. This is what initially put me off the Funn pedals but it's something I grew to accept. The pins on the MPH pedals don't do that, they are long enough to provide the grip without discomfort. Amazingly they grip a shoe just as well as any other pedal I have used. The Funn pedals grip so well in fact I need to physically lift my foot up off the pedal to adjust my foot position and put it back down to reset. With the MPH I could now move my foot around the pedal enough to make minor adjustments while riding without losing pedal strokes.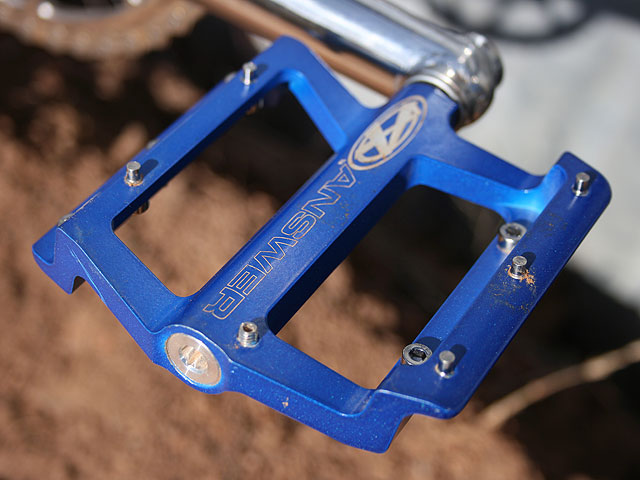 After many days of solid riding it's safe to say I'll "stick" with these pedals for a while.
The colour options are Black, Blue, Gray, Red and the limited edition White.
Answer also offer a Junior Platform as well as the Power Booster Senior and Junior clip pedals.
Rating 20/20:
| | |
| --- | --- |
| Value for money: | 5/5 |
| Weight: | 5/5 |
| Functionality: | 5/5 |
| Looks/Finish: | 5/5 |
Comments:
A high performance platform pedal with style, I'd be glad to spend my hard earned cash on these pedals
A feather-weight in the big-foot division
The MPH Senior pedals exceeded my expectations providing plenty of grip and a comfortable ride
I went for the blue to match other parts on my bike, the finish looks more like a metallic blue paint than an anodized colour, the lazer etched logos are a nice touch.
Answer products are distributed in Australia by Elite Cycle Imports (ECI) www.eciimports.com
Reviewed by Shane Jenkins/bmxultra.com June 12, 2013