Answer 8″ Cromo Lite Bars
Answer are the clear undisputed market leader when it comes to their carbon Dagger forks they have been plugging away at after market forks over well over a decade now, but their product range extends well beyond just forks and has been growing at a rapid rate recently.
Answer BMX have been a big supporter of our BSX charity event these past few years and with a ton of awesome prizes like Answer products up for grabs I always through a few dollars in and see what I can score. This year I managed to get my hands on the Answer Lite Bars, but they had been sitting in my cupboard until I had to find something and stumbled across them. So I thought these would make a great product review.
I knew they were a little narrower than what I normally run but it didn't look like much, that was until I tried to ride with them. So I put my preferred bars up against them and found the Answer bars are two inches shorter than what I'm used to. (After the ride I checked and found out that the full range of Answer Lite Bars are all 27″ Wide, that's the 5, 6, 7 and 8″ rise bars.)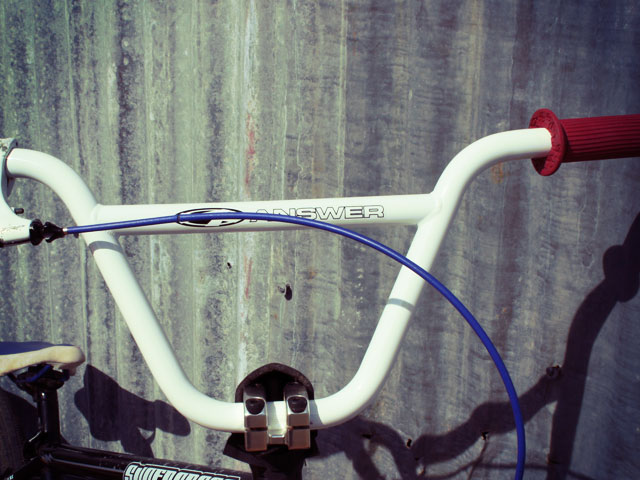 Is there a new trend emerging that I hadn't come across yet and people are starting to go for narrower bars or are Answer just chasing a niche since most bars on the market seem to be 28″ x 8″ tall? I'll assume that it's the later. It's a real shame though, once I got used to riding with my hands right at the end of the bars I found the bends extremely comfortable and the bars were very stiff and felt quite strong, I'm sure the 22mm cross bar has a lot to do with that.
Answer's marketing explains "With our exclusive use of multi-compound internally tapered 4130 chrome moly, we offer one of the strongest and lightest BMX bars ever produced." The bars weigh 700 grams which compares to S&M's Race XLT bar which is 730 grams (from what we have seen they are also 27″ wide but marketed as 28″ wide) or Supercross' Pro LT bars which are also 27″ wide but only 7.875″ tall.
I'm about 6'2″ tall, with the wing span of an albatross I'm told, so while the Answer 8″ Lite Bars weren't exactly perfect for me they might be for someone with narrower shoulders, a smaller rider rider or a female perhaps.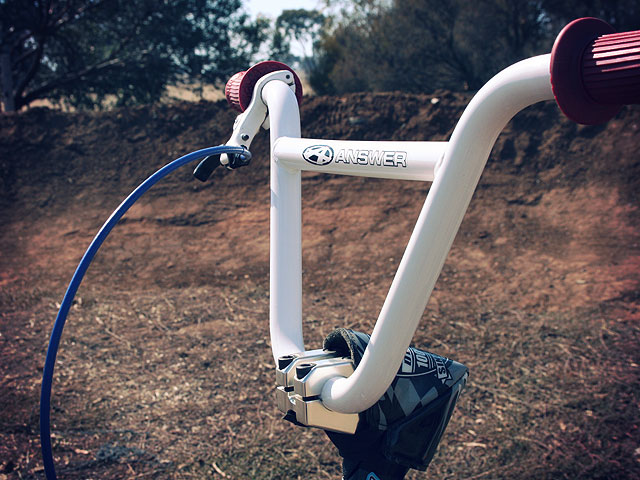 The Answer Lite Bars come in four sizes. The two cruiser sizes; 5 & 6″ rise and the two 20″ sizes; 7 & 8″ rise. They are also available in two colours, either Gloss Black or Gloss White.
| Rise: | 5″ | 6″ | 7″ | 8″ |
| --- | --- | --- | --- | --- |
| Width: | 27″ | 27″ | 27″ | 27″ |
| Back sweep: | 10° | 10° | 10° | 10° |
| Up sweep: | 4° | 4° | 4° | 4° |
| Weight: | 640g/22.5 oz | 650g/21.7 oz | 670g/21.8 oz | 700g/22.8 oz |
Answer also have a new flat 8″ bar which is half an inch wider and only a 7° back sweep and 3° up sweep compared to the 10° back sweep and 4° up sweep of the Lite Bars
Rating
19.5/20:
| | |
| --- | --- |
| Value for money: | 5/5 |
| Weight: | 5/5 |
| Functionality: | 4.5/5 |
| Looks/Finish: | 5/5 |
Comments:
The Answer Lite Bars are around the same price as other high end and respected handlebars and offer great comfort, strength and stiffness
The Answer Lite Bar is amongst the lightest in it's class
The high performance Answer Lite Bars are strong, stiff, comfortable and gnarled where the stem clamps on, these bars are set and forget. Their only let down is they don't come in a 28″ wide version
The Answer Lite Bars have a nice look, with great welds and a slick paint job, you couldn't ask for more
Answer products are distributed in Australia by Elite Cycle Imports (ECI) www.eciimports.com
Reviewed by Shane Jenkins/bmxultra.com April 28, 2013
Posted in: Handlebars · Reviews