Answer Quick Release Seat Post Clamp
Answer BMX have been releasing a whole bunch of new products lately, it's been difficult for us to keep up (it seems even Answer's own website is a little behind). It looks like they have nearly enough products so you would just need to add a frame build to build a complete bike with Answer parts, no matter what size bike or rider.
Once again we enlisted the help of father/son team Dean & Liam Steele with this product review.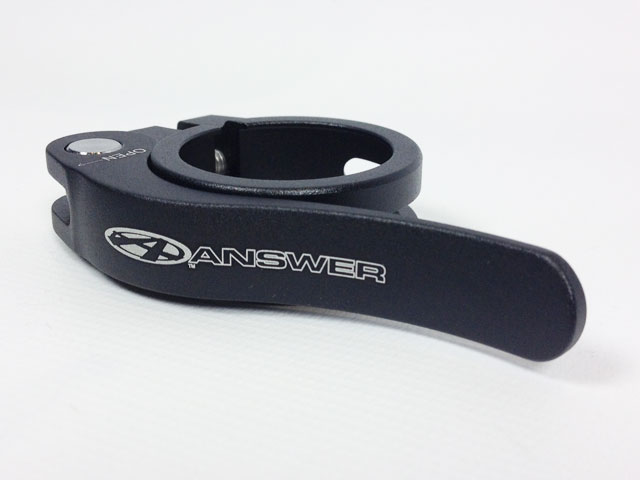 When rebuilding Liam's new 2013 Kuwahara I added the new Answer Quick Release Seat Post Clamp. He has always wanted a quick release seat clamp since he started racing, because at the end of the race he can put his seat up and do cool down rides – just like the pro's.
The new Answer seat clamp is made of alloy and only weighs 35 grams, with the option of either a 31.8 mm or 27.2 mm diameter. Colour options are limited to black or … black, that doesn't matter though because black goes with anything.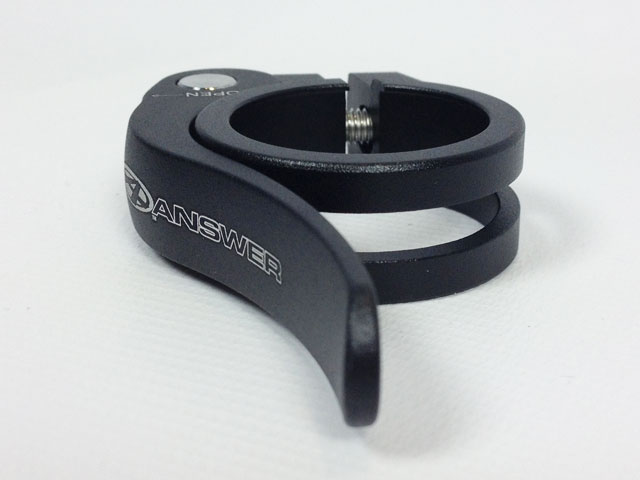 The seat clamp has an Allen key to preset the tension on the release lever, this in addition with the way the lever mechanism operates makes for hassle free operation. When I first looked at the clamp skepticism did creep in as to how well it would hold the pole in place. However, the clever way Answer have designed the 2mm lip at the top of the clamp to stop it sliding down helps to pinch the frame, holding the pole fast.
Liam has used the clamp for some time, being a typical 12 year old boy has to fiddle constantly with it, seats goes up, seat goes down, and it has never failed or jammed. Overall, an awesome addition to the set up of LJ's bike and it's always great to have more Answer parts.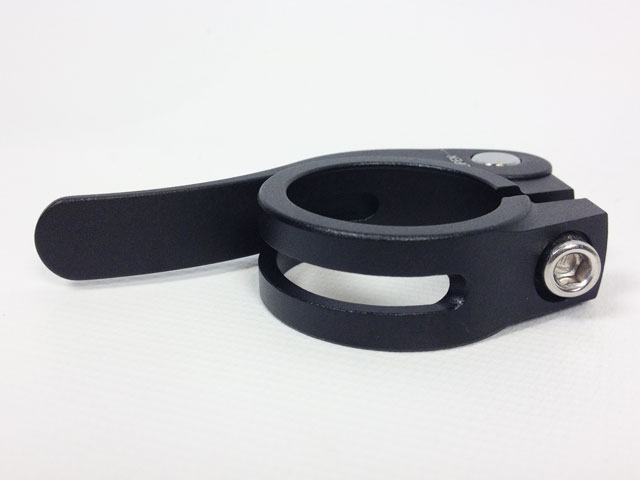 Rating
19.5/20:
| | |
| --- | --- |
| Value for money: | 4.5/5 |
| Weight: | 5/5 |
| Functionality: | 5/5 |
| Looks/Finish: | 5/5 |
Comments:
The Answer quick release seat clamp is great, however it is a little on the expensive side
It's one of the lightest of quick release seat clamps on the market
You couldn't ask for better performance from the Answer quick release seat clamp
The Answer quick release seat clamp looks slick, the only thing lacking is choice of colour and if you go by their other offerings that's just a matter of time.
Answer products are distributed in Australia by Elite Cycle Imports (ECI) www.eciimports.com
Reviewed by Dean Steele, Liam Steele & Shane Jenkins/bmxultra.com April 4, 2013
Posted in: Reviews · Seat Clamp