Firstly I'd like to thank Dean Steele for stepping up to the plate and helping me with this product review. It's not unusual for us to invite guests to help us with reviews, Dean has helped with a number of them in the past and always does a great job.
I like to base my reviews heavily on functionality and fact, but the new Answer Pro Pivotal seat caught my eye and I was drawn to it purely because it's just one of those pieces you buy because it looks "horn" (Editor: That's Aussie slang for sexy for our international readers)!! Plain and simple the seat looks fast sitting in the pack, and it screams at you from a far buy me! And after taking Liam's bike to two open meets since fitting it I am glad to say I am not the only one who has been lured by its stylish good looks.
The first thing that catches your eye is the texture of the cover, it gives the impression that the seat is covered in carbon fibre, which makes you look twice. The seat cover is a vinyl faux carbon fibre and, as noted, looks great. It also seems to be tough enough to be hard wearing and take a few knocks. The material feels rather thick and, if the thick stitching on the underside is anything to go by the seat should wear pretty well. There is minimal foam padding in this seat. I would assume that's to save weight and maintain the narrow sleek design, but there is still enough comfort to be found when you're sitting around in the pits.
Being a pivotal seat, you have your standard degrees of settings which works well and seems to find that sweet spot in seat set up. The hidden bolt is a nice touch that you see on padded pivotal seats and with clever logo placement it makes the mounting bolt seem non-existent.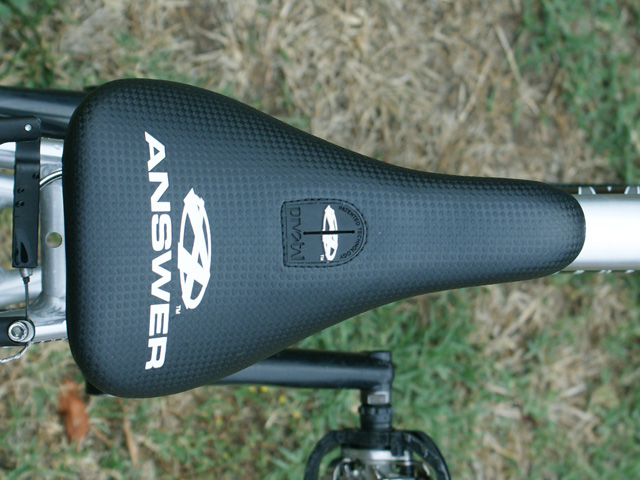 The body of the seat is moulded from a thick plastic with the nose of the seat being really stiff, and it would seem that if you landed on it that it won't bend out of shape like the generic plastic seats on the market.
Alright you weight weenies, the new Answer Pro Pivotal seat weighs in at 9oz (that's 255grams) which is on the lighter side for a padded seat and … well … look a plain plastic pivotal seat will shave you a few grams but won't look as good. This seat also comes in white and looks just as smart. It's might be a little harder to keep clean but I think an Armour All type cleaner would keep it looking tip top. Answer has also released a new range of mini seats if you're in the market for one which looks great.
Rating
19.5/20:
| | |
| --- | --- |
| Value for money: | 4.5/5 |
| Weight: | 5/5 |
| Functionality: | 5/5 |
| Looks/Finish: | 5/5 |
Comments:
The Answer Pro Pivotal is just a little more expensive than other pivotal seats in it's class
For a padded pivotal seat the Answer Pro Pivotal is one of the lightest around
Not only is the Answer Pro Pivotal durable and looks great, it's everything you would expect from a Pivotal
The Answer Pro Pivotal aims to impress with the carbon texture and slick graphics.
Answer products are distributed in Australia by Elite Cycle Imports (ECI) www.eciimports.com
Reviewed by Dean Steele, Liam Steele & Shane Jenkins/bmxultra.com March 8, 2013