Profile Elite BMX 20mm Front Hub
bmxultra.com has been reviewing high end race products for many years now, while it's a lot of fun just riding and seeing how things work, there's also a lot of work that goes on in the background. There's the research to ensure we provide you with up to date and correct information, there's the photography and of course writing. There are a few brands that we review that we just can't help giving a great ranking no matter how hard we try to fault them, we just can't. Profile is one of those brands. The quality, price, support,  performance and looks all contribute. It's products like the Profile Elite 20mm front hub that make the reviews an absolute pleasure to do.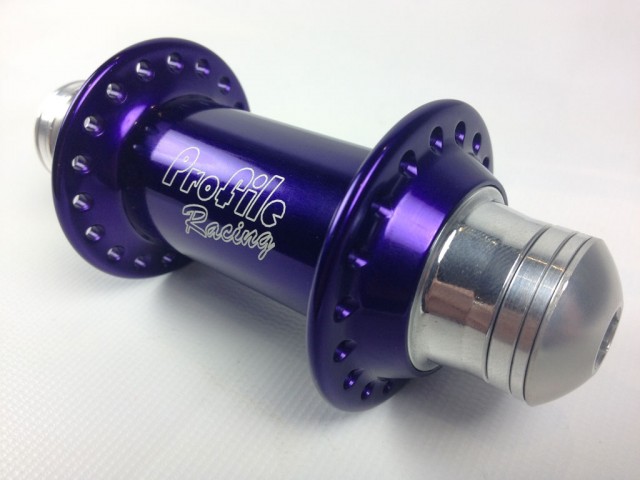 You may have seen the product review we did on the Alienation prototype Thrust hub. Together with the guys from ECI, Australian distributors of both Alienation and Profile (as well as a tonne of other brands), we'd built the ultimate wheel set. So we started with the Alienation Thrust hub, it was a 15mm thru axle to make for a stiffer rear end than a 10mm axle. We decided to lace them into the Alienation Stay Strong Runaway/Skylark combo, it uses 6069 T6 alloy which is 30% stronger than 6061 T6. The Profile Elite 20mm front hub was the perfect way to finish off the wheel set. It would be extremely difficult to find a stronger and stiffer wheel set.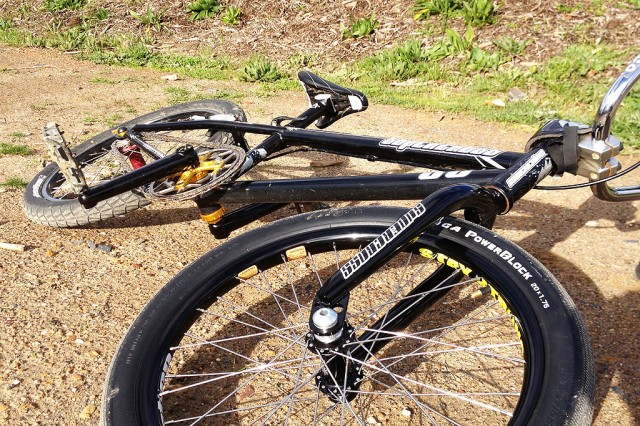 The 20mm front hub
The 20mm front BMX hub has been around for a little while now, maybe 2 years or so, but it hasn't really taken off quite the way I'd expected. The idea of the 20mm BMX front hub is to make the front end of the bike stiffer and, theoretically, it makes a lot of sense.
I've heard it said that 20mm front hub for BMX is a solution for a problem that just doesn't exist in BMX, and I tend to agree with the statement if you already have a stiff 10mm fork/hub combo. Let me elaborate. 20mm thru axles have been used for MTB to stiffen up a suspension fork, a fork that allows movement. Last time I looked BMX forks were rigid and a fair bit shorter than mountain bike forks, so this means that BMX forks should already be a lot stiffer than a MTB fork. In the BMX scene, the push for a lighter carbon, or even lighter cromo, rider weight limited fork may be the culprit for flex, but it's not something I have come across. I personally run a Supercross Pro cromo fork with an Alienation hub up front. The Alienation Royal hub has a 17mm axle with 10mm bolts. I run that set up because there is no flex (or at least none that I notice). Would a 20mm through axle with the Supercross Pro SLT forks be much stiffer than my current set up? It's difficult to determine or even measure, it's certainly very difficult to feel the difference, but in theory it should be.
I can see how a 20mm hub can make a lighter carbon fork feel stiffer, and it all makes sense when you consider that when Redline came up with the Project 79 they put the 15mm thru axle in the rear because it made it "20% stiffer".
I don't know if you would say that 20mm hubs are widely available but they are catching on with manufacturers getting on board including
Supercross
True Precision Stealth
Box
And of course Profile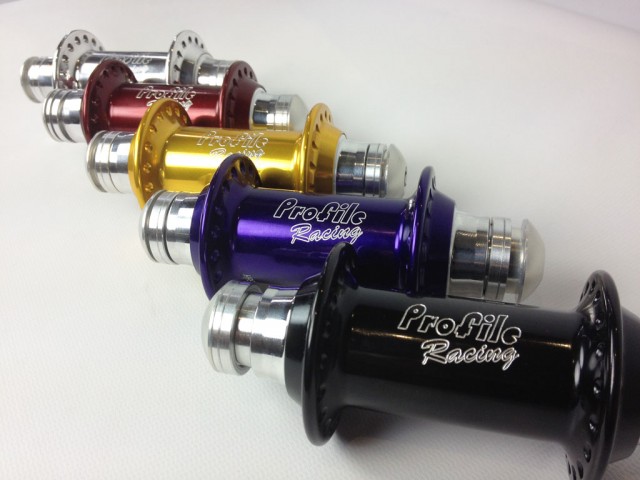 How does it compare to a normal 10mm hub?
If you were to compare the Profile Elite 20mm to Profile Elite 10mm hub. There's not a great difference in price or weight.
The 10mm front Profile Elite hub with cromo bolts weighs 8.1oz / 231g or with ti bolts the weight is 7.3oz / 207g (this ti bolt upgrade would put the cost of a 10mm hub higher than the price of the 20mm). The 20mm version weighs 7.45oz/212g with the 20mm alloy thru axle.
While, for me, the jury is out on weather a 20mm front set up is stiffer than similar 10mm set ups, one thing is for sure, a 20mm hub will allow BMX fork manufacturers to build a lighter fork going forward and still provide a stiff set up.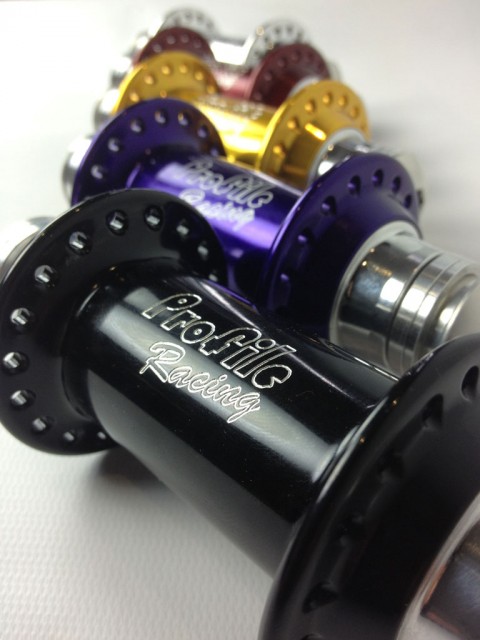 Product Details
The Profile Racing Elite Front 20mm hub is manufactured from a high grade, aerospace quality, billet aluminum.  USA made and Profile quality cannot be beat.
Fit: Designed specifically for 20mm BMX forks
Axle: 20mm machined aluminum axle
Bearings: Sealed precision bearings (2)
Hole Count: 36 hole only
Includes: hub body, axle and axle bolts
Available in Polished, Black, Red, Blue and Gold
Weighs 7.45oz/212g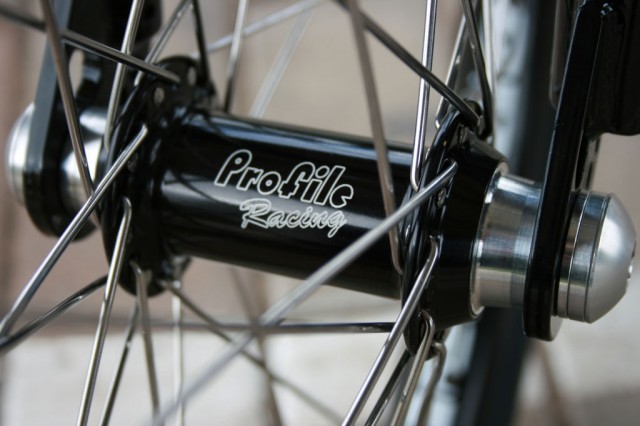 Axles ain't axles
Not all fork dropout widths are the same. If you look at a cromo 20mm fork for example, like the Supercross Pro SLT or the S&M Race XLT DUB fork you would have a 3mm wide drop out. If you look at some of the carbon forks like the Speedline Matrix you are looking at about a 6mm wide drop out.
Some axles are made to fit the fork they were designed for, so an axle designed for cromo forks most likely wont work on carbon forks and vise versa.
The 20mm Profile axle that comes with the Profile Elite hub however is designed to fit them all. It has a couple of spacers for each side that can be configured to make the axle fit any 20 mm fork that I've seen.
The Profile 20mm axle is one of the better looking axles on the market. The polished alloy button head style bolt would have to be amongst one of the most popular axles around too. There's also the flush Supercross thru axle that has a nice look about it, or the very clunky looking (but highly functional) Sinz and Box axles, they just look like a massive bolt and nut set up that Frankenstein would be impressed with.
If you are worried that it might take longer to change a tire or replace a tube with a Profile 20mm thru axle, then as long as you have an 8 mm allen key (the same as what's used for most 10mm hubs) you can remove it just as quick as any 10mm set up. The only difference is you need to take one bolt completely off and slide the axle through, but the bolts aren't as long as the bolt from a 10mm female axle (like the standard 10mm Profile axle).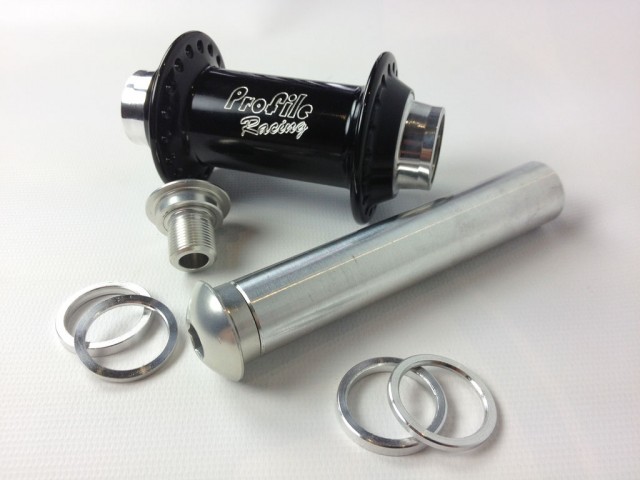 How does it feel?
The 20mm is designed to facilitate a stiff front end, and there's no doubt it does that. How stiff exactly is a little difficult to gauge and is dependent on the forks you pair the hub with. I'd used the 20mm Supercross Pro SLT forks that are already extremely stiff even in the 10mm version.
On the gate with the 20mm hub and cromo fork combo I noticed my tire pressure felt low because that's about the only give in the whole front end.
One thing's for sure, it's a beefy looking axle, so you can be confident knowing there's going to be a whole lot of strength there should you come up short on a big jump.
What I have noticed is it's easy to put a front wheel crooked with a 10mm axle, the 20mm thru axle eliminates any chance of that happening.
Gallery
Would I buy a 20mm thru axle set up on my next bike? Yes, in short I probably would. I'm not about to replace the set up I have but if I was looking at a new set up from scratch I'd go for a 20mm Profile Elite hub and a cromo 20mm fork combo. It's the simplicity of the axle that would push me over the line.
Rating 20/20
| | |
| --- | --- |
| Value for money: | 5/5 |
| Weight: | 5/5 |
| Functionality: | 5/5 |
| Looks/Finish: | 5/5 |
Comments
With a name like Profile you can be confident that you are buying a quality product that will be serviceable for the life of the product
The weight is comparable with a standard Profile Elite 10mm hub
Like all Profile products I have come in contact with the Profile Elite 20mm front hub is not only going to work on whatever 20mm fork you choose to go with now, it will work just as well on the next set of forks, and the next, and the next…
While the hub shell has a classic look it can be matched up well with a Profile Elite rear hub or with just about any brand rear hub and there are plenty of great colours to choose from, the lazer etching of the logos is also a nice touch
Profile Racing products are distributed in Australia by Elite Cycle Imports (ECI) www.eciimports.com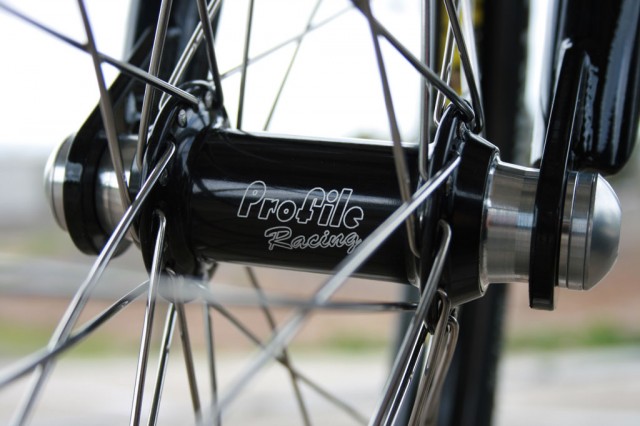 Reviewed by Shane Jenkins/bmxultra.com September 25, 2013