Alienation Moto lock on BMX Grips
You guys are probably sick of me telling you how awesome Alienation products are and we thought Dean Steele looked so good in Faith shorts we'd bring him back in to help us out with another product review.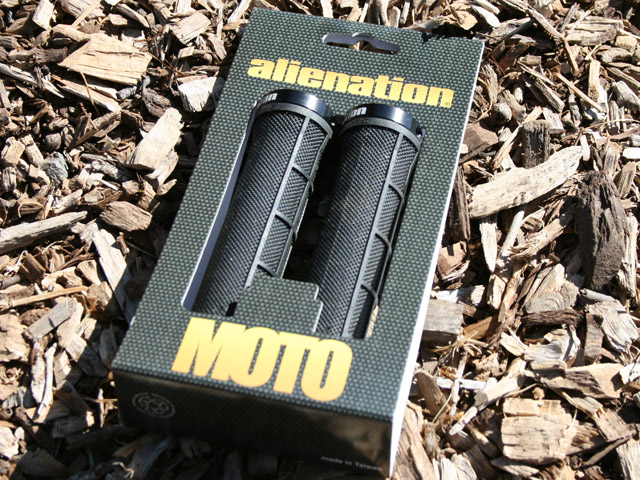 This is what he had to say about the Alienation Moto Grips.
New bike build time means adding new trick bits and bling and always trying to be the kid with the latest, greatest bits on his ride.  New grips are always on the shopping list.
I was presented with a pair of the new Alienation moto grips and told to try these.  To be honest I screwed my nose up a bit,  I like big thick grips, but on the other hand, as I am a dirt bike rider, I love the old school moto style.  Being in a daring mood, I said "what the heck, I'll give them a shot". Being black they fit the colour scheme of the bike…which is very important.
At first the grips felt weird, as they are basically wafer thin, but after persisting with them I started to see a few benefits.  The feel you get through the front end of the bike is incredible, you can feel every stone rut and nose bonk on the back side of a double when you pull up short on a manual.  (As seen at Bendigo, moto number two a little while ago.)
A major bonus for me is the fact I roll into the gate and with the waffle pattern on the underside each finger fits in a square.  No sitting there trying to get perfect purchase on the grips looking for that comfort zone for that go moment.  The knurling on the top makes for instant grip contact between the glove and grip.  With this design and the grip not having a deep pattern it allows the grip to dry very quickly especially when you have sweaty hands.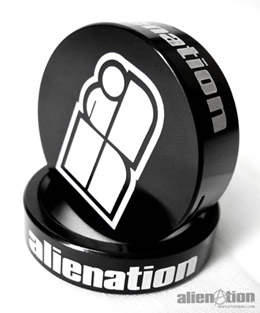 My greatest surprise so far has been how well these grips are wearing!!   I honestly thought these grips would have been bin bound after 2 maybe 3 months of riding, which to be fair wouldn't surprise me as I am very hard on grips and would normally go through a few pairs in a season.  But I am happy to report that I have had these grips on my bike for 6 months and they are still going strong.
The locking system with the grips is very clever; the alloy outer rings lock onto the plastic sleeve which is under the rubber, this makes for great locking to the bars. While on the subject of the plastic sleeve (under the rubber), it's different to all other lock-on grips in that it's only a half sleeve. What does that mean for the feel? Well the design allows for a smaller more natural feeling grip.
The end cap is a unique design as it is incorporated into the locking mechanism.  Having no flanges makes the grip look longer than 135mm and gives the optical illusion of really wide bars.
These grips have been a great change to the usual big fat boring grips that I would normally run.  At the moment there is preparations in place for a cruiser build at my house and I can tell you that I will be putting a pair of these grips in the glory box for when the time comes to build.
Thanks to Dean for his help doing this review, it appears it's not just me that raves about Alienation's products. The Moto grip is another flawless product from Alienation. Check them out for yourself and find out what all the fuss is about.
Features:
Flangeless lock-on with an ultra thin profile
Proprietary window technology for greater comfort
Classic motocross style knurled on the top side with a half waffle pattern below
Features a 1 pc alloy end cap for simplicity and safety
Super Soft Kraton Single Density Rubber
135mm
Colors: Black
Rating 20/20:
| | |
| --- | --- |
| Value for money: | 5/5 |
| Weight: | 5/5 |
| Functionality: | 5/5 |
| Looks/Finish: | 5/5 |
Comments:
Built for comfort and built to last, that is value for money!
As far as grips go there really isn't a lot to the Moto grip, perfect for the weight weenies
If you have small hands, or prefer a slim grip the Moto is superb!
The Moto grip has a slick/classic look and that wins big brownie points here at bmxultra.com.
For more information on Alienation and their products check out www.alienationbmx.com
Alienation is distributed throughout Australia by Elite Cycle Imports (www.eciimports.com)
Reviewed by Dean Steele & Shane Jenkins/bmxultra.com September 30, 2011