Skullcandy Team TLD Hesh Headphone
It's starting to get to a point where if it's got a Troy Lee Designs logo on it I want it. And for good reason too! They make an awesome product look even … well … awesomer!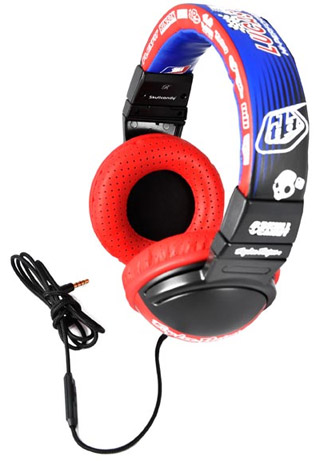 The Skullcandy Team TLD Hesh Headphone is a Skullcandy product, it's another of the many collaborations that Troy Lee Designs have been involved with lately. And it's another winner.
I have been on the lookout for some new headphones for a while. I spend a good proportion of the day at my desk. It's common practice for staff in the IT industry, particularly for developers, to wear headphones and listen to music to drown out distractions and stay focused, and nothing beats a good set of headphones to make the day go faster.
You may have already seen the Skullcandy Hesh over ear headphones, they come in a stack of different colours and styles. The Troy Lee Designs model has all the same features as other Skullcandy Hesh headphones but with Troy Lee Designs logos and styling.
The "Soft Leather-Touch Ear Pillows" are so comfortable that you could wear them all day without getting sore ears. With other headphones I had found that my ears would start to sweat after a while and I'd have to take a break from wearing them for a bit. I haven't found that with these at all after a few weeks.
There is a lot of adjustment in the headband meaning they will fit even the largest of heads and the ear pillows cater for those of us who are well endowed in the ear lobe department.
The sound quality is great even with my iPhone cranked up to flatout there was no distortion. The speakers are quite powerful, so if you like your music ear-bleedingly loud you'll love these. If you are after noise cancelling headphones though you will have to look elsewhere. Even though these are over the ear headphones you can still hear what's going on around you and people will be able to hear what you are listening to.
I like the in-line microphone that's built into the cable. When you are listening to music on your iPhone, G1 or Blackberry you can answer a call and chat hands-free. A nice feature, but not only that the microphone is quite clear.
Features:
Explosive 50mm Drivers
Enhanced Parabolic Sound
Soft Leather-Touch Ear Pillows
Skullcandy lifetime warranty
Specs:
Magnet Type: NdFeB
Frequency Response: 20 – 20K Hz
Impedance: 32 Ohms
Max Input Power: 100 mW
Cable Length: 1.2m
Plug Type: 3.5mm Gold Plated
I'll have to admit that I probably wouldn't have looked at Skullcandy headphones if they didn't have a Troy Lee Designs logo, so I'm glad that TLD collaborated with Skullcandy. These headphones are exactly what I needed.
A note to our Aussie readers: Remember to buy local and support the Australian BMX industry. We do! Thanks to the Australian distributor, Steve Cramer Products, the price of Troy Lee Designs products is very competitive. Support those who support you.
Rating
20/20:
| | |
| --- | --- |
| Value for money: | 5/5 |
| Weight: | 5/5 |
| Functionality: | 5/5 |
| Looks/Finish: | 5/5 |
Comments:
A great set of headphones for a nice price
Very light weight and with the soft cushioning you won't notice them on your head
Comfortable and crank out a good tune
The TLD styling would probably suit the MX crowd better with the extra logos on them, but they still look distinctly TLD.
Troy Lee Designs is Distributed in Australia by Steve Cramer Products (www.stevecramerproducts.com.au). For more information about Troy Lee Designs check out www.troyleedesigns.com
Reviewed by Shane Jenkins/bmxultra.com October 7, 2011