Alienation BMX Plain Black Rims
I stumbled across the Alienation Plain Black Rim when I was searching for some rims for the bmxultra.com review rig. After two years of abuse the old rims were looking a little second hand while the Alienation Bullitt hubs were still running strong. Alienation have a lot of rims on offer and many of them don't really get a look in by BMX racers, despite being designed by a racer and totally suitable for racing.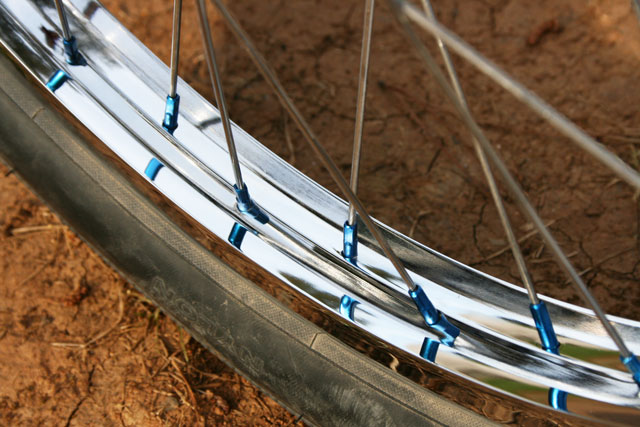 I'd decided to give the Alienation Plain Black Rim a try for both front and rear. There were a couple of reasons behind the thought process. They are light, strong, extremely well priced and come in chrome. Also, I had seen (many times national champion) Simon Anderson using them. Simon works in the bicycle industry and has his finger on the pulse when it comes to racing products. To me that speaks volumes. So I asked Simon why PBR's? His answer was simple. "They are light, strong and cheap enough so if you do happen to damage a rim beyond repair you could just throw it away put on a new one and not take a massive hit in the bank account."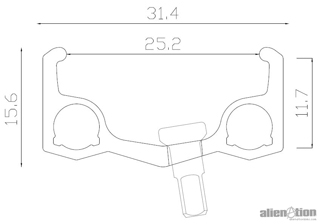 One of the reasons people overlook the PBR rim is because it's a single wall rim. Immediately people see it as a cheaper inferior rim. While it actually is cheap, it has what it takes to hang with the best rims BMX has to offer. We asked Zach from Alienation about the reason behind the single wall for the PBR rim this is what he had to say. "Truth be told the PBR test out as strong as most double wall rims on the market under EFA testing. It's 2.2 mm thick dead center per the spoke-face. That's crazy thick yet it's lighter than most competitors' DW rims at 365 grams. It's wide at 31 mm so it is incredibly stable especially in turns. KY (Khalen Young) ran this rim for a few seasons as a front which is a perfect choice. It's economical and looks good with many lines. Bottom line; you pay a fraction of the price of a DW rim and save weight."
Some of you may have picked up on Zach's statement about the wide rim making it incredibly stable, let's elaborate a little on that. Let's say you have a 1.5 rim and place a 1.75 tire on it. The tire should fit without any problems but the with of the rim would cause it to wrap around more and you would probably get latteral movement if you were to grab the tire and rock it side to side. At high speeds you would actually feel the tire trying to roll off the rim through a corner. With a wider rim you wouldn't get the same movement because the base of the tire is much wider.
To add to the strength and stiffness of the rim Alienation use 6mm pins (at the joint) and an angled spoke face. According to Alienation "A standard pin diameter is 4.5mm. 6mm pins offer more contact surface creating a stronger join. The rims overall weight is lighter due to the greater hollow cavity one needs to support the 6mm pins" This makes complete sense to us. Using a 9 degree non-center cross angled spoke face provides better nipple seating and allows for more consistent spoke tension. You will see from the cross section above the spoke sits flush in the rim while the spoke is angled at the hub flange.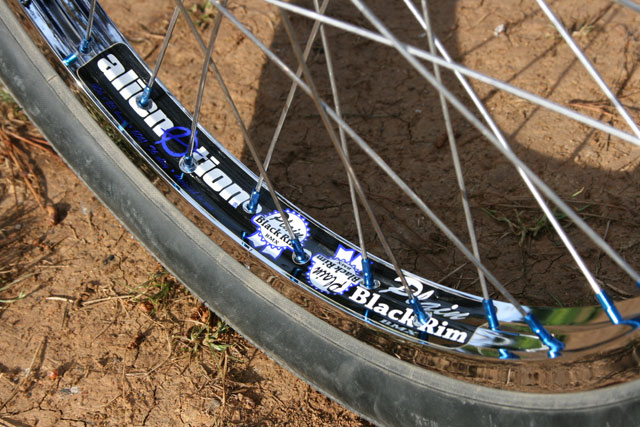 Ok, so enough tech talk. I've had these rims on the test rig for around a month now. They have taken a regular hiding with me doing sprints, coming up short on jumps and messing up landings from attempting to get whips down pat, yet still they run as new. By now I would have expected the spokes to have come loose and to have some indication of flat spotting, but the PBR's appear to be bomb proof. This tells me the angled spoke face works and isn't just marketing BS.
Also the chrome still looks fantastic, even on the brake wall. I'd challenge anyone to find a rim with a better chrome finish than what Alienation offers, but you can also extend that into their anodised rims.
It's clear that the Alienation PBR is lighter than the popular double wall rims. I think it's only a matter of time until people realise that the PBR is just as strong.
Alienation
Sun Ringle
Front/Rear (PBR)
1.75
Rear (Runaway)
1.75
Rear (ENVY)
1.75
20″
365g
425g
401g
24″
455g
520g
501g
Features:
Material: 6061 T6
Walls: Single
Joint: Pinned
Weight: 365g, 455g, 500g
Diameter: 406 (20?), 507 (24?), 559 (26?), 16? & 18? available
Drilling: 32, 36, 48
Valve: AV
Sidewall: GSW
ERD: 395, 497, 548
Colors: Black, Blue, Chrome, Polished, Red, White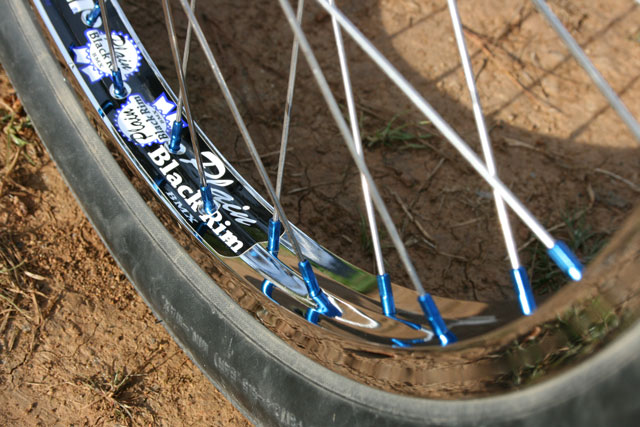 I'm extremely happy with the PBR rims and highly recommend them to others.
Rating 20/20:
| | |
| --- | --- |
| Value for money: | 5/5 |
| Weight: | 5/5 |
| Functionality: | 5/5 |
| Looks/Finish: | 5/5 |
Comments:
The PBR rim is the best value for money rim we have ever come across
A single wall rim that's lighter than double wall rims and just as strong
Light, strong, stiff! The PBR is another great rim by Alienation
The PBR is flawless in every way, a great design and great finish
Alienation are distributed in Australia by Elite Cycle Imports. For more information about Alienation check out www.alienationbmx.com.
Special thanks to John at Trail and Track for building the wheels.
review by Shane Jenkins/25 October 2012