LDC (Little Dude Components) are manufacturers of high end BMX components and frames. Based in Arizona LDC have been pumping out great products for over ten years. The name Little Dude Components implies the products are for "little dudes", while it is their specialty, there really is no size limit on their brakes, they cater for all riders from the littlest grommets to the biggest older guys.
LDC Calipers
We called Steve at LDC a while back to get some information about his brakes, he said it's a little known fact that the LDC Linear Brakes are actually designed for pro sized bikes. It's testament to LDC's vision that the brakes work on any frame/wheel combination and work extremely well, even more so that the brakes are so popular amongst the little guys despite their intended use.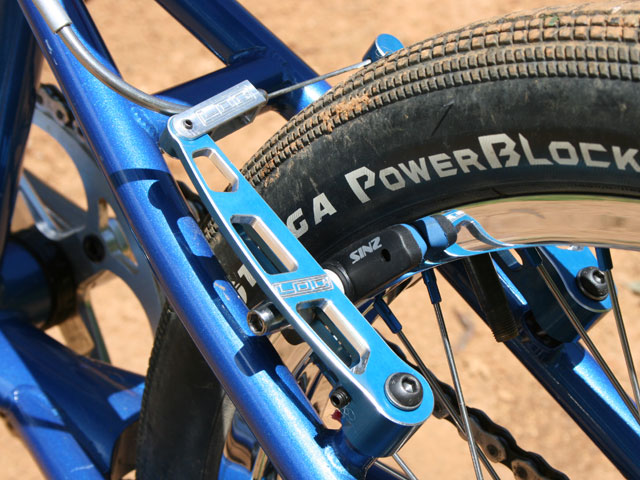 After having used cheaper Tektro and Sinz brakes exclusively for a number of years I wanted to see what all the fuss was about with LDC. I'd heard about the longer arms and massive two inches of adjustment, but I had also heard about the larger price tag. That was about all I knew about them. The design had changed a little since I first looked at them. They used to have a massive LDC logo the whole way up the arm which was off putting for me. With the redesigned arms there has been a lot of work to remove unnecessary weight, leaving little room for a logo.
The LDC calipers come packaged with only the caliper arms, noodle, and bolts. Normally there aren't any brake pads, although SpeedFX (where we got our brakes from) throw in some Jagwire brake pads at no extra cost. I thought I'd try Sinz brake pads for two reasons. The first being they can be colour matched with your own colour scheme, and the second is they are amongst the most common brakes pads you will find. I wanted to make sure the brakes would work with anything.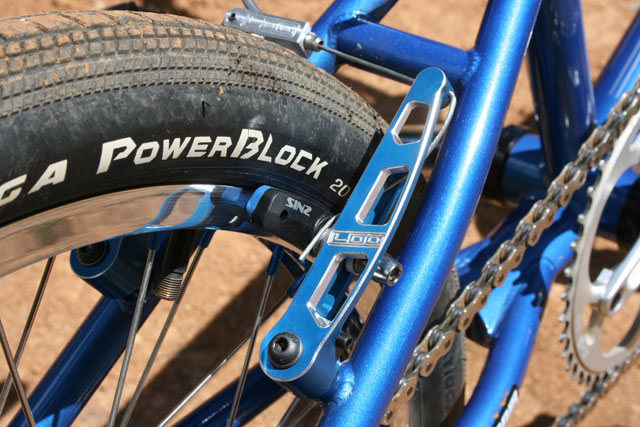 Problem/Solution
I was after these brakes for a specific purpose. The bike I use as the review rig is a cromo Supercross frame, with short dropouts, most of the time it's running Tioga PowerBlock tyres and, up until now, it had Tektro brakes. Anyone who has used PowerBlock tyres would know they are a little larger than other tyres of the same marked size. What this meant was each time I pulled on the brakes the cable that bridges across between the two arms would drag on the tyre. Just a little bit, but it was still enough to be annoying. With the LDC brakes there's clearly plenty of length in the arms and instantly the problem was gone.
Fitting
I was given the tip for fitting them to load the spring pin in the middle of the three holes (next to the canti mounts). I was told it works just fine there with the internal spring. Nice tip because I always try to overload the tension on my brakes to make sure they spring back as quick as possible. With the LDC's loaded into the middle hole I was already getting the same kind of response from the brakes that I was used to. While hooking up the cable I noticed the cable lock mechanism was a lot different to traditional brakes. It's very simple, you just feed your cable through the hole and lock it down with a grub screw. What it means is you need to have a clean cut on the end of the cable with no fraying, but you should have that anyway. I also like that LDC use slightly bigger grub screws for adjusting their brakes than other manufacturers, a nice touch.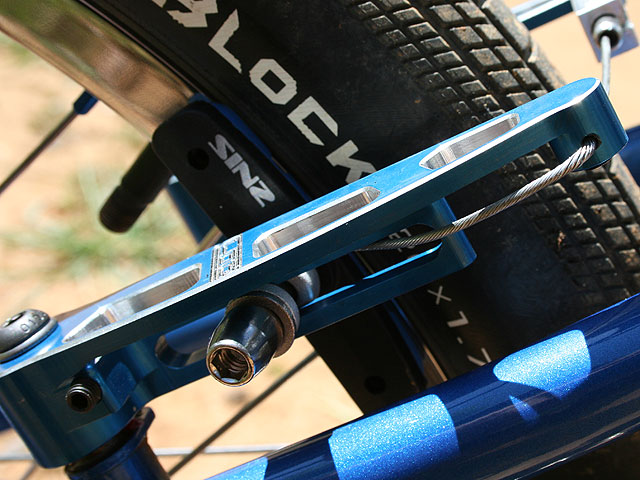 Weight
At just 125grams (4.4oz) these would have to be amongst the lightest brakes I have come across. The Sinz brake pads that I am using weigh in at about 60grams. The Speedline V-Brakes we reviewed a little while back are 137grams including brake pads (although 150grams is the advertised weight), but to be fair the Speedline brakes are also a little more expensive.
The Final Word
I'm very impressed with the LDC brakes, they work just as well as anything else I have used. Even with a stock cable and basic brake pads. They look great. While the arms are longer than most brakes the length isn't excessive. I like the new shape too, they sit cleanly above the seat stays without any over hang, so no matter how hard you try you will never get your pants or shoes caught on the brakes. LDC brakes are versatile with two inches of adjustment, you could use this one set of brake calipers through your whole race career. All the way from mini, through the difficult times of running 20×1 3/8 wheels on a pro frame, right up to a pro 20″ or even cruiser.
Features
CNC machined from 6061 aluminium
Available in Black, Red, Blue,White & Silver
Weight: 4.4oz/125g
LDC Levers
LDC brakes wouldn't be complete without the matching LDC lever although the calipers and lever are sold separately. The LDC Brake lever is a two finger lever with a shorter reach. It's perfect for smaller riders all the way up to pros. Even with a big hand the reach didn't feel too bad at all. I'm used to a longer lever and most of the time I am riding I just keep my middle finger on the lever with my hands out wide on the bars, with big hands that puts my finger right on the end of the lever which makes it feel a little short. I just switched my braking finger to my index finger as I do when I'm actually racing. I'm still not entirely sold on the straight lever, I'd much prefer something that has a little more shape, but I'm sure that's just my personal preference and it doesn't have any effect on their performance.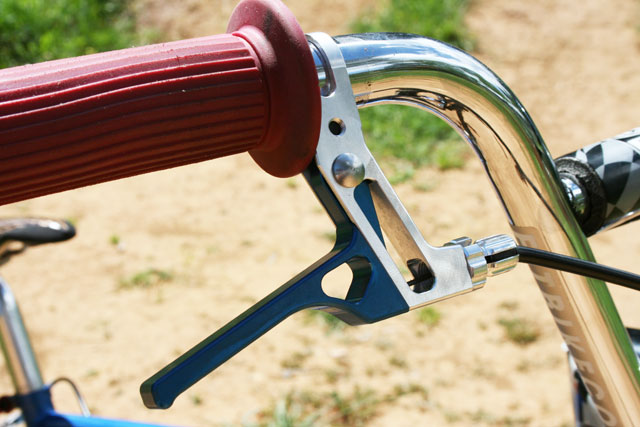 I've always preferred hinged levers, that way if you needed to remove your lever for any reason you don't have to remove the grip. I understand that would make the lever heavier. At 60grams for an alloy lever the LDC lever is very impressive.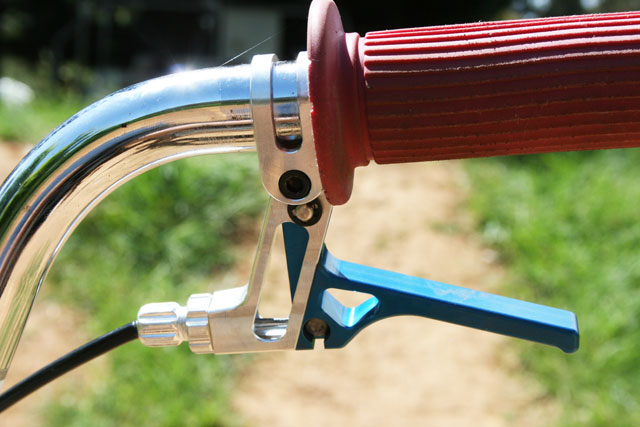 Features
CNC machined from 6061 aluminium
Shorter reach
Available in Blue, Red, White, Black
Weight: 60grams (2.1oz)
Rating 20/20:
| | |
| --- | --- |
| Value for money: | 5/5 |
| Weight: | 5/5 |
| Functionality: | 5/5 |
| Looks/Finish: | 5/5 |
Comments:
The LDC brakes work great, look great and fit any frame/wheel combo, what more could you ask for?
Maybe not the lightest brakes around, but with just a few grams difference they are certainly right up there with them
Even with a stock standard cable and brake pads these brakes work a treat. They lock up nicely, are easy to set up and offer two whole inches of adjustment
A smart non intrusive design that looks great. The anodize colours are a little less "rich" than what I am used to but still look fantastic. (Ease of cleaning is also a bonus)
Australia specific information
LDC products are now available in good BMX shops in Australia. We'd like to thank the Australian Distributor SpeedFX for supplying the product for the review.
Reviewed by Shane Jenkins/bmxultra.com November 15 2012