Loose Kid Industries Control gloves
A while ago we reviewed the Loose Kid Industries Pacman gloves, we thought they were great gloves. The moment they landed the guys at LKI got to work on improving the cut, the look and the feel of the glove and came up with the Control glove. You would have already seen these gloves on Loose Kid pilots Brian Kirkham, Lauren Reynolds, and Anthony Dean at recent Supercross races and the Olympics.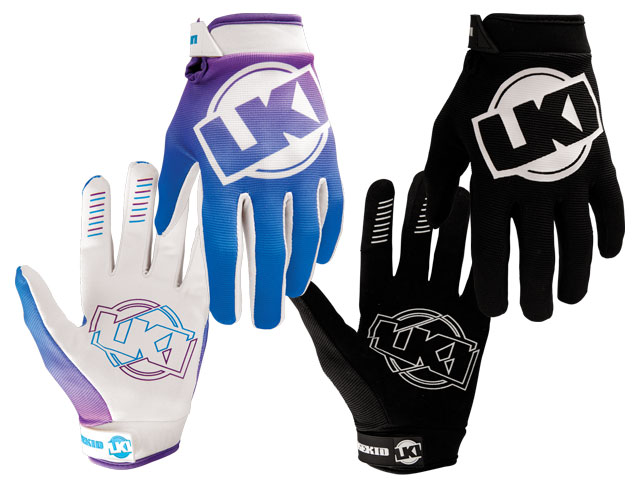 Where the Pacman gloves were colourful, they weren't for everyone. The Control glove however comes in two colour options, a generic black and a nice purple to blue fade. When we reviewed the Pacman gloves I had to ask bmxultra.com team rider Dane Pangallo to do the review as LKI's largest gloves were too small and didn't fit my hands. When the Control gloves arrived it was a different story, they were a much better fit. They'd sent two sets this time, and since they fit so well it was very difficult to choose which colour I'd test and which Dane would end up with. But since I tend to get dirty, black was the only sensible option for me.
The first thing I noticed about the gloves is how comfortable they are. The material feels quite thin, they wouldn't keep your hands warm on a cold day but they would do a great job of keeping your hands cool and dry on a hot day. Importantly they would provide you all the protection you need when you need it. Dane tested this first hand (sorry I just had to say that). You see Dane had a little trouble with gates, over a two week span he went over the gate about 5 times. It wasn't all his fault, one time was from a gate failure. Anyone that's been over a gate before knows the first thing to hit the ground (if you are quick enough) is your hands. It's the gloves that take the initial impact. The thing is Dane's gloves don't show any signs of damage from his streak of bad luck.
I have to admit I spend more time riding my backyard track than I do any other track. I'm more comfortable wearing no gloves while I ride, that is until my hands get hot and sweaty. With the LKI Control Glove it still has the feeling of riding without gloves without having to contend with the slipperiness when things start getting sweaty. The gloves have no padding whatsoever, not in the palm and not on the back of the hand, nothing. This means no clumping in the palm (unless you gloves are too big) and absolutely no restriction of movement. (I would never ride or encourage others to ride on a surfaced track without gloves. That stuff shreds like a cheese grater!)
Features
Synthetic Clarino Leather Palm
Durable Spandex Mould
Silicone Palm & Finger Prints
The control gloves are available in XXS, XS, S, M, L, and XL.
We're very impressed with these gloves as were a bunch of others who checked them out during the product review.
Rating 19/20:
| | |
| --- | --- |
| Value for money: | 4/5 |
| Weight: | 5/5 |
| Functionality: | 5/5 |
| Looks/Finish: | 5/5 |
Comments:
At $39.95 you will be paying a premium price for a premium glove
You won't even notice you are wearing the Control gloves the material is so thin and the fit is so good they become like a second skin
A perfect all round glove for someone who is chasing that second skin type of feel
The two colour options is a great idea, black will always sell well, but the purple to blue fade will turn heads, Dane constantly has people asking where they can get some
Australia specific information:
Check www.loosekid.com to find out where you can get your LKI gear from.
Reviewed by Dane Pangallo and Shane Jenkins/bmxultra.com October 12 2012
Posted in: Race Clothing · Reviews