Alienation BMX Insurgent Rims
Alienation BMX is well known for it's rims, however there is a lot more to their product range than rims and more to their rims than just Jump, Park and Street. Alienation have quite a few premium BMX race rims on offer as well. There's the Ankle Biter for the juniors and the Runaway/Deviant combo that is a common combo amongst the bigger riders. There's also the often overlooked Insurgent, it's a 1.50 rim that's targeted at all those riders in between.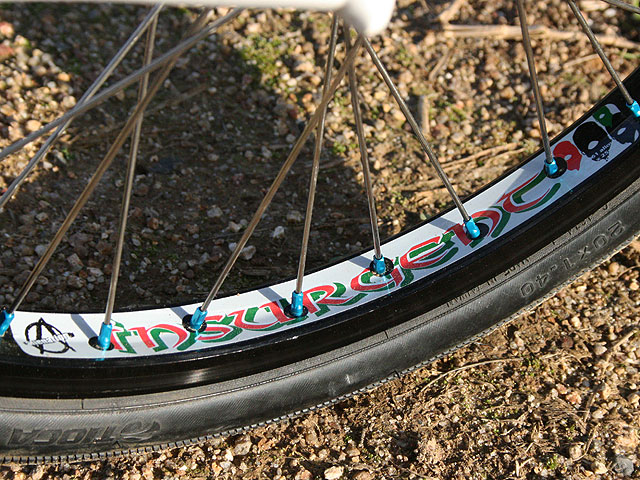 Issy Penglase from the One Bicycles Australia team had stepped up from an Expert frame to a Pro frame was looking to move up from her 20 x 1 3/8″ rims. It was convenient that we wanted to check out what the super light weight Insurgent rims had to offer while she was looking for some 20 x 1.50's.
So we handed over the rims and asked Issy for her instant reaction this is what she said
They're very light
They felt firm and strong
They have a nice shallow inverted ridge in the rim
They look great! Very nice and purposeful.
Issy had the rims laced up to some Supercross hubs about four months ago and hasn't needed to touch them since. They have stayed true even while she's been learning to jump, and slip in the odd case (or ten), despite that there are still no flat spots or wobbles.
So after a few months of using them what did Issy think of the Insurgent rims?
I've been using them for a few months now and still can't fault them.
I'm still hitting bigger jumps and have cased quite heavily and still haven't found a flat spot in them.
I haven't even had the normal problem of spokes coming loose that I've had with other freshly build wheels.
I've run 1.4, 1.6 and 1.75 tyres on these rims and they all performed well and braking power has been great with no squeals or slippage that you sometimes get with other rims.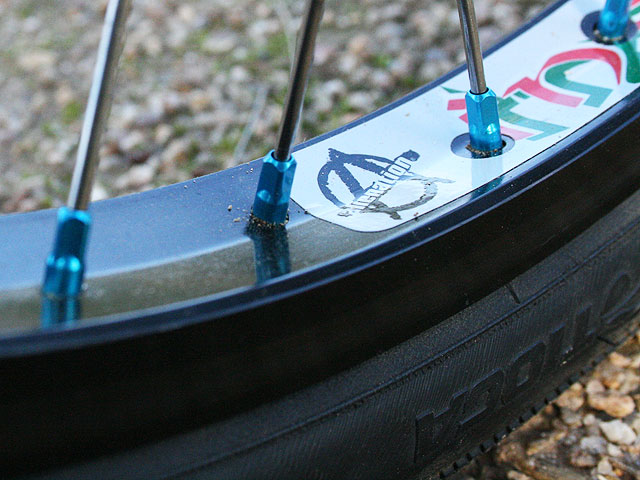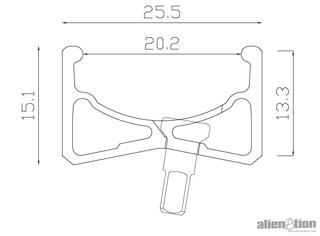 Features
Use: Elite Expert Race
Material: 6061 T6
Walls: Double
Joint: Welded
Weight: 315g, 400g
Diameter: 406 (20?), 507 (24")
Drilling: 28, 32, 36
Valve: AV
Sidewall: CNC
ERD: 396, 498
Colors: Black
The Alienation Insurgent is a double wall rim constructed from 6061 T6 alloy. When comparing the Insurgent with other popular options it comes up lighter. You will see in the chart below that the Alienation Insurgent is 15grams lighter than the Sun Ringle ENVY Lite. It also has a taller side wall for a larger braking surface and the advantage of extra strength from the non-traditional center cross lace pattern (you may have seen this on some of the other Alienation rims).
We asked Zach from Alienation for some more information about the advantages of the center cross lace pattern on the Insurgent rim and this is what he had to say "What most do not know about these rims is the fact that the center-cross lacing reduces side deflection thus creating a stiffer wheel with less stress and less tension on the spoke and spoke-face the rim. We have a lot of the bigger guys now running them on the rear for this very reason."
Alienation
Sun Ringle
Front (Deviant)
1.75
Rear (Runaway)
1.75
Front/Rear (Insurgent)
1.50
Front
(ENVY)
1.75
Rear
(ENVY)
1.75
Front/Rear
(ENVY Lite)
1.50
20″
305g
425g
315g
419g
401g
330g
24″
415g
520g
400g
521g
501g
415g
There is very little more that you could ask for in a race rim. The Insurgent is built specifically with the expert/mid weight rider in mind, it's light, it's strong, has more braking surface than any other 1.5 rim and it looks great.
So how did Issy rate them?
"Awesome! If you're looking for a 1.5 light weight and strong rim get to your local bike shop and check them out for yourself."
Rating 20/20:
| | |
| --- | --- |
| Value for money: | 5/5 |
| Weight: | 5/5 |
| Functionality: | 5/5 |
| Looks/Finish: | 5/5 |
Comments:
The price is just a little higher than others in it's class, but the Insurgent is lighter and stronger. I'd pay extra with that in mind.
Simply put the Insurgent rims are lighter than the other high end race rims.
Light, strong and a nice big braking surface. Could you ask for more in a rim set?
Alienation's rim designers always seem to get it right when it comes to building a functional product they always nail it when it comes to looks and finish as well. It would be nice to see the Insurgent released in more colours, but that would be up to you guys to spread the word about these rims.
Alienation are distributed in Australia by Elite Cycle Imports. For more information about Alienation check out www.alienationbmx.com.
review by Issy Penglase and Shane Jenkins/29 September 2012