If you have been racing BMX for a while chances are you've probably used all the standard training tools, like a speedo and a stop watch, or even transponder results, but there's only so much feedback you can get from those devices. If you are very serious about your training and improving it's just not enough to know your top speed or your fastest time from point a to point b. Sure they can help you set a goal to strive for but they don't tell you what you could do with your technique to increase your performance.
Imagine if you could determine flat spots in your pedal stroke, increase your reaction time, or gain speed from reducing the side to side wobble while sprinting. It's all possible with the G-Cog.
If you take your racing and training seriously you should consider the G-Cog to help you get the most out of your BMXing. Riders like Corben Sharrah, Donny Robinson and Arielle Martin are amongst the many that use it as is "Coach G" Greg Romero all are very serious about their racing.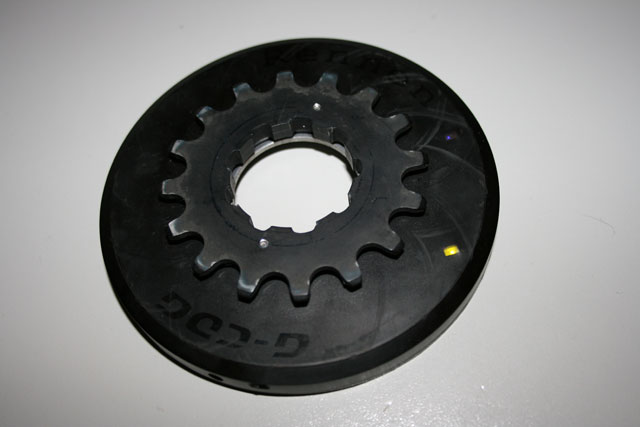 So what is the G-Cog anyway?
The G-Cog itself replaces the cog on any Profile or Shimano compatible cassette hub. Inside the unit is all sorts of black magic, in simple terms there are a bunch of sensors that record your ride. You simply upload the data from the G-Cog to your computer via bluetooth and, once the data is uploaded, the software breaks everything down into powerful graphs for analysis.
The G-Cog is available in Shimano or Profile compatible ranging from 14 teeth to 20 teeth.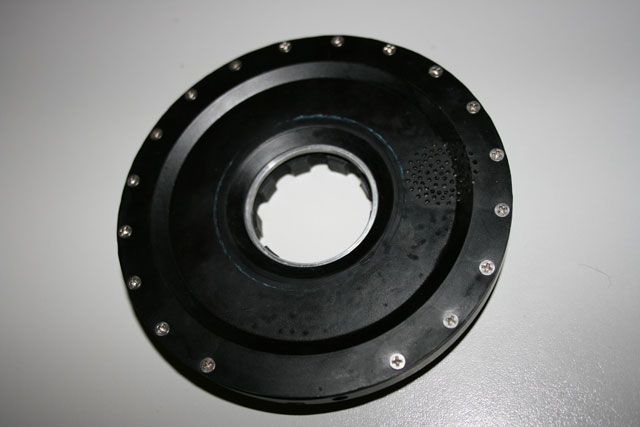 There are three G-Cog models
It was smart of the guys at G-Cog to break the G-Cog into three different models. After using the coaches version for this product review I found that all the reports I needed were available in the basic model. That included reaction time, speed, power, 0-20 and that was about it. I'm sure that would be all that most people would be looking for.
An awesome feature of the G-Cog is "Ride Compare" which allows you to load up rides and compare them against each other. Say you changed the handlebar angle, the stem length, crank length, frame size, etc, you want to know if it's going to make you faster or slower. The G-Cog will tell you exactly how much better or worse it is. There are so many different ways to use ride compare. Maybe you want to compare your last sprint session with the new one, or you have a little in house competition running with other family members.
If you have the National Championships, World Championships or event the Olympics in your sites the Expert or Coaches versions of the G-Cog give you even more detail. For example, using the coaches model, you could gain a little extra power and speed if you reduced the "rider wobble" in your pedaling technique and the G-Cog would show you just how much adjustment is optional.
The basic model gives us the opportunity to purchase a cheaper version making the G-Cog more affordable and simpler, but for coaches who are trying to squeeze everything they can out of an athlete there's benefit in milking all the measurements they can too.
Basic model:
Basic reaction time; How fast did you get off the line after the basic start sequence (beep) went off?
Linear velocity; How fast did you go?
Training session distance; How far did you go?
Torque; How hard did you crank?
Power; How many HP or Watts did you put out?
Sample Frequency range 25-75Hz (samples/second)
Memory 256KB
Cost $499USD
Expert: (*Includes all Basic Version measures plus)
ABA, NBL/UCI Reaction time; How fast did you get off the line after the ABA or NBL/UCI cadence went off?
Angular velocity; How fast is the rear wheel rotating?
Angular acceleration; What was the rate of change in your rear wheel speed?
Linear acceleration; What was the rate of change in your bike speed?
Lateral acceleration; What was the rate of change in your bike orientation (were you perfectly straight while riding or were you throwing the bike from side-to-side)?
Power/Mass; How many HP or Watts relative to your mass did you put out?
Sample Frequency range 25-125Hz (samples/second)
Memory 512KB
Cost $999USD ($500 upgrade from Basic)
Coach:(*Includes all Basic and Expert Version measures plus)
Torque sensors; Access to the individual G-Cog torque sensors
Angular acceleration sensors; Access to the individual G-Cog X Acceleration sensors, which help to determine Angular Acceleration
Centripetal acceleration sensors; Access to the individual G-Cog Y Acceleration sensors, which help to determine Angular and Linear Velocity.
Lateral acceleration sensors; Access to the individual G-Cog Z Acceleration sensors which help to determine rider wobble.
Rider wobble; How many degrees were you throwing the bike side-to-side?
Sample Frequency range 25-250Hz (samples/second)
Memory 1MB
Cost $1499USD ($500 upgrade from Expert or $1000 upgrade from Basic)
What you get with your G-Cog?
The G-Cog comes in a box with
The G-Cog unit
A charger with international connections, so you can use it anywhere in the world
Spacers
A USB Bluetooth adapter for your computer
The software on a CD
The G-Cog isn't as user friendly as your smart phone, but it's not too bad. It's always a good idea to read the manuals before you do anything else, but if they don't make sense to you Greg Romero and the guys at G-Cog have come up with some very informative videos on how to get started with the G-Cog and how to get the most out of it. www.youtube.com/user/GCogPowerMeter
Pretty much all of your questions will be answered through the series of videos, everything from how to set it up to how to analyse your training data. It's worth while taking a look through those before you start using the G-Cog, maybe even before you purchase it.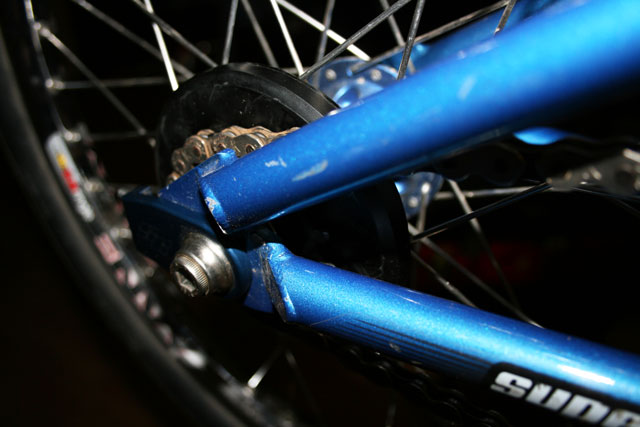 Installing the G-Cog
If you have changed the rear cog on a Shimano Compatible hub or a Profile hub before you should be fine installing the G-Cog. It fits just like any other sprocket, but because of the width of the unit it needs to be spaced differently. The only real trick is getting the chain alignment right while also considering your G-Cog needs to be clear of your spokes.
If you don't rate yourself as much of a mechanic, or possibly are just a little lazy, it could be simpler to have a spare wheel with the G-Cog fitted or even a complete spare bike. Remember though, it's not a requirement.
Connecting the G-Cog to your computer
With your UBS Bluetooth device connected to your laptop, or pc, (make sure the bluetooth device is started before you do anything) and your software running with the G-Cog switched on (you should see lights flashing on the device) you are ready to establish a connection. It's that simple, all you need to do beyond that is press the connect button.
Setting up a training session
Once you have connected the computer with the G-Cog, in the main tab change your training settings to suit your session by changing
Sample frequency
Number of events (sprints)
Event duration
Select the starting cadence
And the time between sprints
upload the new settings.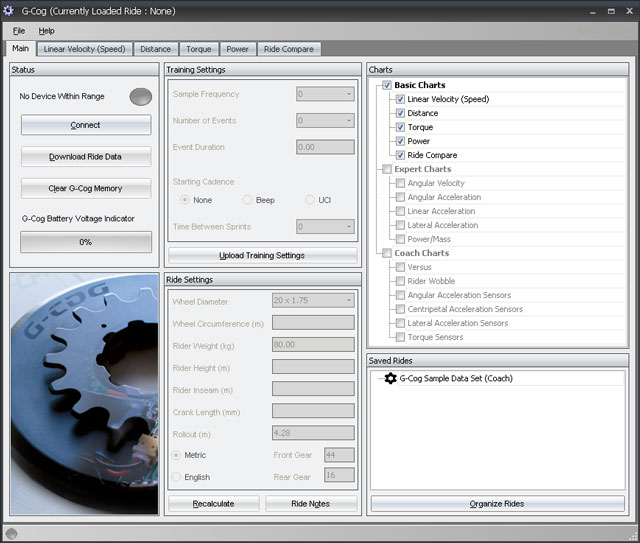 This got a little confusing for me when I first attempted to setup the G-Cog. A successful upload lets out a sound that seems more like an error alert, but after watching the videos (mentioned above) it all made sense.
Ok so now you are ready to ride.
The perfect testing environment
If you are looking for the safest environment for using your G-Cog you will need to find yourself a quiet stretch of road, hopefully a quiet street, a dead end would be perfect or even a vacant car park.
There's no reason why you can't go to the local track but I think the best option would be to start on a stumpy gate or using something to help keep you in the right position to get straight into your sprint, like an adjustable sprint stand for example.
I have a moderately busy country road out the front of my house, it's not ideal but I set up a large old paint tin just off to the side of the road and set up on it. It's the perfect height so I can keep my cranks horizontal and body in a start position while waiting for the cadence. Since the road is shared with cars, I do find that I will have to abort a sprint from time to time so I'm not taking off in front of a car.
A sprint cycle
A sprint cycle goes something like this
30 second warning
The cadence (which might be the UCI call including the voice if using the expert or coach models)
An alert when the sprint stops recording
The delay between sprints
Downloading the data to the computer
Once your session is done it's quite simple to get your G-Cog within Bluetooth range and upload the data. It's obviously simpler and much more flexible if you have a laptop but I've managed just fine with my desktop computer. To get accurate reports you need to enter your ride settings
Wheel size
Wheel circumference
Rider weight
Rider height
Rider inseam
Crank length
Roll out
Front gear
Rear gear
Reading the reports
Have you ever been at the track and feeling great, but then the gate drops in your race you get spat out to the back of the field that you realise it was a false positive? There's no substitute for real, proven, measurable data. With the G-Cog you get out of it exactly what you put in.
I had a few sessions with the G-Cog on, on days where I was feeling flat, where I would have preferred to have been watching a movie and it showed in the results. My response time was all over the place and power output was lacking because I just wasn't focusing. It's when I was comparing 185mm cranks to 180mm cranks that I really wanted to get some results, that's when the data was more consistent and reliable. My speed, torque, power output was considerably higher for each and every sprint with the longer cranks.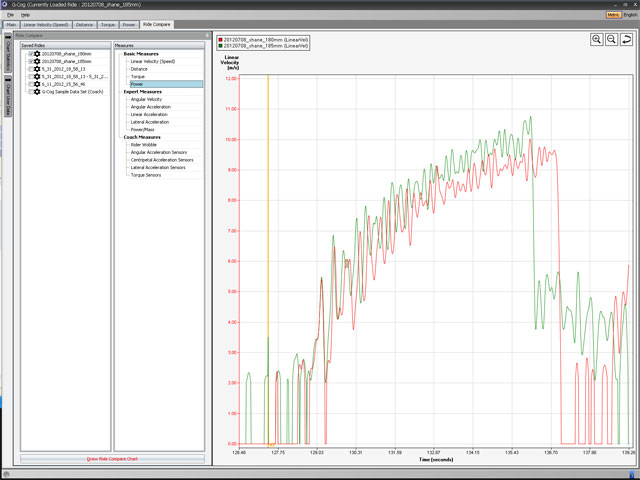 Room for improvement
One thing about the G-Cog is that it needs to be used in an isolated environment to protect your investment. You wouldn't use it in a race or training against others as there is potential for damaging the unit. It also needs to be kept away from water, so for the hardcore out there who will train rain, hail or snow, you will need to consider your G-Cog.
I like the idea of a stop watch or a speedo where you get access to results instantly, it's not the case with the G-Cog. You don't see the results until you have completed your session and uploaded the data. That said obtaining the results after the session can have it's advantages. If you put 100% into each sprint it shouldn't matter if you see results immediately or not. I have heard that they are working on an iPhone app which is very exciting.
When you set up your training session you configure the rest time between sprints. It would be nice to have a pause or "snooze" button style function, say a button you could press to delay the sprint a minute to allow for a car to go by for example. I typically add two more sprints just incase I am forced to miss some so it's not a major issue.
The final word
After over 30 years of racing I'm just having fun with my bike. I'm not about to say that a G-Cog is a must for all BMX racers, as I know it isn't for me. It is, however, perfect for the rider who really wants to put in, get some results and push themselves to the next level.
This is a truly unique training tool for keeping track of key measurements as you train and race. Allowing you see exactly what is working for you and will give you a clear picture of where you can improve.
Rating
19/20:
| | |
| --- | --- |
| Value for money: | 5/5 |
| Weight: | 5/5 |
| Functionality: | 4.5/5 |
| Looks/Finish: | 4.5/5 |
Comments:
There is nothing else on the market like the G-Cog that's made specifically for BMX racers and provides anywhere near the same amount of information. The G-Cog is a serious piece of technology for a serious BMX racer.
It's a little heavier than a standard cog, but it's light enough that you won't notice it on your bike while you are training.
The G-Cog is simple to use, you wouldn't need to be a computer wiz, but may need some help when you get started, even if it's just referring to the videos.
I'm surprised that it's possible to get so much information out of such a small device, but history shows us that that the G-Cog will only get smaller and more powerful with time. The graphs are great, you can zoom in and out, but I feel that the software could be a little more user friendly.
Reviewed by Shane Jenkins/bmxultra.com September 18, 2012
Posted in: Reviews · Training Systems