Loose Kid Industries Pacman gloves
Those guys over at Loose Kid Industries sure have style. Their Pacman gloves just ooze it. The retro influence, colours and design might not be for everyone, but I think they will be a very popular glove.
The Pacman glove has no padding on the back of the hand or on the palm, so protection is at a minimum (much like the THE Skinz gloves we reviewed some time ago now). For some it's a no go, but there are a bunch of riders, me included, who like to feel their grips in the palm of their hands.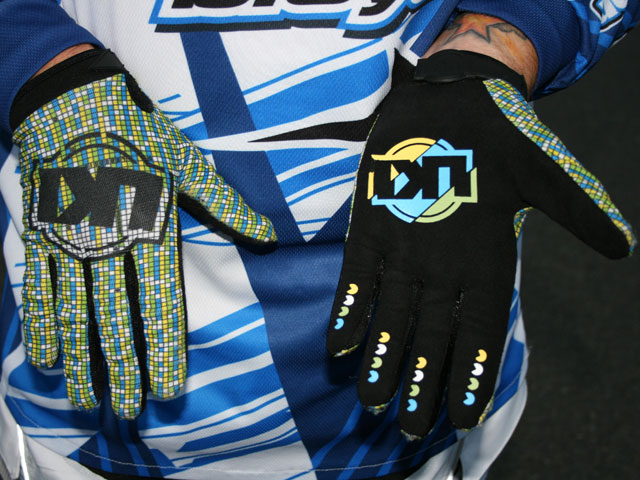 I spend most of my time on my bike riding my backyard track and I usually do it without gloves. There have been the hot days where I've had that bad mix of sweat, bare hands and rubber, so wearing gloves is sometimes just unavoidable. But rather than wearing bulky padded racing gloves something like the Pacman gloves are ideal.
When it comes to a race track though the surfaces are extremely abrasive, I wouldn't ride a track without full protection. That includes helmet, gloves, race pants or shorts, jersey, elbow and knee guards. It doesn't matter how padded gloves are, 9 times out of 10 they will take the full brunt of a crash and while they tend to tear you'll get away with just a scratch or some bruising, a good investment as far as I'm concerned. I'd rather go for a glove which feels comfortable and leaves little between me and my grips, and for the past 4 or so years I have been using THE Skinz gloves, on and off, for that exact reason. Where the THE Skinz are a great glove I'd feel more secure with a vecro wrist strap, which is a feature of the Pacman gloves.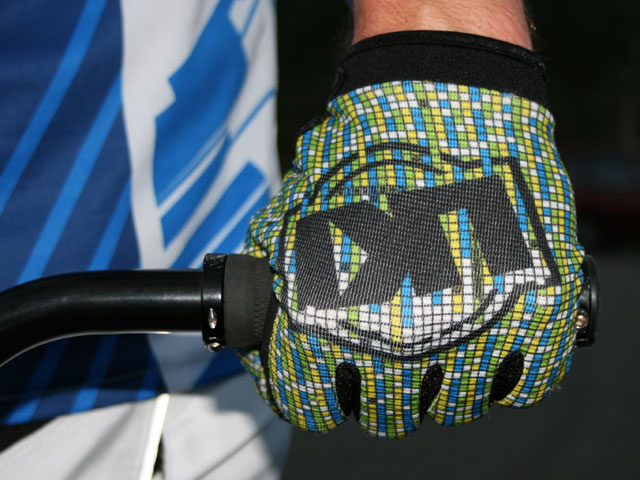 While the LKI gloves have an XL, it was just a tad too small for me. They were long enough in the fingers and still very comfortable to ride in but the design on the back of the glove was stretched so much that it looked faded. I rode with them for about 10 minutes and decided to get bmxultra.com team A Pro rider Dane Pangallo to check them out for me. This is what he had to say about them "They are a great slim line fitting gloves, easy to put on, and they stay secure with the Velcro wrist closure strap and they look great!
When riding they are unrestrictive, breath well (which helps keep them cool and dry) and provide excellent grip thanks to the gel palm logo and little Pacman shapes on the fingers.
One thing I did notice is they don't have any padding (like most gloves) in the palm area, which makes me wonder how they are going to hold up in a decent crash.
They do wash very well. The first couple of days I wore them they got pretty dirty, I threw them in the wash and came out looking brand new again."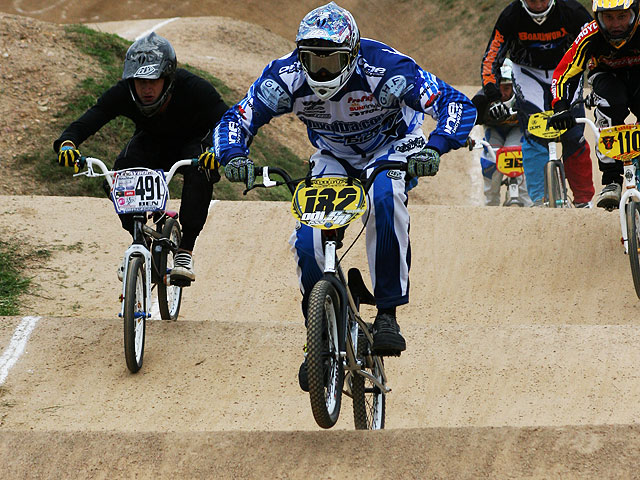 Features
Synthetic Clarino Leather Palm (Super grippy & washable material)
Durable Spandex Mould (Great fit with no bunching)
Silicone Print on Palm (Sticky for extra grip)
Durable Rubber/Velcro Strap on Cuff
Available in a large range of sizes from XXS to XL.
If you are looking for something a little different and don't like the bulky MX style gloves check out the LKI Pacman gloves.
Rating 19/20:
| | |
| --- | --- |
| Value for money: | 4/5 |
| Weight: | 5/5 |
| Functionality: | 5/5 |
| Looks/Finish: | 5/5 |
Comments:
$39.95 isn't a bad price tag, but compared to some of the bigger brands with similar style gloves they are a couple of dollars more expensive
The Pacman glove is super slim and extremely light weight
A perfect all round glove for someone who is chasing that second skin type of feel
The retro styling is a big hit amongst us here at bmxultra.com
Australia specific information:
Check www.loosekid.com to find out where you can get your LKI gear from.
Reviewed by Dane Pangallo and Shane Jenkins/bmxultra.com March 30 2012
Posted in: Race Clothing · Reviews