In a sport that's pushing new levels and progressing so quickly; coaching and training regularly are common place. You can get away with just having the social ride if you are happy with riding socially, but if you want to take your racing to the next level you have to keep pushing yourself because you can be sure that's what everyone else in your class is doing. There are massive coaching programs and a long list of coaches here in Australia, all are set up and ready to help you become a better, smarter and faster racer. That said though I'm surprised that the Pro BMX Skills book is the only printed publication that I have seen that offers the same (or at least similar) services.
When I was handed the Pro BMX Skills book to check out I didn't really know what to expect. At first glance it looks like a "how to" book for BMX skills and techniques, you would expect it to be aimed at beginners. Don't make that assumption like I did, the Pro BMX Skills book is written in plain english and is for anyone; from beginner to pro.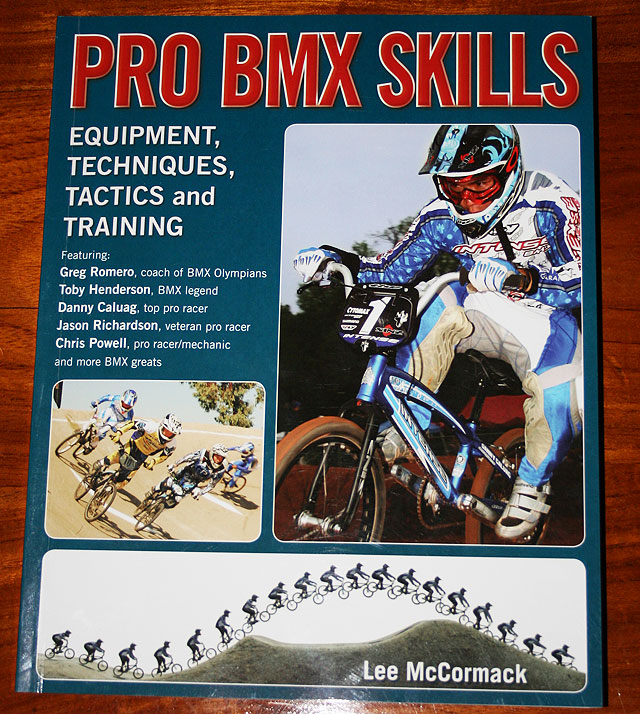 I have spoken to pro riders who have also read it and swear by it, even to a point where it was said "It's the bible for BMX". A particular pro rider, who will remain nameless, told me he'd lost his way when it came to gate starts. He thought he was doing everything perfectly but was getting a hiding out of the gate each and every race. With the guidance of the Pro BMX Skills book he was able to work out where he was going wrong and how to fix it. He was back in front of the pack in no time. It's a testiment to the way the book is put together. Everything is broken down and simplified in text and detailed photo sequences.
I have read bits and pieces from the author, Lee McCormack, in the past. He's considered a guru for pump tracks, you may have heard of the website www.leelikesbikes.com. I refer people who are keen to build pump tracks to that site all the time. I like his writing style, but when it comes to the book, it's not all him. He had a team of coaches, riders and industry people. Including the likes of
Greg Romero
Chris Powell
Jason Richardson
Danny Caluag
Toby Henderson
and many more
That's a tonne of experience and knowledge that you just can't afford to ignore.
You could try to sit down and read Pro BMX Skills in one sitting, but it's really a whole lot of information to take in, and if you are anything like me you will read something and think I want to try that…right now. The best way to read it, I find, is to figure out your weaknesses and start from there.
For example I have been known to case jumps on the odd occasion…ok, they call me the "case master" so what…when I was reading through the book I found a section called "case with grace" and as it works out casing without losing speed is a skill, so there. While I am well practiced in the skill of casing I did manage to pick up a few pointers that would make the experience of casing a little more enjoyable and of course graceful.
Another example I feel a little flat on my second pedal out of the gate. So I head over to the "snap out of the gate" section. There is three full pages just describing the first crank. It's because of this amount of detail I'm able to pin point where I'm going wrong. Sorry to the guys in my class, but you have had plenty of fun exploiting my weakness, now it's my turn (insert evil laugh here).
Ok so there are a whole bunch of other areas I have to cover, but they are all in the book. There's even tips on how to be a good sport, increasing your fitness, there are sample training programs for various levels, and even information on how to get sponsored. There's tips that could help everyone, no matter how long you have been in the sport.
It doesn't matter if you are just beginning in the sport and want to learn everything you can about it, or if you want to tweak your bike set up, or if you have specific skills you want to refine. The book will be of great benefit, simply put it's worth its weight in gold.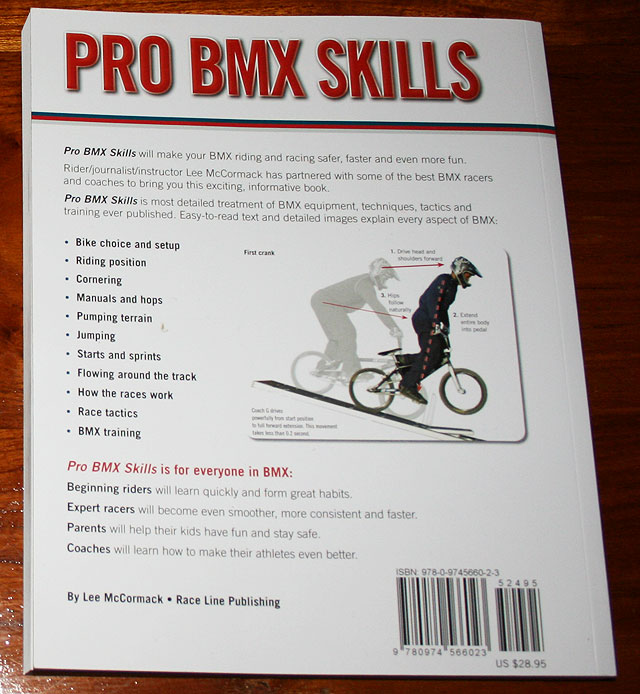 The Pro BMX Skills book is the most significant release to home training and skills refinement since the "How to race BMX: Basic Fundamentals DVD" by the guys at Transit, but it includes a whole lot more detail. Think of the book as your coach packed into 250-ish full gloss and full colour pages. The only thing is you won't get any feedback from the book, but you can learn at your own pace.
Check it out at your local BMX store.
Rating 20/20:
| | |
| --- | --- |
| Value for money: | 5/5 |
| Readabilty: | 5/5 |
| Images: | 5/5 |
| Looks/Finish: | 5/5 |
Comments:
The Pro BMX Skills is a must have for any BMX racer
Each skill is broken down in simple terms, it's easy to understand and provides great detail
The photo sequences show each step of each skill in great detail, perfect for illustrating the correct techniques
This is a great book, it looks well bound, is in full colour. You could proudly display on your coffee table. It would make a prefect gift for the BMXer in your family.
Pro BMX Skills is distributed in Australia by Elite Cycle Imports (ECI) www.eciimports.com
Reviewed by Shane Jenkins/bmxultra.com March 23, 2012
Posted in: Reviews · Training Systems