Alienation BMX Royal Cassette Hubs
It's been nearly two years since I first took a look at the Alienation Bullitt hubset for review. I have been using them ever since, they sure are a sweet wheelset and can take a hiding. Even two years later the colour is still as vibrant, the hubs still spin forever and the cassette doesn't miss a beat (without any servicing at all). Well Alienation and ECI, the Australian distributor, shipped me a new set of wheels with the Alienation Royal hubset, built into a Deviant front rim and a Runaway rear rim. A sweet build to say the least, but I have learned to expect nothing less from the Alienation brand. I have to say everything that I have seen from Alienation has been impressive, which is why I consider Alienation one of my favourite brands, and it's why I continue to use their grips and hubs on my race bike.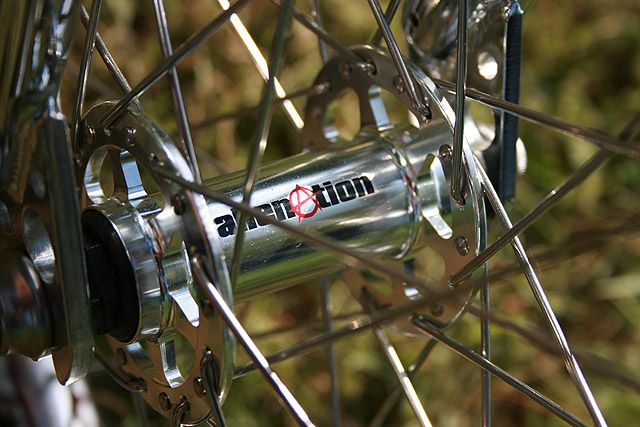 With the Royal hubset Alienation continues to push boundaries and do things their own way. The cassette mechanism for the Royal hub is the exact same as the Bullitt hub.
It's the engagement system that sets the cassette mechanism apart from others. Most hubs engage at 10 degrees, King is 6, Ringle is 10 and Alienation are 12 which is the mountain bike standard set by Shimano.
There are many advantages over other hubs
2/3rds less drag & in a sport where most last straights you never pedal that's huge.
Longer pawl wear life.
No Ratchet rings to fail.
The design allows Alienation to use a 17MM hollow axle which increases overall hub stiffness.
Not to mention six pawls that engage simultaneously. No other design does such!
Alienation's design sacrifices engagement for an effortless hub with minimal drag. The theory behind it all is based on the fact that tracks are a lot more technical now than they ever have been. You might have a sprint down the first straight on a track but for the rest of the track you need to pump, manual or jump your way through with little opportunity for pedalling. Decreasing the drag and allowing the hubs to spin more freely provides a massive advantage over a couple of hundred meters.
In a world that's going crazy over engagement points I'm glad that Alienation aren't beeing sucked into that vortex. There's something about their hubs, it's like a statement to the BMX world that you can race for the most engagement points and we'll just get our riders to the finish line as quickly as possible. A two finger salute if you will, to say I will not conform.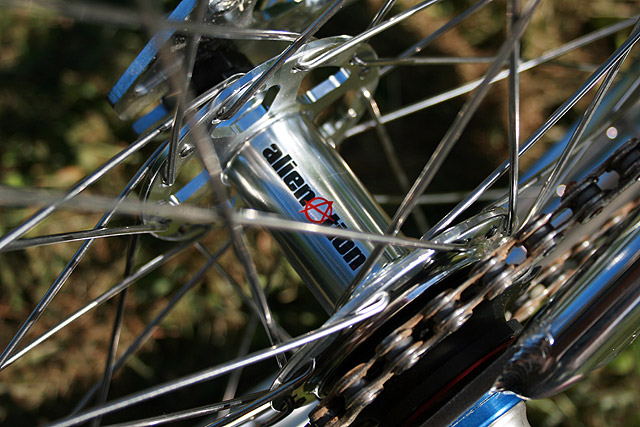 Like the Bullitt hubs, the Royal hubs have a bit of a throw back look about them, a homage to BMX past perhaps. I have heard a number of people say they look like the old Campagnolo Track hubs, which is probably more the case because I have the polished hubs.
The biggest differences between the Bullitt and the Royal is obviously how they look, the Royal has a more stripped back, bare bones look about it, but there is a noticable weight savings when you look at the numbers.
| | Front | Rear |
| --- | --- | --- |
| Alienation Royal | 200 grams | 310 grams |
| Alienation Bullitt | 300 grams | 380 grams |
| Profile Elite | 192 grams | 362 grams |
| Profile mini with ti driver | 224 grams | 374 grams |
Even compared to Profile hubs, which I look at as a benchmark, mostly because they are so common, the Royal Hubs should satisfy the weight weenies.
How do they feel to ride? They don't engage immediately, but then again very few hubs do, so that wasn't new or unexpected, and after finding out more about how the hubs work and why they do what they do it's understandable. When it comes to accelerating they work just fine, I'd go as far as saying perfectly. I found they roll exceptionally well too.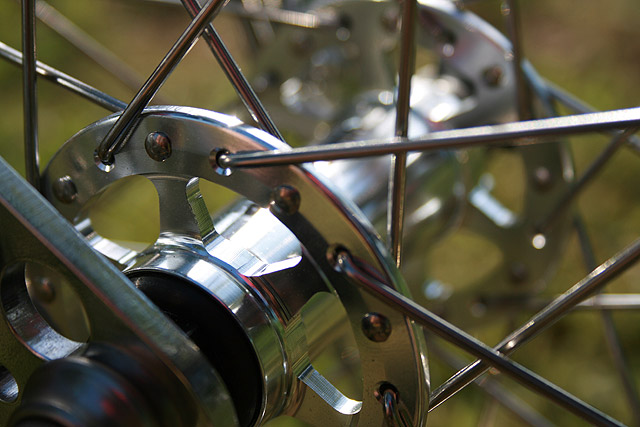 The hubs come in a limited colour range, I love the polished, but there's also black and white.
Features:
Details: American Classic patented 12-point engagement system
Body: 6061 T6
Axle: 17mm hollow with 3/8" hardware
Bearing: Stainless sealed bearings
Holes: 28, 36
Drive: ½ x 3/32, RSD
Cog: Anodized 7075 T6, 13 – 18 tooth
Colors: Black, Polished, White
Flange Diameter: (F) 68mm, (R) 76mm
Pitch Center Diameter: (F) 58mm, (R) 66mm
Drive-Side Center to Flange: (R) 27.6mm
Non-Drive Side Center to Flange: (R) 27.8mm
Center To Flange: (F) 29mm
Weight: 200 grams (F)  / 310 grams w/cog ( R )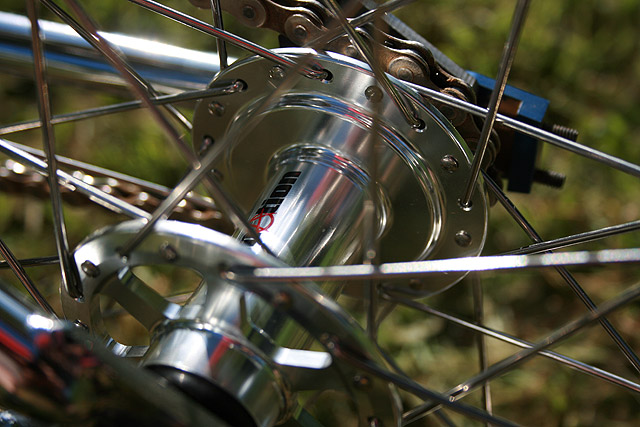 Comes in 28 and 36 hole version.
One thing with the Alienation hubs that I really like is the adjustable chain alignment. Sure, it probably comes standard on most hubs, I haven't really noticed. But changing your chain alignment is as simple as removing the cog and spacers and reconfiguring them to suit your needs. That's something you can't do with a freewheel.
Before we wrap up Alienation also sent a modified Bullitt hub to show exactly how the hub works. Remember the Bullitt and the Royal use the same driver and hardware, it's the hub shell that's different.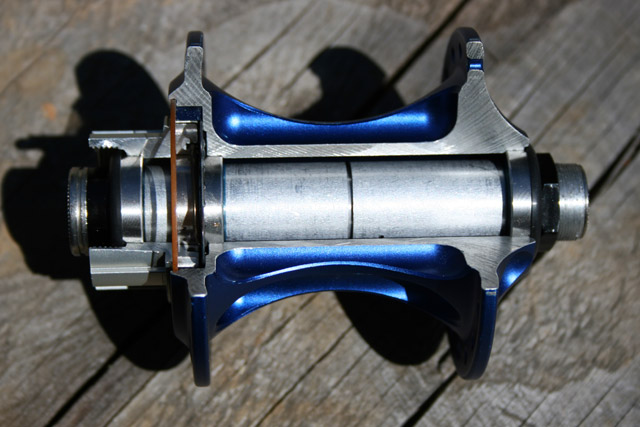 In this photo you can see how all of the six pawls engage and disengage simultaneously. A keen eye would see that the pawls are built into the hub and not into the driver. Of all the hubs we have ever looked at this is very unique to Alienation.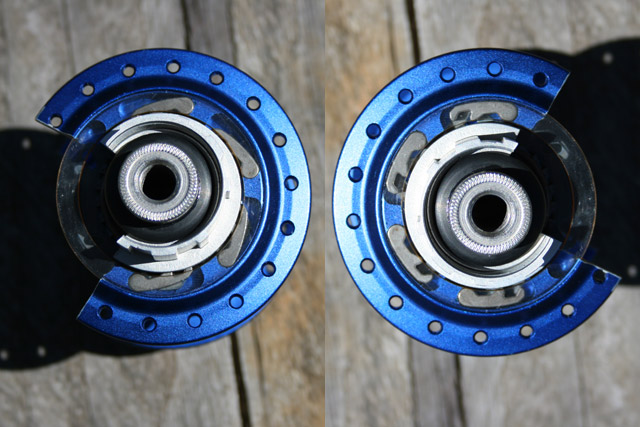 Spin, spin, spin… if you want to see some of the best spinning hubs in the business make sure you check out some Alienation Royal Hubs.
Rating 20/20:
| | |
| --- | --- |
| Value for money: | 5/5 |
| Weight: | 5/5 |
| Functionality: | 5/5 |
| Looks/Finish: | 5/5 |
Comments:
A price in the range with other high end race hubs, but designed for longer wear, now that's value for money.
Lighter than some of the most popular hubs on the market.
These hubs spin, and spin, and spin…
A timeless hub design, that's clean and not over the top. There isn't a BMX fan that wouldn't be impressed with the Alienation Royal hubs
Alienation are distributed in Australia by Elite Cycle Imports. For more information about Alienation check out www.alienationbmx.com.
review by Shane Jenkins/9 December 2011