Alpinestars Bionic Neck Support
We were pretty keen to check out a Bionic Neck Support, so got in touch with the Aussie Alpinestars importer, Monza imports. The plan was to check out the best Alpinestars neck brace that was on offer. There have been some changes to the carbon Bionic neck support and the price has dropped making it a lot more affordable so it looked like a great candidate.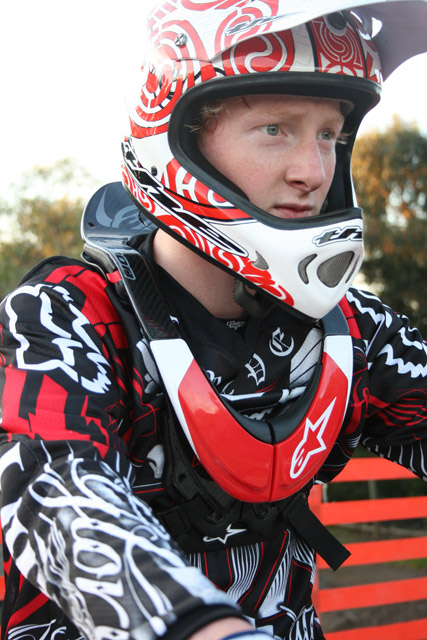 Before we go any further we need to help people understand that, by wearing a neck support, it will not stop the possibility of you breaking your neck, or even hurting your neck. Neck supports are designed to reduce the possibility of severe spinal injury. The idea is to help distribute the impact and reduce extreme head movement.
We had a problem with the largest size Alpinestars Bionic neck support available, it just doesn't fit the larger guys in BMX (the bigger guys will have to look at another model if they are interested in this type of product). It's critical that protective gear like your helmet, and of course neck support, is fitted correctly so we had to find a rider who knew about neck braces and could compare to Leatt. That's where upcoming Victorian A-Pro, Taylor Davis stepped in, we asked him to play with the Bionic neck support system for a while and let us know what he though of it. Taylor took the ball and ran with it and this is what he had to say…
Neck braces have become popular in BMX today because of the large number of serious neck injuries that are associated with the sport. I've been using a Leatt neck brace for about 6 months now, and I agree that it is a critical piece of equipment that riders should seriously look into.
The Alpinestars carbon Bionic neck brace is constructed from carbon fibre, with the front and rear pressure points made out of stiff foam to create a solid brace that will not flex when riding. For a neck brace that is made out of carbon fibre I found that it was surprisingly heavy compared to the Leatt neck brace. But when the neck brace is on, the heaviness of the brace goes away, it just becomes a part of you. Your overall movement isn't effected at all, you can twist your head side to side without any problems, the only thing I found was that the rear ward movement of my helmet seemed  to tilt back further than the Leatt brace.  I haven't tried different helmets to see if the movement is any different, but this is a factor that must be considered when purchasing a helmet/ neck brace.  In the event of a crash, I would have no doubt that the brace would still do it's job of stopping the helmet from moving too far back. During this review I used a T.H.E helmet, the helmet is compatible with the Alpinestars neck brace. I have heard many stories of people buying neck braces that just where not suited to their helmet. I don't think that people would have many problems trying to get a helmet that would fit the Alpinestars as it is fairly roomy. The neck brace is also comparable to fit most body armour. I am wearing the new Troy Lee Designs shock doctor armour that is designed to have a neck brace worn on top. Some unlucky people may have to get a new armour to suit the neck brace, this does not only apply to the Alpinestars, but also the Leatt and EVS type neck braces.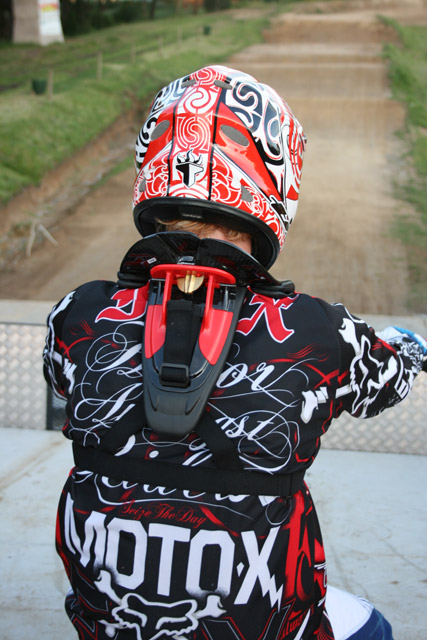 The comfort of the neck brace is ok but could be better, as it feels hard on the shoulders, due to the hard foam around the neck. The pressure points are excellent and they ensure that the brace sits firmly on your shoulders. For the price of the neck brace you get very little comfort, the reason for this is the neck brace has been stripped down to its bare essentials, so the result is a lightweight neck brace with limited adjustments, but this does not compromise the users safety.
The carbon fibre frame of the neck brace looks awesome, and easily makes it the main feature of the neck brace. Although it looks good it can be noisy to ride with because of the banging from the back of the helmet on its hard surfaces. Unlike the Leatt neck brace which is covered in soft protective padding, which ensures that the rider is given all the comfort they should get, as well as a quieter ride.
The neck brace is available in one colour, red/carbon and comes in 3 sizes small, medium, and large.
The neck brace also comes with it's own travel bag, which is a great feature to add to a great product. I have no doubts that this product will improve as time goes on but for now it is a good quality product that fits well it's very easy to put on and looks great.
Features:
Carbon Composite frame to maximize frame stiffness and minimize weight.
Two different EVA foam densities are used in the BNS: Firmer EVA in the shoulders and softer EVA on the chest and back for comfort.
Pivot Key system – A special magnesium key located at the rear allows convenient front opening of the device and allows for dismantling in an emergency.
Fitting System – Fine adjustment of the shoulder height allows a personalized fit particularly for individuals with shorter necks.
Rear Stabilizer system – In the event of large loads being channeled onto the rear stabilizer (the part that sits on the back) there are several bending and fracture points designed to relieve extreme loads that may be transmitted down the back.
Collar Bone preservation 1 – All parts in contact with the body use an expanded foam compound to distribute the impact force over the widest area, yet remain lightweight.
Collar Bone preservation 2 – A frame member runs over the shoulders, eliminating weak points in a critical part of the frame and no metal pins or screws sit directly above the shoulders which could dislodge, causing injury during an accident.
Choice of Strap Systems – The BNS is supplied with the X?Strap System which allows a small, light strap worn over or under the jersey to secure the device to the rider. The larger A?Strap assembly (available as a separate accessory) provides a traditional chest strap for those who like to wear the protector tight against the body.
Mounting points – Allow for integration of the BNS with other Alpinestars accessories.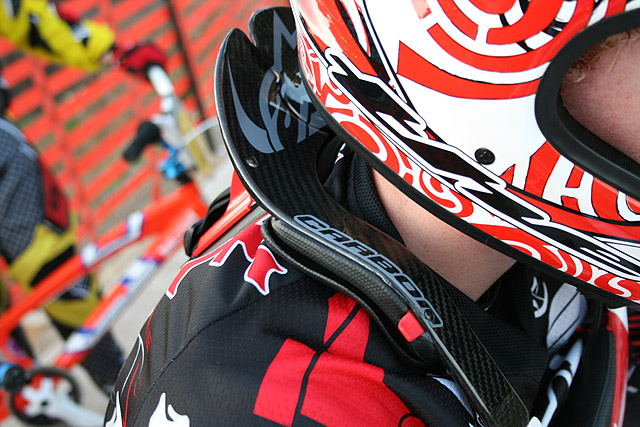 A little advice when buying a neck support system, make sure you have it professionally fitted. Don't just guess the size and buy it over the internet. It's vital you get a properly fitted neck support or you may as well not wear one.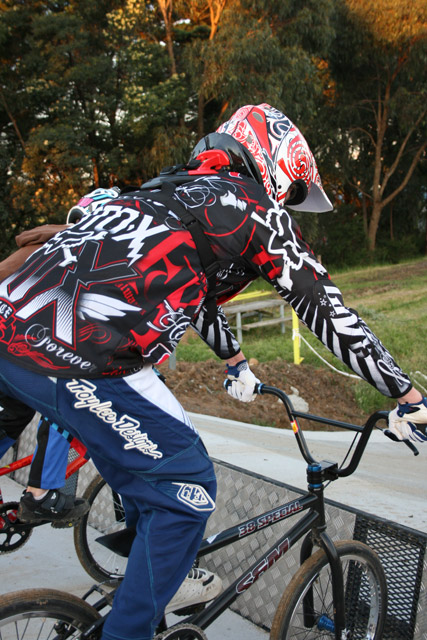 Rating 18/20:
| | |
| --- | --- |
| Value for money: | 5/5 |
| Weight: | 4/5 |
| Functionality: | 4/5 |
| Looks/Finish: | 5/5 |
Comments:
When it comes to protecting yourself you can't really put a price tag on it. Any neck support system is worth spending a few dollars on
Although made from carbon fiber it is surprising that it's heavier than other neck braces on the market
Great pressure points on the chest and back
The neck brace looks great with the added feature of carbon fiber
Alpinestars is distributed in Australia by Monza Imports (monzaimports.com.au).
Reviewed by Taylor Davis and Shane Jenkins/bmxultra.com December 19, 2011
Posted in: Race Clothing · Reviews