We've been enjoying Troy Lee Designs products lately at bmxultra.com. Everything from the protective gear (like the D3 helmets, Lopes knee/shinguards, padded shorts, etc), to race clothing, to the TLD/ODI lock on handlegrips and the TLD/Skullcandy headphone collaboration. I'm not ashamed to say that everything I've checked out rated extremely well. When a company like Troy Lee Designs can continue to grow after 30 years in business they must be doing something right. Right?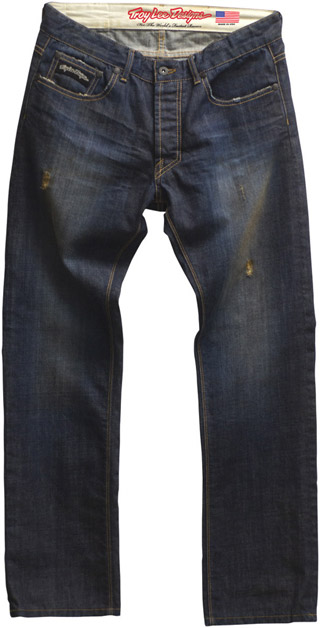 Inspired by the TLD/Skullcandy headphone review I thought I'd take a short break from our regular programming when it comes to reviews of race products and start checking out some casual wear from Troy Lee Designs. They have jackets, hoodies, t-shirts, shirts, shorts, pants and even fitted tees for the ladies. This review is specifically about the jeans.
Jeans are a big part of my everyday "uniform", they go perfectly with a pair of Vans and a BMX(ish) or a band t-shirt, and hoodie when required. I'm pretty sure I'll be buried in something like that. As long as I can remember I have been very particular about what jeans I wear, I rarely stray from Levi's. I know they will fit and… well… they don't make my bum look tooooo big.
Every now and then I might try something different. I have a couple of sets of Vans jeans which aren't bad. But like all my gear it gets worn to death and it was time for some new jeans. Working from home and away from retail stores I decided to order some jeans (locally) and have them delivered. There's a little risk involved in fit, but I based the size on my Troy Lee Designs race pants and the size worked out perfectly for me.
Troy Lee Designs actually have a few different styles for 2012 including the Moto, Rider and BMX Slim… wait… yes… a BMX jean, maybe I'll check them out another time. But jeans, for me at least, are for casual wear. I prefer a regular or straight leg jean because after 30 years of BMX racing my thighs are larger than the average bear's. Besides, I don't like riding my bike in jeans at all, but I am quite happy to put them on when racing is done.
The jeans I got are called "TLD Jean Dark Blue"
Made in the USA
100% Cotton 14 oz. denim jeans
Straight fit
Custom hardware and logo patches
Button fly
Sizes 30-38
They are extremely comfortable, durable, they wash well, and like all TLD products they look awesome. The pockets are deep enough where you won't lose your wallet or phone… always important.
The real test is does my bum look big in them? Well no, or more precisely, no more than they do in my other jeans.
Actually, the more I think about it, the more I think I could well have bought my last pair of Levi jeans, these jeans are just that good.
Rating
20/20:
| | |
| --- | --- |
| Value for money: | 5/5 |
| Weight: | 5/5 |
| Functionality: | 5/5 |
| Looks/Finish: | 5/5 |
Comments:
The Troy Lee Designs jeans are hard wearing and look great, you couldn't ask for more than that
Constructed from a nice thick denim they aren't so heavy you'll be pulling them up all day
As far as jeans go the TLD jeans are perfect
As expected the TLD jeans look great, so now you can look good both on and off the track
Troy Lee Designs is Distributed in Australia by Steve Cramer Products (www.stevecramerproducts.com.au). For more information about Troy Lee Designs check out www.troyleedesigns.com
Reviewed by Shane Jenkins/bmxultra.com December 2, 2011