Profile crank arm removal tool
Profile cranks seem to have been in existence since the dawn of time, which is probably why … until now … you have needed to club the heck out of the standard Profile tool to get the crank arm off the axle. It's both brutal and scary, one slip and a ding in your crank arm, spider or chainwheel or even the frame. It's been a practice that's been going on for generations and considered normal.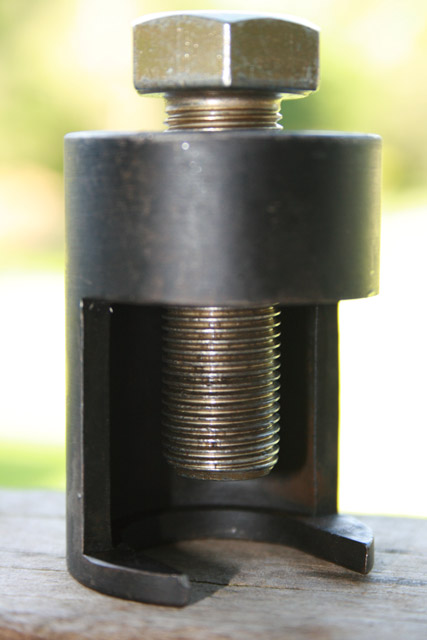 Finally someone has come up with an easier and safer way. And it's so simple.
The Profile crank arm removal tool is a two piece system that requires only a shifter to get off even the most stubborn cranks.
To remove the crank simply remove your axle bolts, undo the bolt on the crank removal tool so you can place it over the axle end of your crank arm. (As you can see in the photo below you can do this even with a chainwheel or spider on the bike.) Then simply tighten the bolt and the crank will slide off the axle
Here's a video to show you just how easy it is to use: http://vimeo.com/29584019
I can't believe how simple it is and it's very difficult to understand how it's possible that it took someone so long to come up with the idea. But I have to say I'm very glad they did.
For Profile crank owners (and I'm sure similar crank owners too) the Profile crank arm removal tool is a must have for your tool box.
It's not something that will be difficult to find like a spoke key or that specific allen key you are looking for and it's not particularly light, but it's worth making room for it.
Oh and you can't exactly throw away your old Profile crank tool you will still need that when putting your cranks back together, you just won't ever need to use the hammer on it again.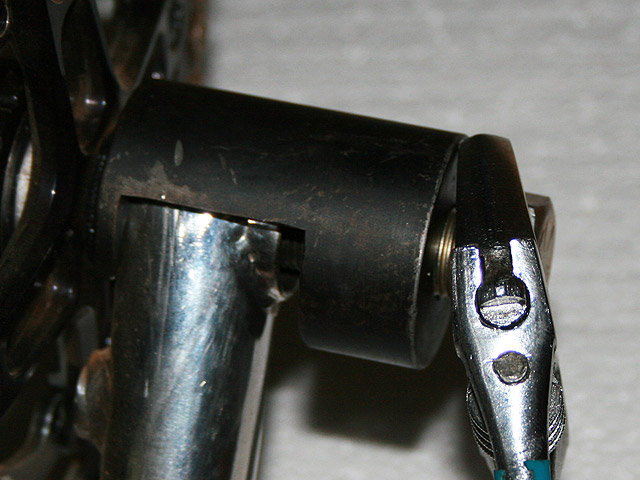 Do yourself a favour, put down the hammer, get out your wallet and buy yourself a Profile crank arm removal tool today.
Rating
20/20:
| | |
| --- | --- |
| Value for money: | 5/5 |
| Weight: | 5/5 |
| Functionality: | 5/5 |
| Looks/Finish: | 5/5 |
Comments:
You can't get better value for money, protect the equipment that you spent your hard earned money on with this easy to use tool
The Profile crank arm removal tool weighs quite a lot, but it's not relevant to it's functionality
A perfectly safe and simple way to remove your Profile crank arms
It's simple and a little rough around the edges, but you will be able to remove your cranks without putting a scratch on the bike.
The Profile crank removal tool is distributed in Australia by Elite Cycle Imports
Reviewed by Shane Jenkins/bmxultra.com November 18, 2011
Posted in: Reviews · Tools & Cleaners