Speedline Integrated Headset
Speedline have been doing some pretty cool things with their range lately, coming up with some great quality products in a large range of colours. The products include; chains, seat clamps, headset spacers, headsets, cranks, clip pedals and platform pedals, and continues to grow. The Speedline Integrated Headset was one of their first products.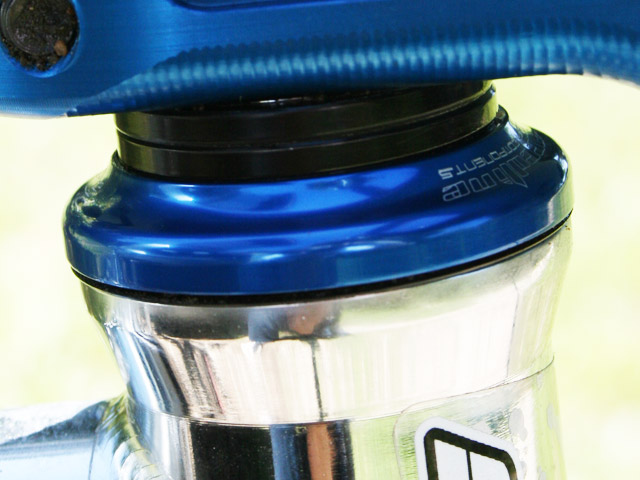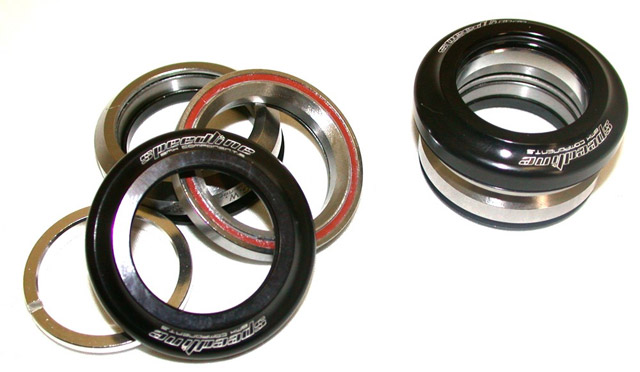 There are quite a few frames on the market these days that run the 45/45 Campagnolo style Integrated Headset. I have heard of people having problems with their headsets running a little rough. I like the idea of set and forget, and the Speedline Headsets are just that. I've been using Speedline headsets in my bikes for many months and haven't had any issues with them. You drop them into the frame and they just continue to work month after month. Bill Ryan from Speedline Parts says "We haven't had any issues as of yet and we have had them out for 2 years and sold thousands of them." That sounds awesome to me because the less time I spend maintaining the bike, the better, it means I spend more time riding.
Features:
Material for the top cap is 2024 –T6 Aluminum for light weight.
The bearings are Sealed Bearing ACB ( Angular Contact Bearings ) with hardened races and balls.
1 1/8 45/45 Campy style
Weighs: 60grams.
I like the large colour range because it allows me to customise my bike even further, the way I like it. The Speedline Integrated Headset is available in; Black, Blue, Gold, Purple, Red, Teal, White & Polished.
There really isn't a lot more that can be said about the Speedline Integrated headset except that you should check them out for yourself.
Rating
20/20:
| | |
| --- | --- |
| Value for money: | 5/5 |
| Weight: | 5/5 |
| Functionality: | 5/5 |
| Looks/Finish: | 5/5 |
Comments:
A product that's long lasting and has a nice price tag, I like the sounds of that!
Durable and light weight, what more could you ask for?
Works great and lasts and lasts and lasts…
The only part of the headset that's visible is the top cap, it's nicely shaped and the range of vibrant colours is just awesome.
Speedline Parts are imported in Australia by The Compound Australia have your local bike shop contact sxaustralia@supercrossbmx.com for details.
Reviewed by Shane Jenkins/bmxultra.com November 11 2011