While most of the products we review here on bmxultra.com are very race specific we are often asked to check out products that are used by BMXers but may not necessarily be considered a BMX product. The Lazer Krux helmet is a prime example of that. BMXers in Australia always have to wear a helmet, it's the law, but they won't always be wearing a full blown race helmet. For example, if they are just going for a casual ride, down to the local trails or skate park or training on the road a full face race helmet could be overkill.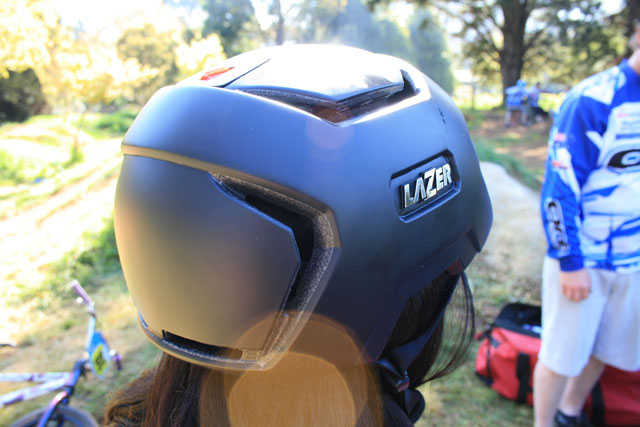 Street helmets are generally the helmet of choice for BMXers, usually the names Pro-Tec or 661 come to mind. But there's a whole lot of other brands to choose from. Lazer has been around for some time, they have produced a number of BMX race helmets over the years and still do with the Excalibur and Phoenix models. The Aussie distributor for Lazer, Bike Sportz, provided us with a few helmets to review. The first in the series is the Krux helmet.
Here's some marketing information for you (we'll elaborate on it a little further later in the review)
Krux:
RRP $109.95.
Krux (which means 'Cross') refers to the original name of Lazer; 'La Croix' features a cross in the design and is aimed at Urban Cyclist, fixie riders and BMXers.
This helmet is also a great helmet for the kids to wear to school featuring the Lazer Rollsys technology which ensures a better fit and great comfort.
So the Krux helmet doesn't look like a helmet that a BMXer would choose to wear, it looks more like the helmet you would see on people riding horses. It's very unusual, to the point you would call it the ugly duckling of helmets, regardless of it's purpose. But it's not always about how things look, it's how they function, and the Krux is loaded full of featured that will be of great benefit to those that choose to use it.
The Krux is Australian Standards Approved. For those who don't know about the Aussie standards they are the highest is the world, if you want the safest helmet on your head then look for anything with an ASA sticker. The unusual design of the Krux allows for greater ventilation than any other helmet in it's class with 10 large vents, which is great no matter how you look at it. There's nothing worse than being soaked in your own sweat while trying to ride a bike, especially if it's avoidable. There's a built in visor to help keep the sun out of your eyes. The helmet features a Rollsys adjustment system that allows finer tuning when fitting the helmet, meaning it's fitted perfectly to your head and is more secure than a standard street helmet should you fall on your head. The Rollsys system is so simple it can be adjusted to find the perfect fit using just one finger even while you are riding.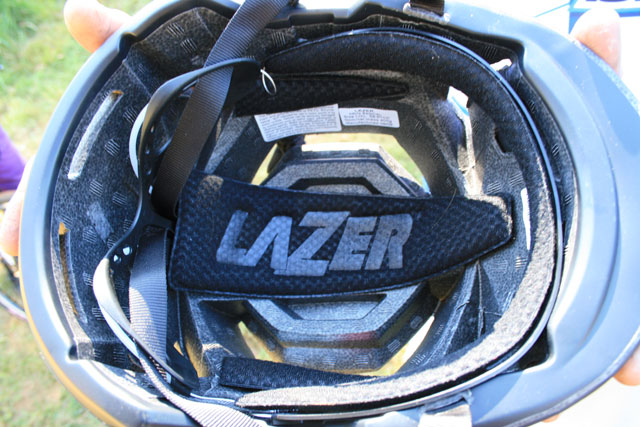 Now the Krux helmet comes in two sizes, which would cater for most people, but I didn't have a snowballs chance to fit into the Krux having a larger than usual head. So I asked One Bicycles team rider Chris Van Winden and his wife Bree to help out.
They used the helmet for a couple of weeks and got back to me with their findings. This is what they had to say.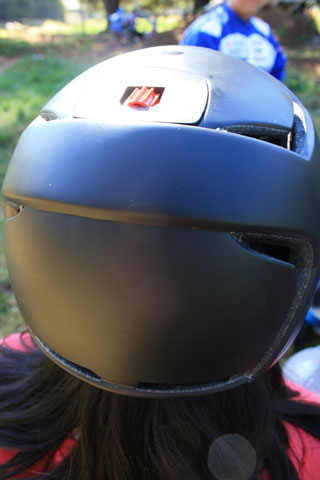 The first thing that came to mind when picking up a black helmet was "how hot is my head going to get?".
It was a nice 26 degrees, sun was blaring and I was wearing a black helmet!!!
Mid way through my MTB ride, I was quite surprised with the air flow that came through the 10 intake and exhaust ports built into the Laser helmet, keeping me cool and compared to my other brand name helmets, I found I was sweating a lot less.
Also the weight of the Lazer helmet was less than what we normally use, coming in at 405 grams compared to 450 plus grams, which is a added bonus if your after a light weight skate, dirt jumping or general use helmet.
At times it felt like I was riding without a helmet, the Laser helmet was so light.
The added feature of a turn-dial for multi fit, was very handy for both of us to use and review the Laser helmet.
So while it may take some convincing to have a rider in your family try the Krux helmet, simply because of it's looks, all you would need to do is give them some time to get used to the advantages of one of the safest, coolest and most comfortable helmet that Lazer has to offer.
You can find a Lazer Krux helmet at all good bicycle stores.
Rating 20/20:
| | |
| --- | --- |
| Value for money: | 5/5 |
| Weight: | 5/5 |
| Functionality: | 5/5 |
| Looks/Finish: | 4/5 |
Comments:
When it comes to a helmet, it's difficult to put a price on a head, but when you are talking about rider safety you don't want to cut costs. The helmet is a little expensive compared to other street helmets, but offers sooo much more
Extremely light in comparison to other helmets in it's class
The Krux helmet is comfortable, and safe, you couldn't ask for more
The Krux helmet is an ugly duckling, it's looks are far out weighed by it's features
Lazer Sports is distributed throughout Australia by Bike Sportz
Reviewed by Chris and Bree Van Winden & Shane Jenkins/bmxultra.com October 31, 2011
Posted in: Reviews