Alienation Slider MikRib seat
It goes without saying that I love the products that Alienation churn out, but it's not because they are a "cool" brand, you'd probably notice from past reviews we don't follow trends. Each and everything Alienation create is with purpose, with a new approach and of course with style. While a lot of BMX manufacturers go the safe route and follow the latest fads Alienation choose to carve a new path.
Pivotal seats have been around in BMX for quite some time now. Their simple design, cost and weight savings make them far superior to the traditional railed seats, well in my books at least. The single allen key bolt through the top of the seat would have saved me a couple of blood noses if it was invented earlier, but we won't get into that. The one thing that lets Pivotal systems down is you are only able to adjust the angle of the seat.
The Alienation Slider saddle was the first of it's kind, and needless to say I took a look at the Slider and realised it's potential straight away. It had overcome the one hurdle with Pivotal saddles, the Slider allows forward and backward adjustment as well as angle adjustment. The problem was I have been sitting on hard seats for way too long and, at the time, the Slider was only available in the basic models with the hard plastic shell. They look great and all, but I tend to spend a lot of time sitting on my bike seat and I prefer to run products that can do it all for me, for example a frame and fork that I can race and ride dirt jumps on as well. I'm just not up for swapping seats just for racing, or anything else for that matter.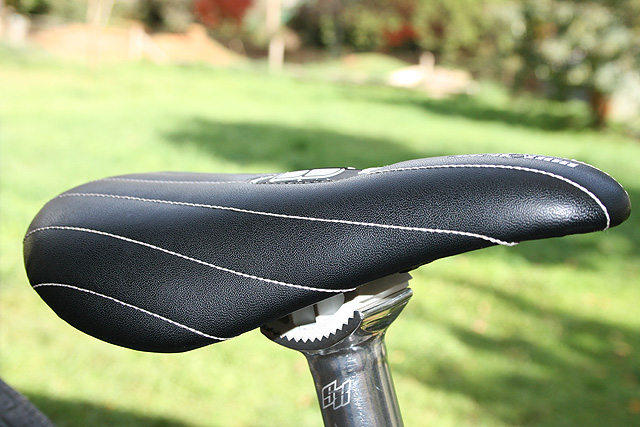 Alienation Slider MikRib seat features:
Details:  Slider System;

Offers fore/aft positioning
Nylon Fiber Base
All Round Use
Light & Narrow with Flare
Hollow Bolt

Size:  210mm (L) * 110mm (W)
Weight:  260g
Colors:

Black Synthetic Cover; White Nylon Vertical Stitching, Black Base w/white Baseline, White D-Chip, Lightweight Padding
White Synthetic Cover; Black Nylon Vertical Stitching, White Base w/Black Baseline, Black D-Chip, Lightweight Padding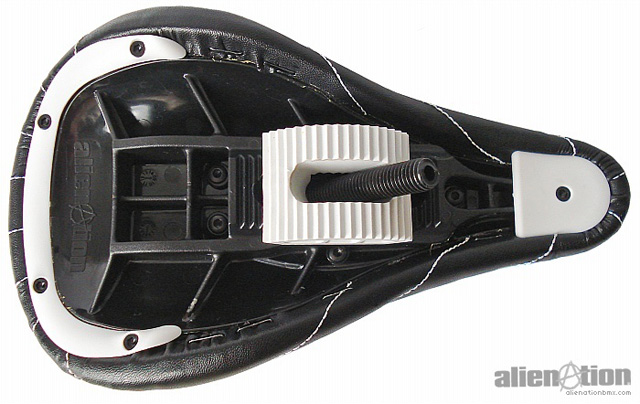 Now Alienation have four Slider saddles in their range. The Back-n-Black, Misfit and MikRib are all padded. For this review I'll look at the MikRib. I selected the black MikRib because I have a tenancy to change my bikes and colour scheme around somewhat. The black is a good neutral colour and the white pin strips scream style without being over the top. That and black is a lot easier to keep clean than white when you do most of your riding on red clay.
I've been running Pivotal seats for a while now and love the simplicity and ease of adjustment, the Slider is just a little bit more complicated but only takes a moment to get your head around it. As long as you work out how far back (or forward) you want to run your saddle first then go for tilt adjustment, rather than trying to do both at the same time, you'll be fine fitting the seat yourself. It's really not rocket science, and it's still a lot easier than any railed set up I've ever seen.
If you think the MikRib looks stubby or short, you are correct, but it seems like it's just a shorter nose, so it's fine by me I don't use that part of the seat anyway.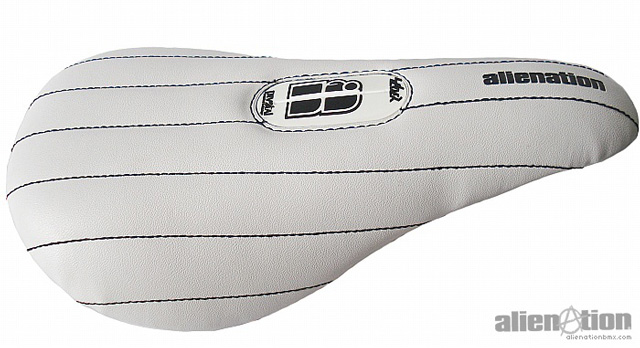 One advantage a padded seat has over a plastic shell is that it has more grip meaning you are less likely to slide off the back of it unexpectedly.
For me the Alienation Slider MikRib seat ticks all the boxes.
comfortable
full range of adjustment
simple to fit and adjust
cheap
lightweight
strong
durable
all that and it looks freakin' fantastic!
Rating 20/20:
| | |
| --- | --- |
| Value for money: | 5/5 |
| Weight: | 5/5 |
| Functionality: | 5/5 |
| Looks/Finish: | 5/5 |
Comments:
The hard plastic shell structure under the padding is built to handle the abuse of even the heaviest of riders, and there's no rails to break off and stab you
What I love about pivotal is that it's light weight and about half the price of ti-railed saddles in the same price range. What I love about Slider saddles is it offers the same weight/cost savings and gives you the same amount of adjustment as a railed seat, possibly more
I love my MikRib Slider saddle, it's comfortable, looks great and is there for me when I need it
Did I say the MikRib looks great? You should check out the packaging, like I have said before Alienation leave no stone unturned.
Alienation are distributed in Australia by Elite Cycle Imports. For more information about Alienation check out www.alienationbmx.com.
review by Shane Jenkins/11 May 2012