Answer Edge Race clothes 2003
2003 is the forth straight year I have been wearing Answer Edge race clothes now, and believe it or not each year they just keep getting better.
What's different…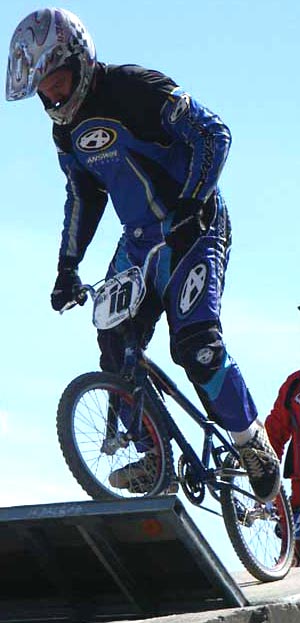 Last year there seemed to have been a move to a lot of white in the Edge range. This year though, it seems Answer have done a bit of a back pedal and cut the white down to a minimum. It looks like black is the new white for 2003. Apart from the obvious colour and design changes the pants have changed a little too. Still a great fit, the new features include Spandex in the panel over the calf and some in the crutch area for providing a more comfortable fit and greater movement both on the track and on the sidelines.
Our tests…
As per usual the pants and jersey have been put through our LCT (Life Cycle Testing) regime. Which is 3 or so months of solid use and washing before writing this review was written. In that time had a couple of crashes, and as expected the Answer Edge clothes are strong enough to withstand heavy falls without tearing. The jersey is made from a very soft and elastic Polyester which, means a comfortable fit, but during the colder months may require an additional layer underneath. The pants are a very strong nylon construction, the material looks heavy and the pants look like they could get quite hot but the spandex also acts like ventilation allowing plenty of air to circulate. It would have been nice if the pants had a longer leg because the cuff seemed to slide up my socks slightly, but that's more of a cosmetic thing which is neither here nor there when it comes to function.
Info for those that need to know the finer details…
Pants construction
840 Denier Diamond Oxford and 1000 Denier Korda Nylon construction
Ratchet buckle closure system
Cuffed ankle
Jersey construction
100% Polyester fabric
Fade resistant graphics are printed using a dye-sublimation process
Stain and fade resistant fabric
Non-restrictive full cut pattern with padded elbows
Both the Jersey and Pants can both be washed in the washing machine, previously hand washing was suggested. The cuffs and neck on the jersey take a little while longer than the rest of the jersey to dry, but generally the gear dries quickly.
Colours and sizes…
Answer Edge pants are available in 4 colour combos Black, Blue, Red and Green. Sizes range from youth 18 to adult 38. The Edge jersey is also available in Black, Blue, Red and Green and sizes range from youth small to adult XXL.
For further information on the Answer Edge clothing or anything else in the Answer product range check www.answerproducts.com.
Posted in: Race Clothing · Reviews