Over the past couple of months I've been putting the Tektro Magnesium brakes through their paces with our Life Cycle Testing. Tektro have been in the brake market for many years now and it's pretty much all they do. When it comes to brakes there is one thing you can be sure of, they know their stuff. Magnesium is new to Tektro but it isn't a new material to the BMX scene, Answer used magnesium for their Mag forks because it's light and extremely strong.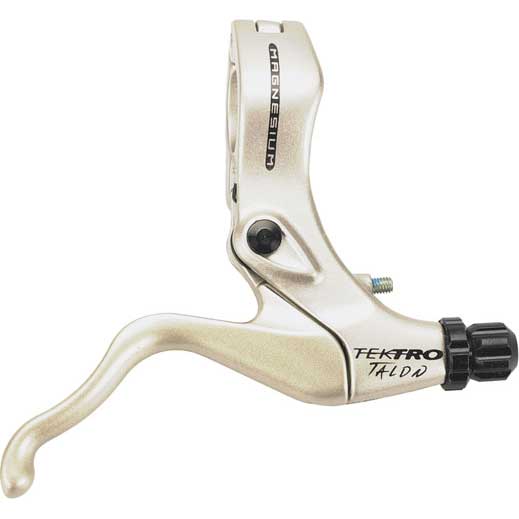 The Tektro Talon Mag lever is the same shape as the standard Tektro Talon lever but significantly lighter at only 83 grams, what is amazing is this is a full pro size lever. While weight isn't everything if you can find a product that works just as well as what you already have, but is lighter and stronger it could well be worth the extra few dollars. One nice feature is the hinged clamp which simplifies installation, no more removing your grips when you change your handlebars
The Tektro Mag 4 BX 40 Linear-Pull brake arms, commonly known as V-brakes, are also lighter and stronger than their alloy equivalent, they weigh in at 149 grames.
The only problem I had with these brake were the brake pads that come standard with them, they just didn't seem to want to grab the rim the way I prefer. While at first I thought this was normal, as all brake pads do the same thing before they are worn in, it continued even after weeks of use. They worked well enough but if you want to lock up the rim you should replace the pads.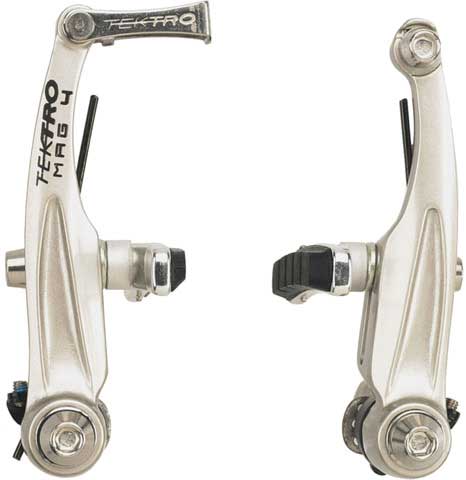 The silver finish is a nice touch to the Tektro Mag brakes, these brakes will turn heads and get people talking. But, like any lever after a couple of crashes you'll end up with a few nice scratches. During the testing period we had a couple of heavy falls and while the lever showed signs they were only small chips and scratches, apart from that the lever itself was uneffected.
Rating 16.5/20:
| | |
| --- | --- |
| Value for money: | 3/5 |
| Weight: | 5/5 |
| Functionality: | 3.5/5 |
| Looks/Finish: | 5/5 |
Comments:
If you just need brakes you could look at something cheaper, but if you are looking for something light weight and unusual these are ideal. The functionality would be improved by buying some new brake pads. These brakes are built to last.
To find out more about Tektro check out www.tektro.com.