Answer BMX have been in the BMX race industry for a long time now. They are probably best known for their forks and race wear but their substantial range of products also includes handlebars. They have carbon and alloy versions for the juniors and the new Cromo lite and Cromo bars for the bigger riders. This review is of the pro sized Cromo bars, which are 28 inches wide with a 7.35 inch rise.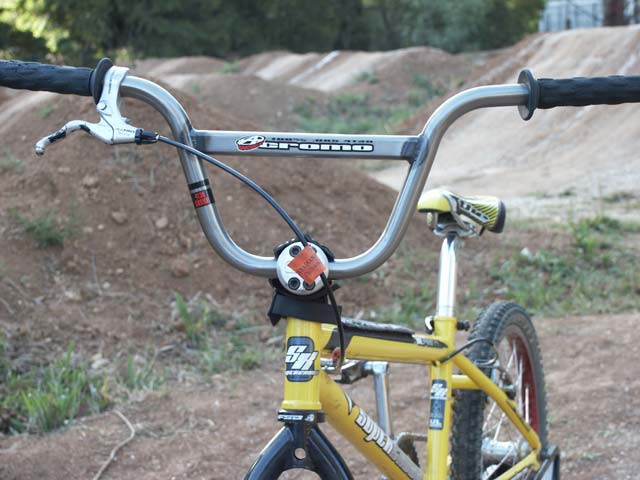 With a raw finish and a clear coat these bars look more like a dirt jump bar than a race bar, but they would be a perfectly good all rounder. Made from "beefy" 4130 cromo tubing with an oval 4130 cromo crossbar it would be near impossible to destroy these things. They look a lot different to other bars, not just because of the oval crossbar and raw finish, but they have an unusually square appearance. They are very rigid and if you can get them to flex good luck to you.
I have spent many hours doing gates, sprints, jumping and riding tracks with these bars and they feel just as stiff as any other handlebar that I have used. They might be slightly heavier than most but I am sure they will be slightly cheaper as well.
A slight up sweep is obvious in the bar, but it's only small, and personally I would prefer an up sweep do bars that feel like they have a down sweep for both comfort and stability. To me bars with a down sweep feel unnatural, but we all have our own preferences. The back sweep is a little more than what I prefer but they still feel comfortable enough.
Rating 17.5/20:
| | |
| --- | --- |
| Value for money: | 5/5 |
| Weight: | 3.5/5 |
| Functionality: | 5/5 |
| Looks/Finish: | 4/5 |
Comments:
If you are after a cheap strong bar that looks a little different, then these are the bars for you.
The Answer Cromo bars are built to last, if you are looking to save weight you will have to look at the Answer Cromo Lite bars.
As far as bars go, these will do the trick. At 28 inches wide and 7.35 inches tall they won't be for everyone but should suit most.
I like the raw finish, and the welds are very clean, although the stickers may be a little dated.
For more information check out www.answerbmx.com.
Posted in: Handlebars · Reviews