Drive products are designed and made specifically for street and dirt, but there's no surprise that there's a cross over into BMX race with the Lite forks and gloves in their range. I am pretty sure you will see cross over with the Lite Bars and the new age high-tech Twin stems too.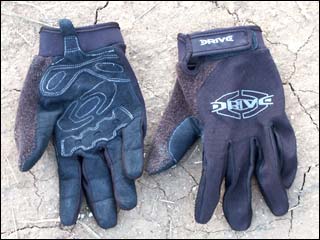 I do a lot of riding and destroy a lot of gloves, usually every 3-4 months I'm up for a new set, sometimes more frequently if I have a big "off". That's just one of the costs of doing what you enjoy. I would much rather blow out a set of gloves than my hands and have to stay off the bike. You could nearly call gloves a consumable, much like a chain, tires or grips. Ok, maybe gloves will last a little longer, but they won't last forever. But since they are built for protection primarily and comfort, if they take the brunt of a crash, and not my hands, then I am happy I have got my money's worth.
The Drive gloves are a comfortable all round glove, they don't have the motocross style padding on the back of the hands. No fancy design or colours, they do have a velcro wrist closure, terry toweling thumb to wipe away sweat, and a handy pull tab for pulling them on nice and firm. I am going to have to repeat how comfortable they are because they really do rate right up there amongst the most comfortable gloves I have ever worn.
After two and a half months of riding all the stitching and materials are still as good as the day I first got these gloves. One thing I noticed was a discolouration of the terry cloth. Now, that said, I do use the terry cloth feature to wipe away sweat and ride in mostly dusty conditions so it could be that it's just a build up of dirt, but I am not such a clean freak that it matters to me to wash them to find out. Since that's the only thing I have noticed about them over the time I have used them I think I have found myself a new favourite race glove.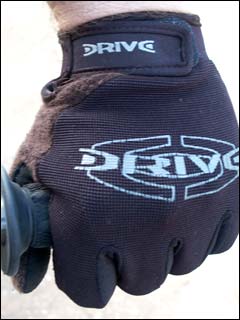 Rating 20/20:
| | |
| --- | --- |
| Value for money: | 5/5 |
| Weight: | 5/5 |
| Functionality: | 5/5 |
| Looks/Finish: | 5/5 |
Comments:
Protection, comfort, durable, quality and affordable what more could you want from a glove.
Light and comfortable your hands will feel naked in these.
No sign of damage after two months of abuse and hands are still in one piece.
Drive gloves have a very classic/subtle look about them and are build to last. They are only available in black, but that's fine with me.
by Shane Jenkins/bmxultra.com
Posted in: Race Clothing · Reviews