Supercross Blue Streak Tires
The Supercross Blue Streak tires have been on the market for a while now, but until I went to the US in August I hadn't actually seen any. When I paid a visit to Bill Ryan from Supercross we started talking about all sorts of things, one of them was tires. So he pulled out a few sets of the Supercross Blue Streak tires for the bmxultra.com team to try out.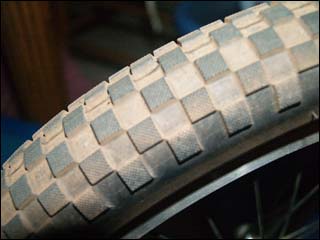 Bill had explained that they were designed specifically for BMX racing, that they were super-light, with a low profile tread, at that point I started to think are we talking about a BMX tire or a racing car tire. Anyway I carted them all over the states on my trip, tempted to put them on my bike but I stuck with my trusty Comp III's until I got home. I have been caught out putting something new on my bike at the last minute before and paid the price.
When putting the Blue Streaks on my bike and inflating them to full pressure they looked a little smaller than other tires of a similar size, I imagine that's because of the low profile tread. The tread pattern also wraps right around the tire to allow you to still have grip no matter how hard you are carving into a corner.
The thing I have found with tires I have used most of my racing years, Comp III's, is when they are new they are very slippery and need to be worn in a little to break the seal (so to speak) before you race with them. I also have a tendency to spin the back wheel out of the gate on the odd occasion using Comp III's, I suspect it's because I run 80psi of pressure (that's twice what Comp III's are supposed to have) which doesn't leave much tread on the ground. I use 80psi because I am one of the heavier riders on the track and it reduces rolling resistance but also I hate the feeling of a tire trying to roll off the rim in a corner. If I let some air out it usually fixes the problem with the gates but doesn't give me the ride I want on the rest of the track.
I have been using the Blue Streaks for nearly 3 months now, they have an 80psi pressure rating for the 20×1.75, which is perfect for me. It means I don't have to worry about the tire warping, which happens after a while with Comp III's, or even Comp X's, when running too much pressure. I have experienced no problem at all with the back tire spinning out of the gate with 80psi, which you could contribute to the awesome low profile "block" tread pattern. Since the tread isn't very deep you don't have as much flex or experience the same power loss through the tread itself. The tires bight into any surface right from the get go. There's no wear in period.
Since these tires were designed in the US for tracks with paved corners and clay surfaces I had my doubts how they would cope with the sandy and loose surfaces we have in Australia but they hang on very well through straights and around corners. In my first ride with them a friend of mine was riding behind me and complaining he was copping a face full of "roost" off the back tire, but at no point did I feel I was losing traction.
I am not surprised that so many US riders have the Blue Streaks on their bikes and I think it's only a matter of time before Australian's catch on. Especially with the growing range of sizes;
20×1.5
20×1.75
20×2.125
24×1.75
The mini/junior sizes will be available early 2007 including;
What do the others think?
When I asked 30-34X Jason Bergstrom his thoughts he said they are the best all round tire he's used. They have plenty of grip and are far superior to the Holly Rollers he had been using. He said "I rate them a 5 out of 5".
Our AA Pro Levi Collins also loved the grip, he's still running the front tire but as the back started to wear he replaced it with a 20×1.5 Siren because he hasn't been able to get hold of a 20×1.5 Blue Streak, we'll have to fix that.
Rating 20/20:
| | |
| --- | --- |
| Value for money: | 5/5 |
| Weight: | 5/5 |
| Functionality: | 5/5 |
| Looks/Finish: | 5/5 |
Comments:
The SX Blue Streak tires are around the same price as other race tires.
If it's true that the most crucial weight on the bike is the
outer rotating weight then you can't go past these tires.
Superior grip in every situation and easy to fit to a rim.
The Blue Streaks share a similar look to other block tread grips but have so much more to offer.
For more information check out www.supercrossbmx.com.