A little while after reviewing the S&M Race Forks I received a phone call and was told about some new S&M forks that I just had to check out. After looking into it a little further I had found that S&M had taken the 20″ Race Fork off the market and replaced then with their Pitchforks. Oh…wait…let's take a step back here for just a second. Yes the Pitchfork is a dirt jump fork, and a very good one, but how could S&M be serious about using a heavy dirt jump fork for racing? Well actually they weren't.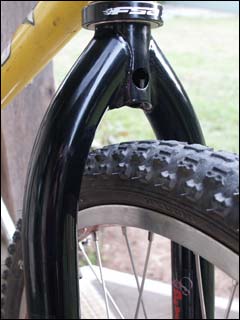 The Pitchforks have gone through a major transformation and weighing in at 950 grams, or 2 pounds 2 ounces, (with cap) that makes them lighter than the Race Fork. Believe it! S&M says it's the lightest fork they have ever made and that it's stronger than any other fork of it's kind on the market. They have put a race steerer tube on the fork with a light weight aluminimum insert to add strength. Extra weight has been shaved from the dropouts and the steerer tube. The "4Q baked" process basically means that these suckers are heat treated adding strength with minimal weight.
So how do they ride? Exactly as expected. Stiff and steady on the gate, don't expect any flex. No complaints here when cornering, manualling or jumping either.
They are available in Black, Brown and White.
Still not entirely convinced? These forks have a lifetime warranty to the original owner.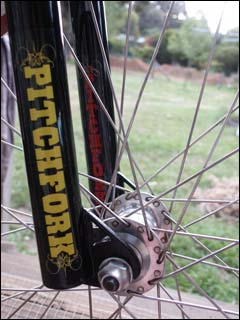 Rating 19.5/20:
| | |
| --- | --- |
| Value for money: | 5/5 |
| Weight: | 4.5/5 |
| Functionality: | 5/5 |
| Looks/Finish: | 5/5 |
Comments:
Consider S&M's most expensive fork a good investment. With a lifetime warranty to the original owner you will never have to pay for another set of forks.
The lightest fork that S&M has ever made is still a little heavier than some race forks, but the lifetime warranty and the confidence of a well built cromo fork is probably a worth while payoff for a couple of hundred grams.
A true all rounder. A dirt jump fork that's ready to race.
The new 4Q XLT Pitchforks have the same classic look, clean welds and slick paint job you can expect from S&M. I am not sure about the stickers, they may have more appeal to the dirt jumpers. I preferred the simple S&M shields they had on the Race Fork, but I'm sure that's an easy fix.