Each year Answer come up with new designs for their clothing, we're not talking slight modification or little tweaks, but they seem to go to a completely empty canvas and design from scratch.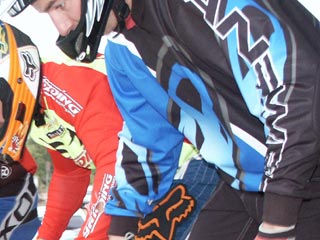 The 2004 Team 3 jersey is probably to most unique of all their jerseys past or present. The 4 colour design gives the appearance of a lot more colours because of the fade effect used in the dye-sublimination process. The Answer logos are huge and bring colour and flair to what would otherwise be a very plain jersey.
The Team 3 Jersey is constructed from a stain and fade resistant durable 100% polyester fabric.
The Team 3 jersey is a comfortable fit. The sizes are quite large in the body and a little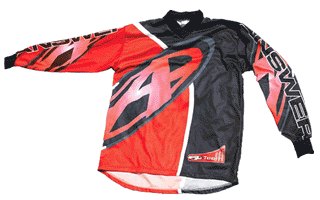 shorter than expected in the arms, so it would be worth trying one on if considering purchasing.
While riding we found no problems with the jersey, it allowed a full range of movement and was a comfortable fit in the neck and cuffs.
Team 3 jerseys are available in red/black, blue/black and grey/black combinations.
Rating 18.5/20:
| | |
| --- | --- |
| Value for money: | 5/5 |
| Weight: | 5/5 |
| Functionality: | 4/5 |
| Looks/Finish: | 4.5/5 |
Comments:
Answer products are built to last. Durable, fade and stain resistant, can you get any more value for money from a jersey?
The Team 3 is a thick and durable jersey which you hardly notice on while you are wearing it.
The jersey has very small elbow pads, which are more of a token gesture than anything, if you want to protect your elbows wear elbow guards as well.
I love the design of the new jersey, but it it lasts as long as Answer say it will, it will probably date in a few years. (by then it would be someone elses problem)
For more information check out www.answerproducts.com.
Posted in: Race Clothing · Reviews