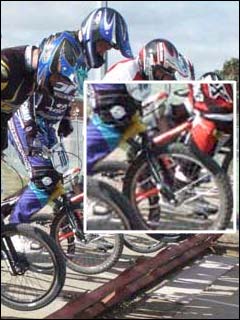 In 2002 Supercross added a cromoly heat treated race fork to their product range, they were an instant success. In a world full of after market forks it would be difficult to stand out as a cromoly fork amongst hi-tech designs using materials such as aluminium and carbon fiber. I have personally used both aluminium and carbon and found the weight benefit a huge advantage while racing, but when you buy forks like that you know they are race use only. You basically need a second bike to go to the trails or hit up the big jumps. By heat treating the forks the same way Supercross do their handlebars and top of the line racing frame, the UL, they are able to produce a cromoly fork that is comparable in weight, but still give you all the confidence of chromoly.
We tested the regular Pro forks, but SX have quite a range;
Pro Forks – 28 oz
Pro LT – 24 oz
Mini/Junior – 17 oz
Pro 24″ – 32 oz
Pro LT 24″ – 28 oz
When we asked Bill Ryan, Head Honcho at Supercross, about the difference between the Pro and Pro LT forks this is what he had to say. "The Pro LT forks, have a tapered and butted leg and have a hole in the dropout, they are good for riders up to 175lbs, the Pros have no weight limit."
The forks are available in Black or Bling Bling Bling Triple Show Chrome.
How did they feel?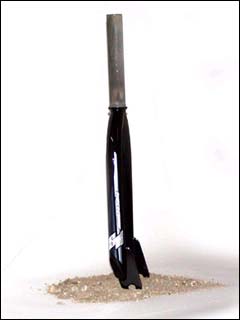 When I first stepped off cromoly SE Landing Gear forks for the lighter after market Answer Mags the weight difference was so big I had to adjust the way I jumped and manualled. Going back to cromoly with the SX fork from carbon fibre Answer Battleaxe required no adjustment at all. The weight difference is negligible, and these suckers are as stiff as they come.
Gating, manualling or jumping these forks are well balanced. I found that the Answer Headlock worked perfectly to lock the stem to the bars.
I weigh over 105kgs, when I'm cranking up to a big double I'm always wondering if the forks will hold up to a heavy fall or a bad case, we have all seen it happen and it's not pretty, but the SX cromoly forks have renewed my confidence in my bike and my jumping.
Rating 20/20:
| | |
| --- | --- |
| Value for money: | 5/5 |
| Weight: | 5/5 |
| Functionality: | 5/5 |
| Looks/Finish: | 5/5 |
Comments:
These SX forks are built to last, you pay the couple of extra dollars knowing that you'll be using these puppies for quite some time.
Aluminium and Carbon fiber no longer have a weight advantage, these forks are a perfect all rounder.
Full seamless 4130 post weld heat treated cromo, it's no surprise there's zero flex.
The gloss black finish is awesome and the welds are very neat. A very classic look that resembles SE Landing Gear forks. And as per usual the decals are awesome.
For more information check out www.supercrossbmx.com.