Supercross Pro handle bar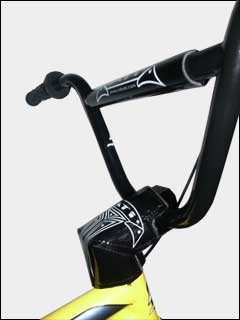 The Supercross 2 piece bar was introduced to the SX stables in 2003. SX have a bit of history with a 4 piece bar, but have been able to make these bars lighter and stronger by heat treating them the same way they do their forks and top of the line racing frame, the UL.
Bill Ryan, Head Honcho at Supercross says "we now have a 2 piece bar with a tight bend radius that is stronger than any other 2 piece race bar on the market."
Currently available in 8 inch rise and 28 inch width, it is an .065 seamless cromo bar that utilizes a full "post weld" heat treatment. A 4 inch rise Pro Cruiser model is also available, the bars come in a choice of Gloss Black or chrome.
How did they feel?
The height and width of the SX pro bars would suit all riders around 5 foot 10 inches and taller. At 6 foot 2 inches tall myself, I found the height, width and 10 degree sweep perfect. It was the fact that these are flat with no down or up sweep that gave me a little trouble. There was a distinct difference between the SX bars and the bars that I'm used to. At first this caused a little discomfort putting pressure on the inside of my hands and effecting my gate starts, but I soon got used to them. (Supercross do have an alternative model called the Viking bar with a 1 degree up sweep.)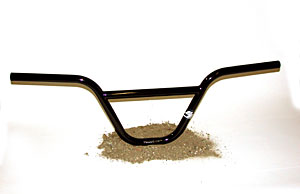 Once I was comfortable with them I thought I'd put them through their paces around the tracks. I started to get a little curious about how strong they really were so I reefed on them as hard as I could out of the gate, manualling, and jumping. No matter how hard I tried I couldn't get any flex out of them. I'm sure the oversized cross bar tube is a contributor there.
Rating 19.5/20:
| | |
| --- | --- |
| Value for money: | 5/5 |
| Weight: | 5/5 |
| Functionality: | 4.5/5 |
| Looks/Finish: | 5/5 |
Comments:
The SX bars are built to last, you pay the couple of extra dollars knowing that you'll be using these puppies for quite some time.
Try finding a 2 piece cromo handle bar that can match the SX bar for weight (1.45lb) and strength.
With handlebars it comes down to personal preference with geometry, these bars would suit most people. To me the handle bars felt like they were bent down a little, which was hard for me to get used to, causing some discomfort on the outside of my hands at first.
The gloss black finish is awesome and the welds are very neat.
For more information check out www.supercrossbmx.com.
Posted in: Handlebars · Reviews