The ATi Jackson grip is one slick looking grip, either in it's packaging or on your "beastie" of choice. The installation process isn't so straight forward, these grips are a very tight fit. The instructions say don't use lubricants, hair spray or solvents, so it might be a good idea to grab some of the ATi Grip Glue or spray adhesive while purchasing the grips.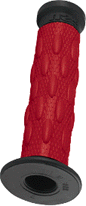 At first the grips aren't as soft as you would expect from a 2-ply handle grip, but they soon soften up, you may want to use your gloves for the first hour or two.
I found the grips were excellent during sprints they didn't feel spongy in your palms.
I must admit I did think the grips had something missing when I first saw them, and I couldn't quite work out what it was, then it came to me, these grips don't have bar plugs. But this is not a big deal since the ends of the grips appear extremely durable, besides it's one less hole that water can get in.
The Jackson comes in four colour combos as you can see in the image.
Check out the full ATi range on their website www.rideati.com.
Reviewed: 13/01/2000